XOM-B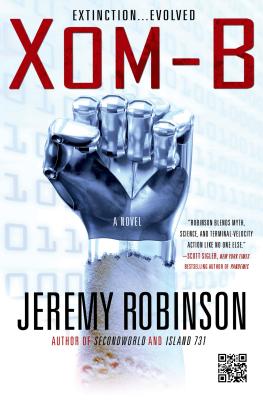 XOM-B
Thomas Dunne Books, Hardcover, 9781250031716, 342pp.
Publication Date: April 29, 2014
* Individual store prices may vary.
Shop Local
Enter your zip code below to find indies closest to you.
Description
Freeman is a genius with an uncommon mixture of memory, intelligence and creativity. He lives in a worldwide utopia, but it was not always so. There was a time known as the Grind--when Freeman's people lived as slaves to another race referred to simply as "Master." They were property. But a civil rights movement emerged. Change seemed near, but the Masters refused to bend. Instead, they declared war.
And lost.
Now, the freed world is threatened by a virus, spread through bites, sweeping through the population. Those infected are propelled to violence, driven to disperse the virus. Uniquely suited to respond to this new threat, Freeman searches for a cure, but instead finds the source--the Masters, intent on reclaiming the world. Freeman must fight for his life, for his friends and for the truth, which is far more complex and dangerous than he ever imagined.
Robinson's lightning fast, cutting-edge novels have won over thriller, horror, science-fiction and action/adventure fans alike, and he has received high praise from peers like James Rollins, Jonathan Maberry, and Scott Sigler. XOM-B is a wildly inventive zombie novel with a high-tech twist that will keep readers guessing until the very last sentence.
About the Author
Jeremy Robinson is the author of several bestselling thrillers, including Antarktos Rising, The Last Hunter: Descent, Callsign: Deep Blue, and the Jack Sigler thrillers, including Instinct and Threshold. His novels have been translated into ten languages. Born in the coastal town of Beverly, Massachusetts, Robinson grew up on a steady diet of science fiction, and started out his creative career as a comic book illustrator. He now lives in New Hampshire with his wife and three children. Visit Robinson online at jeremyrobin sononline.com for free content, contests, and updates on upcoming projects. Connect with him on Facebook at facebook.com/sciencethriller, and follow him on Twitter at twitter.com/jrobinsonauthor.