Shred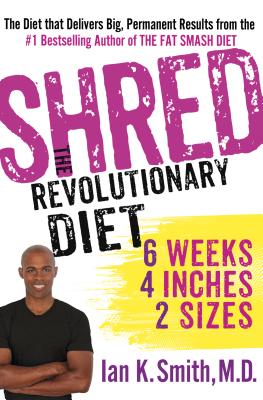 Shred
The Revolutionary Diet: 6 Weeks 4 Inches 2 Sizes
St. Martin's Press, Hardcover, 9781250035868, 268pp.
Publication Date: December 24, 2012
* Individual store prices may vary.
Buy Now
or
Shop Local
Enter your zip code below to purchase from an indie close to you.
Description
Dr. Ian K. Smith's "Shred" is the answer to every dieter's biggest dilemmas: how to lose that last twenty pounds? How to push through that frustrating plateau? What to do when nothing else is working? Here, Smith has created a weight loss program that uses all he knows about strategic dieting in one plan--like putting all the best players on the field at once to create a can't lose combination. "Shred" combines a low GI diet, meal spacing, and meal replacements. Those who follow "Shred" will constantly be eating (every three and a half hours ), four meals or meal replacements (soups, smoothies, shakes) and 3 snacks a day, over a six week program. "Shred" also introduces Dr. Ian's concept of "Diet Confusion." Diet Confusion, like muscle confusion, tricks the body and revs up its performance. In the same way you need to vary your workout to see results, switch up your food intake to boost your metabolism.
No matter how often or how unsuccessfully you've dieted before, "Shred: The Revolutionary" "Diet "will change your life. "Shred" has taken the internet by storm, and thousands have already joined Dr. Ian's Shredder Nation, losing an average of four inches, two sizes or twenty pounds in six weeks. Utilizing the detox from "Fat Smash Diet," the intense cleanse of "Extreme Fat Smash," and varying food of "The 4 Day Diet," "Shred" is a six week plan to a new way of life.
About the Author
Ian K. Smith, M.D., is the number one bestselling author of "The Fat Smash Diet, Extreme Fat Smash Diet, The 4 Day Diet, The 4 Day Detox, Happy" and "EAT". He is a medical contributor on The View and The Rachael Ray Show, the diet expert on VH1 s Celebrity Fit Club, and host of the nationally syndicated radio show Healthwise on American Urban Radio Networks. He writes a medical column for "Men s Health" magazine. He has written for various publications including "Time "and "Newsweek", and been featured in "People, Essence, Ebony" and "Cosmopolitan", among others. He is a former medical correspondent for NBC and for NewsChannel 4 in New York, where he filed reports for NBC s Nightly News and The Today Show. In 2007, he created the 50 Million Pound Challenge, a free national weight loss initiative with a growing list of more than 1.9 million people registered. Dr. Smith graduated from Harvard College with an AB and received a master s in science education from Columbia University. He attended Dartmouth Medical School and completed the last two years of his medical education and graduated from the University of Chicago Pritzker School of Medicine. A native of Danbury, Connecticut, Dr. Smith currently resides in Manhattan.
Praise For Shred…
Shredder Nation speaks:
"I had no idea how much my life would change in only a month. With Shred I'm down a total of 27 lbs. At my age and metabolism, it's a miracle. I am a SHREDDER for life." —Beverly   
"Week 2 day 3. Lots of energy. Down 5 pounds already!"—Maggie
"Got my measurements taken today and I was down 1/4 inch in all areas, even my trouble spot arms! Body fat percentage was slightly down too."--Nicole
"I started Shredding twenty days ago. I've lost a total of 10 lbs. I don't miss all the junk food and fast foods I used to eat. I'm never hungry on the Shred diet. This is the lifestyle change I truly needed."--Karen