Dying Is My Business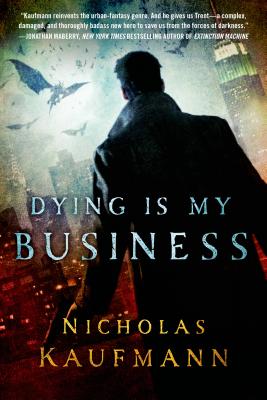 Dying Is My Business
St. Martin's Griffin, Paperback, 9781250036100, 384pp.
Publication Date: October 8, 2013
* Individual store prices may vary.
Buy Now
or
Shop Local
Enter your zip code below to purchase from an indie close to you.
Description
Given his line of work in the employ of a psychotic Brooklyn crime boss, Trent finds himself on the wrong end of too many bullets. Yet each time he's killed, he wakes a few minutes later completely healed of his wounds but with no memory of his past identity. What's worse, each time he cheats death someone else dies in his place.
Sent to steal an antique box from some squatters in an abandoned warehouse near the West Side Highway, Trent soon finds himself stumbling into an age-old struggle between the forces of good and evil, revealing a secret world where dangerous magic turns people into inhuman monstrosities, where impossible creatures hide in plain sight, and where the line between the living and the dead is never quite clear. And when the mysterious box is opened, he discovers he has only twenty-four hours to save New York City from certain destruction, in Dying Is My Business by Nicholas Kaufmann.
About the Author
Nicholas Kaufmann is the Bram Stoker Award-nominated author of General Slocum s Gold, Hunt at World s End, and the short story collection Walk in Shadows. His fiction has appeared in Cemetery Dance, The Mammoth Book of Best New Erotica 3, City Slab, The Best American Erotica 2007, Playboy, Shivers V, and others. In addition to writing the monthly Dead Air column for The Internet Review of Science Fiction, his non-fiction has appeared in the Writers Digest book On Writing Horror, Dark Scribe Magazine, Annabelle Magazine, Fantastic Metropolis, Fear Zone, and others. He has served on the Board of Trustees for the Horror Writers Association and is a member of the International Thriller Writers. He lives in Brooklyn, NY. Visit him on the Web at www.nicholaskaufmann.com.
Praise For Dying Is My Business…
"Filled with characters that should appeal to urban fantasy readers—a zombified werewolf is a standout—and told with real sense of style and wit, the book should have no trouble amassing an enthusiastic readership." - Booklist
"Reinvents the urban fantasy genre." —Jonathan Maberry, New York Times bestselling
"As we race to a truly apocalyptic conclusion you'll root for the very human protagonists of this very inhuman world." —David Wellington, author of 13 Bullets
"Whedonesque romance, inventive mythology, and badass monsters!" —Christopher Golden, New York Times bestselling co-author of Father Gaetano's Puppet Catechism
"Cazy, dark inventiveness on every page. Reminiscent of Roger Zelazny's Amber books." —Mike Carey, author of Devil You Know