The Cursing Mommy's Book of Days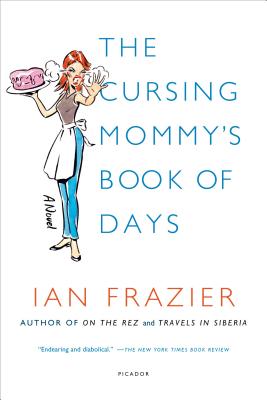 The Cursing Mommy's Book of Days
Picador USA, Paperback, 9781250037763, 256pp.
Publication Date: October 1, 2013
* Individual store prices may vary.
Buy Now
or
Shop Local
Enter your zip code below to purchase from an indie close to you.
Description
A hilarious and delightfully profane novel about the daily frustrations of family life
Based on his widely read columns for "The New Yorker," Ian Frazier's uproarious first novel, "The Cursing Mommy's Book of Days," centers on a profoundly memorable character, sprung from an impressively fertile imagination. Structured as a daybook of sorts, the book follows the Cursing Mommy beleaguered wife of Larry and mother of two young boys as she offers tips on how to do various tasks around the home, only to end up on the ground, cursing, surrounded by broken glass. Her voice is somewhere between Phyllis Diller's and Sylvia Plath's: a hilariously desperate housewife with a taste for swearing and large glasses of red wine, who speaks to the frustrations of everyday life.
In "The Cursing Mommy's Book of Days," Frazier colors his fiction with grace and aplomb, as well as an extra helping of his trademark wicked wit. The Cursing Mommy's failures and weaknesses are our own and Frazier gives them a loving, satirical spin that is uniquely his own.
About the Author
Ian Frazier has written for "Harper's", "The New Yorker", and "The Atlantic Monthly". He is a winner of the Thurber Prize for Humor, and is the author of numerous books, including "Great Plains", "Coyote vs. Acme", and "On the Rez".
Praise For The Cursing Mommy's Book of Days…
"Endearing and diabolical."—The New York Times Book Review

"[Ian Frazier] has created a comic-strip heroine for the chattering classes, a creature both endearing and diabolical, especially when disaster looms. Which is pretty much all the time."—The New York Times Book Review

"[The Cursing Mommy's Book of Days] is not only very funny but may actually remind you of the occasional frustrations of your own everyday life. Sit down on the floor with a big scotch and read it."—The Boston Globe

"The Cursing Mommy's Book of Days may begin as a gag but it ends as a meditation on the gag that is midlife….In this warm and deceptively political book, Ian Frazier gives us a chance to laugh at this dark truth, before we dive back into it."—The Cleveland Plain Dealer

"Ian Frazier is funny and clever and a wonderful distraction...With the Cursing Mommy, Frazier...has created a comic-strip heroine for the chattering classes, a creature both endearing and diabolical, especially when disaster looms...But here's the great thing about the Cursing Mommy, which perhaps accounts for her popularity—she's a caricature, but she isn't a joke. Thanks to Frazier's generous and gentle spirit, she isn't some suburban hot mess, though she is suburban and hot, and surely some kind of a mess. But she's also eternally optimistic."—Judith Newman, The New York Times Book Review
"Ian Frazier is not a mommy, and as his best friend I can swear that he is not a curser in any way, yet this book, The Cursing Mommy's Book of Days, is the funniest book I have ever read on the subject of moms and the crazy bliss that makes up their life. Being and Nothingness? Read this instead, for it is even funnier than Frazier's other book: African-American Women Writers in the Diaspora: A Reconsideration of Morrison, Walker, Dove, and Frazier."—Jamaica Kincaid