Pickle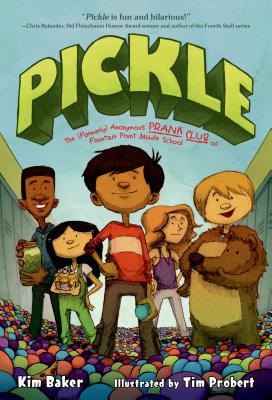 Pickle
The (Formerly) Anonymous Prank Club of Fountain Point Middle School
Square Fish, Paperback, 9781250044273, 233pp.
Publication Date: May 6, 2014
* Individual store prices may vary.
Buy at Local Store
Enter your zip code below to purchase from an indie close to you.
or
Buy Here
Description
This is the story of THE LEAGUE OF PICKLEMAKERS
Ben: who began it all by sneaking in one night and filling homeroom with ball-pit balls.
Frank: who figured out that an official club, say a "pickle-making" club, could receive funding from the PTA.
Oliver: Who once convinced half of the class that his real parents had found him and he was going to live in a submarine.
Bean: Who wasn't exactly invited, but her parents own a costume shop, which comes in handy if you want to dress up like a giant squirrel and try to scare people at the zoo.
TOGETHER, they are an unstoppable prank-pulling force, and Fountain Point Middle School will never be the same.
Latino Interest.
About the Author
Kim Baker moved around a lot as a kid, which taught her two things: silliness is a great way to make pals, and goofy people make the best friends. She lives in Seattle with her family and still goofs off. A lot. Pickle is her first book.
Praise For Pickle…
A CBC 2013 Book of the Year Finalist
A New York Public Library Top 100 Book for Reading and Sharing
Fuse #8's 100 Magnificent Children's Book of the Year
"Pickle is fun and hilarious! The pranks pulled off are so fantastically fun that it's almost dangerous to let kids read it." —Chris Rylander, Sid Fleischman Humor Award Winner and author of The Fourth Stall series
"A book that I simply cannot keep on my library shelves . . . kids eat this book up with a spoon." —Elizabeth Bird, Fuse #8, New York Public Library
"Reading Pickle makes me want to fill an entire school waist-deep with bean dip; stage an impromptu zombie attach during lunchtime; wear a cowbow hat while driving a herd of house cats through the halls. . . . Whatever it moves you to do, you'll find Pickle to be inspired fun." —Matthew Holm, co-creator of Babymouse and Squish
"Baker writes with a light and lively hand, depicting a realistic urban setting peopled with engaging characters from various ethnic backgrounds." —The Horn Book
"Sure to please anyone with a puckish sense of humor or a hankering for innocent prank ideas." —Kirkus Reviews
"Even though this is a fast-paced, humorous story, it tackles the true meanings of friendship. . . . Pair this with James Preller's Justin Fisher books or Jeff Kinney's Diary of a Wimpy Kid series." —Booklist
"Probert's finely detailed, expressive illustrations depict the club's racially diverse makeup. Baker's debut novel shows promise and offers an enjoyable read." —School Library Journal