Promote Yourself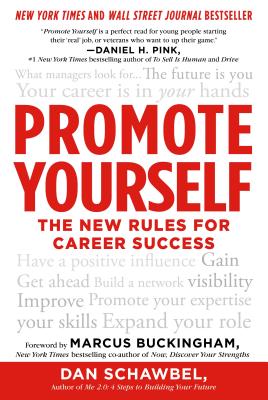 Promote Yourself
The New Rules for Career Success
St. Martin's Press, Hardcover, 9781250044556, 272pp.
Publication Date: September 3, 2013
* Individual store prices may vary.
Shop Local
Enter your zip code below to find indies closest to you.
Description
"New York Times" and "Wall Street Journal" Bestseller
""Promote Yourself" is a perfect read for young people starting their 'real' job, or veterans who want to up their game."
---Daniel H. Pink, #1 "New York Times" bestselling author of "To Sell Is Human and Drive"
How people perceive you at work has always been vital to a successful career. Now with the Internet, social media, and the unrelenting hum of 24/7 business, the ability to brand and promote yourself effectively has become absolutely essential. No matter how talented you are, it doesn't matter unless managers can see those talents and think of you as an invaluable employee, a game-changing manager, or the person whose name is synonymous with success. So, how do you stand out and get ahead?
The subtle and amazingly effective art of self-promotion is the razor-thin difference between success and failure. By drawing on exclusive research on the modern workplace and countless interviews with the most dynamic professionals, career guru and founder of Millennial Branding Dan Schawbel's "Promote Yourself "gives you the new rules for success, and answers your most pressing questions about your career:
* What are managers really looking for?
* What do you do if you're stuck at work?
* How do you create a personal brand for professional success?
* How do you use social media for networking to propel your career?
"Promote Yourself" frees you from the outdated rules for getting ahead and lays out a step-by-step process for building a successful career in an age of ever-changing technologies and economic uncertainty. By basing your personal brand on the rock-solid foundation of hard, soft, and online skills that are essential to get the job done right and by knowing exactly what managers value, Schawbel provides you with the unique skills and message that you'll need today and for the rest of your career. "Promote Yourself: The New Rules for Career Success" is the definitive book on marketing yourself and building an outstanding career.
About the Author
DAN SCHAWBEL is the founder of Millennial Branding, a Gen Y research and consulting firm. He is also the author of "Me 2.0: ""4 Steps to Building Your Future" and a "Forbes" and "Time" columnist. He has been recognized as a "personal branding guru" by "The New York Times" and named to both "Inc". and "Forbes" magazines' 30 Under 30 Lists. He lives in Boston, MA.

Marcus Buckingham spreads his revolutionary strengths message as a New York Times best-selling author with more than 3.7 million books in print, a popular speaker to audiences of 250,000 each year, and founder of TMBC, a management consulting firm that specializes in strengths-based solutions for organizations worldwide. His previous bestselling books include: First, Break All the Rules, Now, Discover Your Strengths, The One Thing You Need to Know, Go Put Your Strengths To Work, and The Truth About You. He lives with his wife and two children in Los Angeles.
Praise For Promote Yourself…
"Promote Yourself is a perfect read for young people starting their 'real' job, or veterans who want to up their game. Think of Dan Schawbel's new book as everything you always wanted to know about building a career but didn't know how (or whom) to ask."
―Daniel H. Pink, #1 New York Times bestselling author of To Sell Is Human and Drive

"A smart, practical guide on navigating the world of work today."
--USA Today

"A sweeping guide on how to spread your influence in the modern workplace."
―Parade

"Career book of the year: Promote Yourself... Schawbel offers not only inspiration and challenge but also shores up his advice with a menu of resources to conquer unfamiliar digital recruiting and workplace landscapes... GOLD MEDAL CAREER BOOK. I've received countless career books from publishers over the decades and also written quite a few, a background that gives me the confidence to suggest that this year's gold medal for career management books should have Dan Schawbel's name on it for Promote Yourself."
―Chicago Tribune

"Promote Yourself gives you the tools you need to excel in the workplace. Schawbel demonstrates exactly how to take your career into your own hands and push forward. It's the perfect instruction book to help Millennials get the edge they need."
―Huffington Post

"Outlines a process for building a successful career in an age of ever-changing technologies and economic uncertainty."
―INC.

"Suggests a variety of strategies to help Generation Y succeed and thrive professionally."
―Forbes

"Schawbel provides simple and effective tips to use your online presence to grow your career instead of destroy it."
―The Boston Globe

"With Promote Yourself, Schawbel turns his considerable talents to advising Millennials about how to succeed in today's increasingly competitive marketplace."
―TechCrunch

"This is a book about freedom. The freedom to chart your own path, make your own ruckus and stand up and say to the world, 'Here, I made this.'"
―Seth Godin, New York Times bestseller and author of The Icarus Deception
"Dan will show you how to communicate your unique contribution, so that you make yourself indispensable."
―Marcus Buckingham, New York Times bestselling author of Now, Discover Your Strengths
"If you're just standing around waiting and hoping for the boss to notice you, I've got bad news: It's probably not going to happen. High-performing leaders are attracted to activity. You've got to get moving! In Promote Yourself, Dan Schawbel shows you what to do to get noticed—and get promoted—inside the company you're already with."
―Dave Ramsey, New York Times bestseller and nationally syndicated radio host
"Don't let the title fool you—Promote Yourself is not about blowing your own horn in any kind of an arrogant way. It's about harnessing your strengths and making them evident in your workplace. Dan Schawbel shares his expert formula for career success in a way that inspires a level of confidence and a desire for success that didn't exist before. Read this book and let Dan introduce you to your best self."
―Ken Blanchard, coauthor of The One Minute Manager® and Trust Works!
"Schawbel's book is a game-changer for any employee who is looking to get ahead at work. It reveals the skills and strategies that will turn you into a future leader."
―Stephen R. Covey, New York Times bestseller and author of The 7 Habits of Highly Effective People and The 3rd Alternative
"In this remarkable book, Schawbel gives you all the resources, advice and inspiration you need to take charge of your own career and get ahead at work. Read Promote Yourself if you want to achieve your dreams and have fun doing it."
―Jack Canfield, Co-creator of the New York Times bestselling Chicken Soup for the Soul® series and The Success Principles
"If you want to promote yourself with power—but also with grace—this is the book for you."
―Susan Cain, New York Times bestselling author of Quiet: The Power of Introverts in a World That Can't Stop Talking

"Universally helpful."
―Success Magazine

"A book to watch."
―800-CEO-Read

"Reveals the new rules of the modern workplace that young people must learn to get ahead."
―Business Insider 

"Check out Schawbel's book, Promote Yourself, for way more career success secrets, including exclusive research on using social media at work, how managers view millennials, and what skills those managers look for come promotion time."
―Women's Health

"Focuses on the mindsets you need and the powerful actions you can take to make yourself indispensible in the workplace."
―Psychology Today

"A handbook of how to navigate the challenges in growing your career through a multi-generational workplace."
―San Francisco Chronicle

"Packed with research, real-life examples, and practical, concrete suggestions for action, Promote Yourself is an invaluable guide for anyone considering how to succeed better inside—and outside—of work."
―Gretchen Rubin, #1 New York Times bestseller of The Happiness Project and Happier at Home
"Dan Schawbel is the new voice of the workplace.  What I love is that Dan is living and doing what he teaches.  Promote Yourself is a fast read with very actionable advice that anyone can use to take their career to the next level. His book can help you live rich now!"
―David Bach, #1 New York Times bestselling author of The Automatic Millionaire
"Promote Yourself is a tactical and practical guide to navigate the new world of work. It will inspire you to create your own career path and control your own destiny."
―Guy Kawasaki, former chief evangelist of Apple, New York Times bestselling author of Enchantment and APE
"Dan Schawbel offers up terrific ideas on promoting yourself and your skills that will translate into promotions in any field. And while he targets Millennials with his wisdom, workers of all ages will benefit from his advice."
―Harvey Mackay, author of the New York Times #1 bestseller Swim With The Sharks Without Being Eaten Alive
"Most career self-help books are written by pretenders for pretenders. Dan Schawbel's Promote Yourself is the opposite. Keen, insightful and written by a realist and for the talented."
―David D'Alessandro, bestselling author of Career Warfare and Former CEO of John Hancock
"A Fast Company article, 'The Brand Called You' changed Dan's life. I promise that if you read Dan's book, it will change your life!"
―Alan M. Webber, Co-founder, Fast Company magazine

"If you want to get promoted, read this book. Schawbel's fresh, compelling writing style will keep you immersed in the pages of Promote Yourself as you learn timely ways to advance your career."
―T & D Magazine

"[Offers] the reader the unique skills and strategies they'll need to get ahead (and get a job) today and for the rest of their careers.... Dan has become the spokesperson for the Gen Y cohort and has built quite the career out of knowing, understanding and advising our next generation of leaders."
―SmallBusinessTrends.com

"Schawbel will help you navigate the new workplace with ease and give you all the tools you need in order to stand out at work and get promoted faster than your peers!"
―Barbara Corcoran, Founder of The Corcoran Group, investor/shark on ABC's Shark Tank, and author of Shark Tales
"Promote Yourself will motivate you to make a positive difference in your own career."
―Patti Stanger, star of Bravo TV's The Millionaire Matchmaker
"Promote Yourself is a very engaging and extremely thought provoking read. The topic is both timely and highly relevant, and Dan sets the foundation with the facts and stories, distilled with both actionable and practical insights. I learned a lot from it and so will you!"
―Brad Smith, CEO of Intuit
"Schawbel's book contains valuable, not so obvious insights to getting ahead in making your mark in today's competitive workplace. The book is based on Dan's solid research, provides sound advice and just might be one of your most valuable reads."
―Michael Feuer, Founder of OfficeMax
"Promote Yourself is a book I wish I had when I first started my career. It will help you enhance your skills, deal with different generations in the workplace and become the leader that your company needs you to be."
―Doug Conant, Former CEO of Campbell Soup Company, Founder and CEO of ConantLeadership and New York Times bestselling author of TouchPoints
"The world of work moves fast.  Today's professionals need to stay relevant by traversing the corporate lattice, continually acquiring transferable skills and experiences--and the networks that form along with them.  Promote Yourself provides savvy ways for Gen-Yers to build and enhance their personal brand calling cards.
―Cathy Benko, Vice Chairman, Deloitte LLP, and best-selling author, Mass Career Customization: Aligning the Workplace with Today's Nontraditional Workforce
"This should be the last book a young person bent on success should have to read. Dan melts the concept of success into an action plan. What you will learn is that everything you need is something you already have, or have access to, and the only thing left to do is to tap these resources to be the successful person you are by getting done what it takes for the world to notice."
―Mel Ziegler, Founder of Banana Republic and Author of Wild Company
"Having spent years moving up inside a large organization I can attest that Dan's book contains the essential secrets to promote yourself to the top."
―Terry Jones, Founder of Travelocity & Chairman of Kayak.com
"Promote Yourself is an insightful and inspiring book that will help navigate you through obstacles such as personal branding, promotions, and how to take charge of your career."
―Daymond John, Business Mogul & Celebrity Branding Expert
"I love this book. Promote Yourself is absolutely the best all-around book I've read about and for Millennials. From the very first paragraph to the last, Dan Schawbel offers clear insights, persuasive facts, compelling examples, and practical tips on what you need to do to be successful in the new world of work. And not only that, it's exceptionally well written. Promote Yourself is straight-from-the-heart and direct from Dan's own experiences in practicing what he preaches. You really need to read Promote Yourself now…and to put it to use as soon as you have. And one other thing: If you're not a Millennial, you've got even more reasons to read this book. You need to know how they're thinking, and Promote Yourself is the best place to start learning just that."
―Jim Kouzes, coauthor of The Leadership Challenge and the Dean's Executive Fellow of Leadership, Leavey School of Business, Santa Clara University
"Promote Yourself is loaded with so much terrific, valuable, usable information for getting ahead--and staying there--I'm embarrassed to admit that I learned a lot myself. This is a book not only for every college grad but for anyone who wants to take their career to an awesome new level."
―Kate White, Former Editor-in-Chief of Cosmopolitan Magazine & New York Times bestselling author
"Promote Yourself is a fascinating read and also a practical guide, for anyone entering the job force. Right on! Thank you Dan for giving us inspiration, and a solid blueprint for building a successful career."
―Richard Thalheimer, Founder of The Sharper Image