Evermore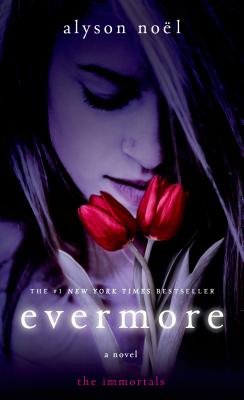 Evermore
The Immortals
St. Martin's Press, Mass Market Paperbound, 9781250046833, 320pp.
Publication Date: July 12, 2013
* Individual store prices may vary.
Buy Now
or
Shop Local
Enter your zip code below to purchase from an indie close to you.
Description
Don't miss "Evermore," the first book in Alyson Noel's #1 "New York Times" bestselling The Immortals series. Enter an enchanting new world where true love never dies. . .
After a horrible accident claimed the lives of her family, sixteen-year-old Ever Bloom can see people's auras, hear their thoughts, and know someone's entire life story by touching them. Going out of her way to avoid human contact and suppress her abilities, she has been branded a freak at her new high school but everything changes when she meets Damen Auguste.
Damen is gorgeous, exotic and wealthy. He's the only one who can silence the noise and random energy in her head wielding a magic so intense, it's as though he can peer straight into her soul. As Ever is drawn deeper into his enticing world of secrets and mystery, she's left with more questions than answers. And she has no idea just who he really is or "what" he is. The only thing she knows to be true is that she's falling deeply and helplessly in love with him.
About the Author
Alyson Noel is the #1 New York Times bestselling author of twenty-three novels, including the Immortals, Riley Bloom, and Soul Seekers series. With millions of copies in print, her books have been translated into thirty-six languages and have made numerous international bestseller lists.
Born and raised in Orange County, California, she s lived in both Mykonos and Manhattan and is now settled back in Southern California, where she s working on her next book. You can visit her online at www.alysonnoel.com.
Praise For Evermore…
"Evermore is addictive.  When I wasn't reading, I was thinking about how I could sneak away to read some more.  I couldn't put it down.  I dreamt abuot this book.  And when I was finished, I couldn't get it out of my head.  This book was simply breathtaking." --Teens Read Too

"Teen angst and the paranormal make a combustible mix as Noel utilizes typical themes and gives them a dangerous and eerie twist. Getting hooked on this new series, The Immortals, is guaranteed."--4 stars!  Romantic Times Magazine

"Readers who enjoy the works of PC Cast and Stephenie Meyer will love this outstanding paranormal teen-lit thriller." –Midwest Book Review

"Get ready for a wild ride that is filled with twisting paths and mystery, love and fantasy. . . The writing style, story, and characters are a bit like Meyer and Marr's popular books, but written with a new twist and voice. And after reading the book, you too will probably want your own Damen, even if it means making the ultimate sacrifice."  --5/5 stars! The Book Queen

"I found myself unwilling to put the book down, even though I had to at some points, because I wanted to know what was going to happen…Ever was so real and her emotions were so believable that it was a little creepy. It's like Alyson Noël is actually a grieving, lovestruck teenager. She got Ever completely perfect. And by perfect, I mean delightfully flawed and deep." --The Frenetic Reader

"Evermore is a wonderful book that I believe would be a lovely addition to any library . . .Definitely a book that fans of Stephenie Meyer and Melissa Marr should add to their collections. Definitely engaging and will catch your attention the minute you open to the first page!" - Mind of a Bibliophile

"Alyson Noel creates a great picture of each and every character in the book. I am a fan of the Twlight series and I recommend this book to those who like the series as well. It is a very quick read, with all the interesting twist and turns." –Flamingnet Book Reviews

"I loved this book. It really keeps your attention though out the story, because the puzzle gets pieced together bit by bit, but you don't know exactly what happened until the end. The only thing that disappoints me is that the second book won't be published for a while. I would definitely recommend this to my friends." --Portsmouth Teen Book Review

"This is the first installment of The Immortals series. Ms. Noël pens a well-detailed story that makes it easy for the reader to visualize both the characters and the world around them. Evermore has a familiar theme that attracts readers, but inside this book you'll find that the author has added some unique details that sets it apart." --Darque Reviews

"Evermore's suspense, eerie mystery, and strange magic were interestingly entertaining…I found Ever to be a character I could really respect…Recommended." –The Bookworm

"Beautiful main characters, tense budding romance, a dark secret, mysterious immortals—what more could you ask from this modern gothic romance?" –Justine Magazine

"Evermore was a great way to lighten my reading load this winter and provided me with a creative, magical story that I really enjoyed. This is the first in a series for Noel and I think she may have a hit on her hands . . . Evermore has good and evil, likable characters, vivid descriptions and a good story."- Planet Books

"I fell into it easily, and loved the world Noel created . . . The fact that Ever had psychic powers was truly interesting. They flowed neatly through the book and I felt Ever's pain . .trust me, this book was really good. I couldn't put it down. Alyson Noel created an amazing new world, and after this book I am so curious to see where it heads because honestly, I have no idea." – Reading Keeps You Sane

"Ever is an easy character to like. I really felt for her because of all she lost and what she struggled with daily…Evermore was a really fast, engaging read with some great characters. It is the first in a series, so I'm eager to see if we will learn more about Ever, Damen and friends in the next one…it's sure to be a great read."- Ninja reviews

"The writing here is clear, the story well-defined and narrator Ever has an engaging voice that teens should enjoy."- January Magazine

"Alyson Noël created a well-detailed story that makes it easy for the reader to visualize both the characters and the world around them. Evermore has a familiar theme that attracts readers, but inside this book you'll find that the author has added some unique details that sets it apart and will surprise you."- The Ravenous Reader