Always Watching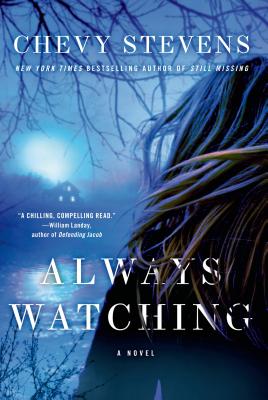 Always Watching
St. Martin's Griffin, Paperback, 9781250049001, 359pp.
Publication Date: May 6, 2014
* Individual store prices may vary.
Shop Local
Enter your zip code below to find indies closest to you.
Description
"She helps people put their demons to rest. "
"But she has a few of her own "
In the lockdown ward of a psychiatric hospital, Dr. Nadine Lavoie is in her element. She has the tools to help people, and she has the desire--healing broken families is what she lives for. But Nadine doesn't want to look too closely at her own past because there are whole chunks of her life that are black holes. It takes all her willpower to tamp down her recurrent claustrophobia, and her daughter, Lisa, is a runaway who has been on the streets for seven years.
When a distraught woman, Heather Simeon, is brought into the Psychiatric Intensive Care Unit after a suicide attempt, Nadine gently coaxes her story out of her--and learns of some troubling parallels with her own life. Digging deeper, Nadine is forced to confront her traumatic childhood, and the damage that began when she and her brother were brought by their mother to a remote commune on Vancouver Island. What happened to Nadine? Why was their family destroyed? And why does the name Aaron Quinn, the group's leader, bring complex feelings of terror to Nadine even today?
And then, the unthinkable happens, and Nadine realizes that danger is closer to home than she ever imagined. She has no choice but to face what terrifies her the most and fight back, in "Always Watching "by Chevy Stevens.
"Sometimes you can leave the past, but you can never escape. "
"This was one tough book to put down Highly recommended." --"Suspense Magazine.
About the Author
Chevy Stevens is the author of "Still Missing" and "Never Knowing". Before becoming a writer, she worked as a realtor. When she held open houses, she had a lot of time waiting by herself between potential buyers, and Stevens would spend this time scaring herself with all the things that could happen to her. The most terrifying scenario she thought up became the story behind "Still Missing". Stevens grew up on a ranch on Vancouver Island, and she still calls the island home. When she's not writing, she's hiking with her husband and her dog in the local mountains.
Praise For Always Watching…
"In ALWAYS WATCHING, Chevy Stevens begins with a shivery premise --- a family ensnared by a religious cult led by a madman. Stevens lights that fuse and lets it burn all the way to an explosive ending. A chilling, compelling read." – William Landay, author of DEFENDING JACOB
"ALWAYS WATCHING is a riveting examination of the power of childhood secrets over our past and our present selves.  I couldn't put it down." - Alafair Burke, author of IF YOU WERE HERE
"Chevy Stevens is in top form. ALWAYS WATCHING is a tense and twisty exploration of dark memories, hidden pasts, and a place that seems like heaven but might be hell. This is a deep and exciting novel, as unsettling as it is gripping." --Lisa Unger, author of HEARTBROKEN
"Haunting and harrowing, ALWAYS WATCHING is a stunner, offering not only consuming suspense but also a moving tale of mothers and daughters, the lingering echoes of the past that never stop reverberating." – Megan Abbott, author of DARE ME 
"A fantastic, heart-pounding thriller that pulls you in from the first page.  I loved it!" – Lisa Jackson, author of YOU DON'T WANT TO KNOW
"ALWAYS WATCHING grabbed me from page one. Its story of power, murder, and family secrets is seductive and sinister. Dr. Nadine Lavoie is a tenacious, compassionate heroine." - Meg Gardiner, author of RANSOM RIVER

"Taut and riveting, ALWAYS WATCHING follows the fault line between a person's past and present — and the terror and turmoil that can pull a life apart when they collide with the force of an earthquake. Chevy Stevens' suspenseful, twisted story kept me up late into the night, frantically turning pages with white-knuckled fingers." – Hilary Davidson, author of THE NEXT ONE TO FALL
"Chevy Stevens intelligently and relentlessly pulls the reader deeper into a nightmarish world while compelling you to read just one more page…" – Rosamund Lupton, author of SISTER
"A harrowing tale of manipulation that got under my skin by the end of the first chapter…"  -- Linwood Barclay, author of TRUST YOUR EYES