A Pretext for War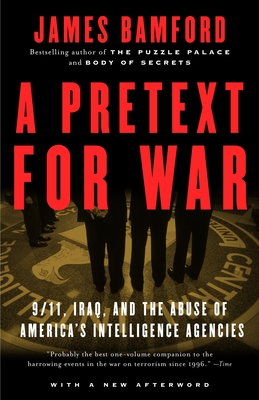 A Pretext for War
9/11, Iraq, and the Abuse of America's Intelligence Agencies
Anchor Books, Paperback, 9781400030347, 472pp.
Publication Date: May 10, 2005
* Individual store prices may vary.
Shop Local
Enter your zip code below to find indies closest to you.
Description
In A Pretext for War, acclaimed author James Bamford–whose classic book The Puzzle Palace first revealed the existence of the National Security Agency–draws on his unparalleled access to top intelligence sources to produce a devastating expos? of the intelligence community and the Bush administration. A Pretext for War reveals the systematic weaknesses behind the failure to detect or prevent the 9/11 attacks, and details the Bush administration's subsequent misuse of intelligence to sell preemptive war to the American people. Filled with unprecedented new revelations, from the sites of "undisclosed locations" to the actual sources of America's Middle East policy, A Pretext for War is essential reading for anyone concerned about the security of the United States.
About the Author
James Bamford has been a professional in the information technology industry since 1978. Mr. Bamford s exposure to CRM began in 1998. He has managed multiple projects and engagements using several CRM products throughout the past nine years. James has been certified as a PMP from PMI, and has over fourteen years of project management consulting experience with IBM, Cap Gemini America, Deloitte & Touche, LLP, Siebel Systems, Rapidigm, and his current employer. His project management experience covers multiple industries such as Public Sector, Insurance, Manufacturing, Transportation, Financial, Pharmaceutical, Consumer Goods, Retail, High Technology, and Oil & Gas. James holds a Certified Siebel Consultant certification from Siebel Systems, as well as a CPIM certification from APICS. His Masters in Engineering Administration degree was earned from George Washington University. He also holds BS degrees in business and computer science that were acquired from Virginia Tech and the University of Pittsburgh, respectively. Mr. Bamford is currently employed as a Senior Project Manager with Eagle Creek Software Services, and services clients throughout the world. He lives with his family near Cleveland, Ohio.
Praise For A Pretext for War…
"Probably the best one-volume companion to the harrowing events in the war on terrorism since 1996." –Time


"Highly readable and well-researched. . . . Bamford does a superb job of laying out and tying together threads of the Sept. 11 intelligence failures and their ongoing aftermath, using original research, the public record and a light, fast-paced writing touch." –The Washington Post Book World

"A damning portrait of the country's intelligence agencies. . . . Bamford unearths new details . . . to create a vivid, unsettling narrative. . . . Highly persuasive." –The New York Times

"Not only contains significant new information, but also combines that information with previously known material to make . . . sense of Sept. 11 and its aftermath. . . . A vital book." –Milwaukee Journal Sentinel