The Language Police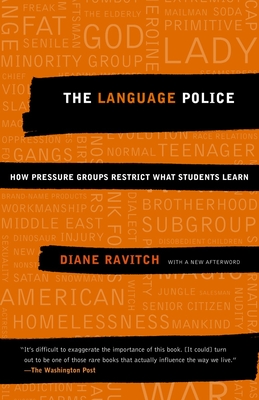 The Language Police
How Pressure Groups Restrict What Students Learn
Vintage Books, Paperback, 9781400030644, 288pp.
Publication Date: May 11, 2004
* Individual store prices may vary.
Buy at Local Store
Enter your zip code below to purchase from an indie close to you.
or
Buy Here
Description
If you're an actress or a coed just trying to do a man-size job, a yes-man who turns a deaf ear to some sob sister, an heiress aboard her yacht, or a bookworm enjoying a boy's night out, Diane Ravitch's internationally acclaimed The Language Police has bad news for you: Erase those words from your vocabulary!

Textbook publishers and state education agencies have sought to root out racist, sexist, and elitist language in classroom and library materials. But according to Diane Ravitch, a leading historian of education, what began with the best of intentions has veered toward bizarre extremes. At a time when we celebrate and encourage diversity, young readers are fed bowdlerized texts, devoid of the references that give these works their meaning and vitality. With forceful arguments and sensible solutions for rescuing American education from the pressure groups that have made classrooms bland and uninspiring, The Language Police offers a powerful corrective to a cultural scandal.
About the Author
Diane Ravitch, a historian of education, is Research Professor at New York University, holds Brown Chair in Education Studies at the Brookings Institution, and is a Fellow at the Manhattan Institute. A former Guggenheim Fellow and recipient of many awards, she is also the author of the recent book Left Back: A Century of Failed School Reforms.
Praise For The Language Police…
"It's difficult to exaggerate the importance of this book. [It could] turn out to be one of those rare books that actually influence the way we live." —The Washington Post

"A book of Olympian importance. . . . This book may be the most important document about the future of the American mind in a generation or more." —The Baltimore Sun

"Impassioned. . . . Fiercely argued. . . . Every bit as alarming as it is illuminating." —The New York Times

"Lucid, forceful, written with insight, passion, compassion and conviction, The Language Police is not only hair-raisingly readable but deeply reasonable. It should be required reading." —Los Angeles Times

"Provocative. . . . [It] has broad consequences for one's thinking about all education, and I recommend it to anyone interested in the molding of public discourse in America." —David Bromwich, The New Republic

"Ravitch [is] the country's soberest, most history-minded education expert—and, in this case, a whistle-blower extraordinaire." —The Wall Street Journal

"Revealing and important. . . . Ravitch richly illustrates her case [and] provides telling assessments of historical texts. . . . [Her] compilation of evidence and argument is overwhelming." —The New York Times Book Review

"Stunning. . . . Should send a shiver down the backs of parents with school children." —The Washington Times

"Penetrating. . . . Fascinating and often infuriating. . . . The Language Police is the first step toward ending the absurdities of educational censorship. It should be required reading in the education of every parent." —Mother Jones

"Her criticism is devastating." —The Atlanta Journal-Constitution

"Compelling. . . . Convincing. . . . A smart, savage exposé of the absurdities wrought by both sides of the culture wars. . . . [Ravitch's] demand for an educational environment that pushes students to confront, rather than avoid, the larger world is one we ignore at our own peril." —The New Leader

"Spirited. . . . A plea for substance, intelligence, and reason." —The New York Sun

"[The Language Police] could do for the failures of education in the United States what Harriet Beecher Stowe's Uncle Tom's Cabin did for slavery. It is a brilliant revelation of an insidious national disease of public policy. . . . It should be obligatory reading for every citizen concerned with the intellectual, moral, and imaginative life of U.S. children and society as a whole. It should be mandatory for everyone even peripherally involved in education. . . . Read it. Get the five most thoughtful people you know to buy it, read it and pass it on." —The Baltimore Sun

"Meticulously researched and forcefully argued. . . . Ravitch's qualifications . . . are impeccable and unassailable. . . . She has no political axes to grind and no ideological agenda to pursue. She is a lucid writer and an absolutely clear thinker." —The Washington Post

"Ravitch writes with enormous authority and common sense. She shows how priggish, censorious and downright absurd 'the language police' can be, and she does so with furious logic." —The New York Times

"A fascinating and comprehensive account. . . . Incisive and lucid. . . . Ravitch is passionate and persuasive." —The Intellectual Activist

"Brilliant. . . . Astounding. . . . A hopeful sign [that] censorship this ridiculous can't last forever." —Reader's Digest