Lone Star Nation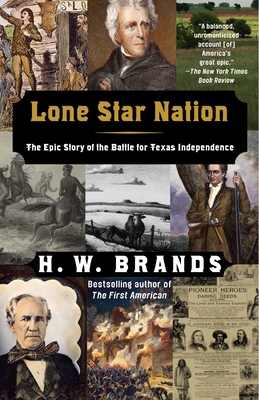 Lone Star Nation
The Epic Story of the Battle for Texas Independence
Anchor Books, Paperback, 9781400030705, 608pp.
Publication Date: February 8, 2005
* Individual store prices may vary.
Buy at Local Store
Enter your zip code below to purchase from an indie close to you.
or
Buy Here
Description
In Lone Star Nation, Pulitzer Prize finalist H. W. Brands demythologizes Texas's journey to statehood and restores the genuinely heroic spirit to a pivotal chapter in American history.
From Stephen Austin, Texas's reluctant founder, to the alcoholic Sam Houston, who came to lead the Texas army in its hour of crisis and glory, to President Andrew Jackson, whose expansionist aspirations loomed large in the background, here is the story of Texas and the outsize figures who shaped its turbulent history. Beginning with its early colonization in the 1820s and taking in the shocking massacres of Texas loyalists at the Alamo and Goliad, its rough-and-tumble years as a land overrun by the Comanches, and its day of liberation as an upstart republic, Brands lively history draws on contemporary accounts, diaries, and letters to animate a diverse cast of characters whose adventures, exploits, and ambitions live on in the very fabric of our nation.
About the Author
H. W. Brands is the Dickson Allen Anderson Centennial Professor of American history at the University of Texas at Austin. He is the author of many books, among them The First American: The Life and Times of Benjamin Franklin, which was a finalist for the Pulitzer Prize and the Los Angeles Times Book Award; T.R.: The Last Romantic, a critically acclaimed biography of Theodore Roosevelt; and The Age of Gold, a celebrated history of the California Gold Rush. He lives in Austin, Texas.
Praise For Lone Star Nation…
"A balanced, unromanticized account [of] America's great epic." –The New York Times Book Review

"Sweeping and specific. . . . [Brands] writes the story with clarity and vigor. . . . Clearly adds to our knowledge of an era when men rode to the sound of guns and honor was a comprehensible concept." –The Washington Post Book World

"[Brands] offers both sides of the Texas story, striking perspectives from both the revolutionists and the Mexicans who opposed them. . . . Lone Star Nation combines depth, description and detail in a magnificent, fascinating book." –The Miami Herald

"Extraordinary. . . . A rich story that thrives above all else on the novelistic depth of character he gives to his subjects." –Austin American-Statesman

"Rousing. . . . [Brands] is a master of the ground-view, narrative history." –Dallas Morning News

"Brands [is] on the path to becoming the preeminent popular historian of his generation. . . . There is no denying [his] talent for clear, cogent and uncluttered prose." –Chicago Tribune

"Lively and readable . . . contains vivid portraits." –Harper's Magazine

"The most compelling analysis of the results of the war as well as the best articulated defense for the motives of [Stephen] Austin, Sam Houston and the other Texas patriots." –The Atlanta Journal-Constitution

"Notably clear eyed. . . . [Brands] is conversant with the intricacies of his subject [as] he describes the contentiousness, independence and sense of entitlement that eventually turned Texas, however briefly, into a free and self-contained nation." –The New York Times

"Vibrant, energetic, and masterful. . . . Immensely readable." –The Washington Times

"Extremely vivid and beautifully written. . . . Brands [is] a master of description." –The News & Observer (Raleigh, NC)

"Gripping. . . . A book that is sweeping and specific in allowing a reader to be deliciously immersed in the magnificent story. . . . Even well-versed readers will find new perspective here." –Fort Worth Star-Telegram