A Palestine Affair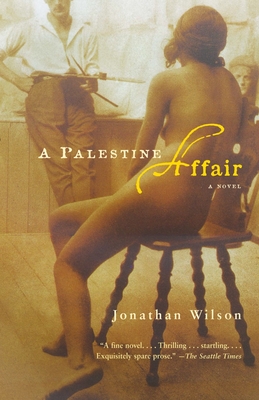 A Palestine Affair
Anchor Books, Paperback, 9781400031221, 272pp.
Publication Date: July 13, 2004
* Individual store prices may vary.
Buy at Local Store
Enter your zip code below to purchase from an indie close to you.
or
Not Currently Available for Direct Purchase
Description
In British-occupied Palestine after World War I, Mark Bloomberg, a beleaguered London painter, and Joyce, his American wife, witness the murder of a prominent Orthodox Jew. Joyce, a non-Jew and ardent Zionist, is drawn into an affair with the British investigating officer, while Mark seeks solace in the exotic colors and contours of the Middle Eastern landscape. Each of the three has come to Palestine to escape grief, and yet—caught in the crosshairs of history—they will all be forced to confront the very issues they hoped to leave behind in this swift and sensuous novel of artful concealment and roiling passions.
About the Author
Jonathan Wilson is the author of a novel and a book of short stories. He is chair of the English Department at Tufts University and lives in Newton, Massachusetts.
Praise For A Palestine Affair…
"Like the best of historical fiction, Wilson's story is placed in an imagined past, but it is really happening right now. . . . You're likely to stay up late reading." —The Washington Post Book World

"A fine novel. . . . Thrilling . . . startling. . . . Exquisitely spare prose." —The Seattle Times

"An engrossing, complex, and fearless tale of politics, arts, murder, sex, and history (personal and global) set in the rough and tumble that was Palestine in 1924." —Anita Diamant, author of The Red Tent

"This rich novel . . . resonates with Hemingway's harrowing work after World War I." —The Christian Science Monitor

"A Palestine Affair is hard to put down. . . . [It] echoes its modernist predecessors: Forster's A Passage to India, Conrad's The Secret Agent, and James's The Princess Casamassima." —San Francisco Chronicle

"A story that tautens the sinuous strands of [the] period into a lethal knot." —The New York Times Book Review

"A swift little mystery-romance. . . . Crisply written. . . . Wonderfully rich in period detail and atmosphere and wonderfuly free of polemic, side taking, or blame." —Seattle Weekly

"Wilson is a talented writer with a gift for story, scene, and character." —The Boston Globe

"Profoundly memorable. . . . Haunting. . . . A Palestine Affair is romantic, but darkly so, in the manner of The English Patient. . . . Wilson poetically evokes every aspect of Israel's scenery." —The Jerusalem Report

"Worth reading? An Englishman might say: 'Rather.' An American would put it differently: 'You bet it is!' " —Saul Bellow

"Well-plotted, this is a dark, romantic thriller whose author has an amazingly keen eye for the landscapes his characters get lost in." —Detroit Free Press

"Tightly knit. . . . Wilson is exceptionally attuned to the range of opinion and complex sense of identity of the Jews living in Palestine, as well as the subtle but potentially explosive tension that characterizes everyday interactions under colonial occupation." —Publishers Weekly, starred review

"Savvy. . . . Edgy. . . . Wilson excels at creating the atmosphere surrounding his story. He wears his research lightly but tellingly." —The Jerusalem Post

"A Palestine Affair evokes, quite tangibly, the days of the Mandate. This is a true and touching act of the imagination. The book's very sexy, a nostalgic and provocative envisioning of that time. I recommend it highly." —David Mamet

"Gripping. . . . [A] moody, darkly romantic thriller with a haunting sense of place. . . . Wilson has always been a perceptive writer worth reading. . . . He has a grasp of period detail as deft and compelling as Alan Furst's. . . . [A] deft portrait of 1920s Jerusalem and its diverse, bickering inhabitants." —Forward

"Enchanting. . . . Wilson has populated his captivating novel with memorable characters. . . . It is a compelling and powerful story of love and politics." —Abilene Reporter-News

"Cinematic. . . . Artfully written. . . . Intricate, closely stitched. . . . Wilson is a novelist with an eye for rich historical detail. . . . His writing is highly visual and tactile, with a painterly quality." —The Jewish Week

"How rare to read a novel that moves with the velocity of a thriller and that is, at the same time, so splendidly written. The characters glow with persuasive life, and Wilson exquisitely evokes the land itself as it seethed under British rule—a place stamped by history but unformed, too; an older world that seems younger because of all the possibility in it. Wilson's story of love and betrayal merges historical, political, and private passions to create a beautiful and timeless tale." —Jonathan Rosen, author of The Talmud and the Internet

"Excellent and atmospheric. . . . It brings to life the fascinating complexities of the Land of Israel at one of the many significant junctures in its history." —New Jersey Jewish News