Losing Charlotte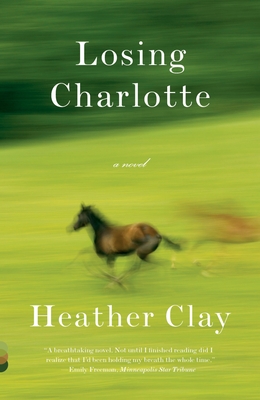 Losing Charlotte
Vintage Books USA, Paperback, 9781400031719, 261pp.
Publication Date: April 5, 2011
* Individual store prices may vary.
Shop Local
Enter your zip code below to find indies closest to you.
Description
Raised on their family's Thoroughbred farm in Kentucky, Charlotte and Knox Bolling grow up steeped in the life cycles of the horses surrounding them. Despite their opposing natures, the connection between these two sisters is unbreakable, even when Charlotte abandons Four Corners Farm in favor of Manhattan. But a single day changes everything for Knox, and in order to confront the ways her sister defines her, she must leave the home she's always known. A powerful story of love, duty and family, Losing Charlotte reminds us that there are some bonds that cannot be broken.
Praise For Losing Charlotte…
"Clay tenderly yet honestly navigates this family's earth-shattering loss. . . . Beautifully composed." —Elle

"What happens when the person closest to you is suddenly gone? This heart-wrenching story explores the bond between two sisters—one charmed and rebellious, the other a good girl—after a tragedy changes their family forever." —Glamour

"A breathtaking novel about loss and healing. . . . Even the moment most likely to be played for tears . . .  is done with a remarkably efficient realism; not until I finished reading those pages did I realize that I'd been holding my breath the whole time." —Emily Freeman, Minneapolis Star-Tribune
 
"Clay's writing style is dreamy, elliptical . . . she describes moments with beautiful precision and aptly relays the murky, battering numbness of grief. . . . Lovely." —Entertainment Weekly

"Friction between sisters has served as a plot staple since the dawn of the novel. . . . Handled properly, it provides a near-perfect occasion for exploring the societal and familial expectations placed on young women, as Heather Clay does in her introspective first novel. . . . Clay beautifully portrays the awkward dynamic of family gatherings. . . . Bold and confident." —The New York Times Book Review  
 
 
"Heather Clay is a graceful and assured new writer with a great gift for character: the people in her fiction are as complex, beautiful and real as they are in life. . . . A spellbinding first novel." —Lauren Groff, author of Monsters of Templeton
 
"How far would you go for family? Clay's heart-wrenching debut novel will spur you to wonder. . . .Clay's characters are flawed yet fun, and her storytelling style is as endearing as an old friend's." —SELF magazine
 
"The family in this novel is so vividly imagined that I am still thinking of them: not as characters but as real people." —Ann Packer, author of The Dive from Clausen's Pier
 
"Sets up [a] situation with clarity and care, then works it through with subtlety." —The Boston Globe
 
"Lovingly observed. Clay knows how to craft a realistic plot and characters who, under pressure, change in believable ways." —The Columbus Dispatch