The King in the Tree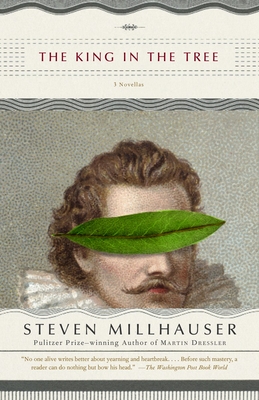 The King in the Tree
Vintage Books, Paperback, 9781400031733, 256pp.
Publication Date: July 13, 2004
* Individual store prices may vary.
Buy at Local Store
Enter your zip code below to purchase from an indie close to you.
or
Buy Here
Description
A master of literary transformation, Pulitzer Prize-winner Steven Millhauser turns his attention to the transformations of love in these three hypnotic novellas. While ostensibly showing her home to a prospective buyer, the narrator of "Revenge" unfolds an origami-like narrative of betrayal and psychic violence. In "An Adventure of Don Juan" the legendary seducer seeks out new diversion on an English country estate with devastating results. And the title novella retells the story of Tristan and Ysolt from the agonized perspective of King Mark, a husband who compulsively looks for evidence of his wife's adultery yet compulsively denies what he finds. Combining enchantment as ancient as Sheherezade's with up-to-the-minute acuity and unease, The King in the Tree is Millhauser at his best.
About the Author
Steven Millhauser was born in 1943 in New York City, and grew up in Connecticut. He received a B.A. from Columbia University in 1965, and went on to pursue a doctorate in English at Brown University. He never completed his dissertation, but did complete a novel that was eventually published in a pared-down form under the title "From the Realm of Morpheus-as well as Edwin Mullhouse." However, it was for his stories that Millhauser became best known; immaculately written, curiously vivid, they trod on fantastic boards in a manner reminiscent of Poe or Borges, but with a distinctively American voice. After "In the Penny Arcade," Millhauser's collections continued with "The Barnum Museum" (1990), "Little Kingdoms" (1993), and "The Knife Thrower and Other Stories" (1998). Steven Millhauser lives in Saratoga Springs, New York, and teaches at Skidmore College.
Praise For The King in the Tree…
"No one alive writes better about yearning and heartbreak. . . . Before such mastery, a reader can do nothing but bow his head." —The Washington Post Book World

"Millhauser . . . uses his lush prose and archetypal motifs to trace the outer arcs of passion, places where eros and violence meet. . . . This writer is in love with a large, very beautiful tiger, and at its best the fiction he produces is an exquisite negotiation with the beast." —The New York Times Book Review

"[Millhauser] seeks always to spellbind rather than merely to entertain . . . . He never fumbles a word out of place, never lets fall an unfelicitous phrase, and especially never looks down during his high-wire imaginative act." – San Francisco Chronicle


"In a mere 80 pages or so, [Millhauser] can whistle up worlds as bright and intricate as a Mozart piano sonata or as ominous and ethereal as a Charles Ives symphony . . . powerful, spellbinding reading." —The Seattle Times

"An ingenious geometer of love triangles, Millhauser tinkers with tested formulas in these three novellas, while giving full rein to his taste for the fantastical. . . . [His] shrewd sense of psychology makes his characters' impulses toward romantic excess manifestly believable." –The New Yorker

"Coursing through these novellas are such literary ghosts as Byron, Wagner-as-librettist, Matthew Arnold and Alfred Lord Tennyson. . . . But when Millhauser is plumbing the mysteries of the human heart, there's no question that he is writing after, not before, Sigmund Freud–and Kate Chopin, and John Updike and the sexual revolution. . . . The King in the Tree is a moving, melancholy book about the unlovely toll exacted by love on those it has abandoned." –Los Angeles Times

"Ever finish a book that was so good you ached to grab the collar of the next passer-by and shout in his unsuspecting face, 'Read this! You have got to read this!'? Steven Millhauser writes that kind of book." –San Diego Union Tribune

"Among [Millhauser's] best. . . . The King in the Tree is a flawless retelling of the story of Tristan and Iseult. . . . Astonishingly, Millhauser creates a version that though modern reads like a newly discovered medieval tale. . . . His story will live with the older versions, and Richard Wagner's, as part of the myth." –Boston Globe

"Reading a book by Steven Millhauser is like tumbling down Alice's rabbit hole. In the Millhauser Wonderland, time reels backward, life is but a fairy tale, and figures of mythology rule the universe. . . . All three of the novellas that make up The King in the Tree inhabit eerie realms of the imagination. Here men and women yearn for love, but it's a poison more often than a tonic."  –Newsday

"These three tales, each in different ways, confirm Millhauser's reputation as a master stylist." –Newark Sunday Star-Ledger

"Millhauser is our most brilliant practicing romantic, for whom surface reality is merely an uninteresting illusion, and ultimate reality is always artifice." –Milwaukee Journal Sentinel

"All three of the novellas have Millhauser's gifted storytelling voice going for them–a voice that grabs the reader by the ear and makes him pay attention." –Rocky Mountain News

"Millhauser's characters are poignantly likable. They hurt, long and love like the rest of us. . . . Sentence by sentence, Millhauser displays awesome control." –Minneapolis Star-Tribune

"Millhauser's three novellas are marvels of craftmanship and inventiveness . . . a storytelling tour de force and an emotional rollercoaster ride." –Richmond Times-Dispatch