The First Tycoon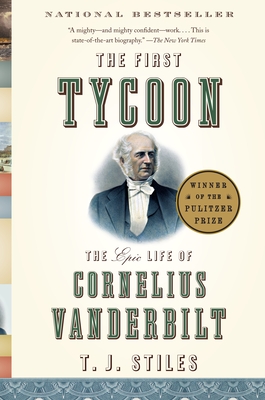 The First Tycoon
The Epic Life of Cornelius Vanderbilt
Vintage Books USA, Paperback, 9781400031740, 719pp.
Publication Date: April 20, 2010
* Individual store prices may vary.
Buy at Local Store
Enter your zip code below to purchase from an indie close to you.
or
Buy Here
Description
NATIONAL BESTSELLER
WINNER OF THE NATIONAL BOOK AWARD
In this groundbreakingbiography, T.J. Stiles tells the dramatic story of Cornelius Commodore Vanderbilt, the combative man and American icon who, through his genius and force of will, did more than perhaps any other individual to create modern capitalism. Meticulously researched and elegantly written, "The First Tycoon" describes an improbable life, from Vanderbilt's humble birth during the presidency of George Washington to his death as one of the richest men in American history. In between we see how the Commodore helped to launch the transportation revolution, propel the Gold Rush, reshape Manhattan, and invent the modern corporation. Epic in its scope and success, the life of Vanderbilt is also the story of the rise of America itself.
About the Author
Stiles has edited four previous In Their Own Words collections.
Praise For The First Tycoon…
A The New York Times Notable Book
 
A Washington Post, San Francisco Chronicle, The New Yorker, Boston Globe, Christian Science Monitor, and Kansas City Star Book of the Year
 
"A mighty—and mighty confident—work. . . . This is state-of-the-art biography. . . . The First Tycoon has been widely praised, and rightly so. . . . This is state-of-the-art biography."
—The New York Times
 
"Superbly written and researched. . . . Worthy of its subject."
—The Economist
 
"Truly remarkable. . . . A landmark study that significantly enhances one's understanding of U.S. economic history. . . . [Stiles is] one of the most exciting writers in the field."
—Foreign Affairs
 
"Stiles has painted a full-bodied, nuanced picture of the man. . . . Elegance of style and fair-minded intent illuminate Stiles's latest, expectedly profound exploration of American culture in the raw."
—The Boston Globe
 
"Stiles, a superb researcher, has unearthed quantities of new material and crafted them into the illuminating, authoritative portrait of Vanderbilt that has been missing for so long."
—The Washington Post
 
"Very absorbing. . . . Much more than a biography. The book is filled with important, exhaustively researched and indeed fascinating details that would profit every student of American business and social history to read."
—San Francisco Chronicle
 
"Stiles writes with both the panache of a fine journalist and the analytical care of a seasoned scholar. And he offers a fruitful way to think about the larger history of American elites as well as the life of one of their most famous members."
—The New York Times Book Review
 
"Vanderbilt's story is indeed epic, and so is The First Tycoon. . . . Stiles is a perceptive and witty writer with a remarkable ability to paint a picture of the America in which Vanderbilt lived."
—The Christian Science Monitor
 
"Fascinating. . . . A reminder that Vanderbilt's life and times still have much to teach us."
—Newsweek
 
"Gracefully written. . . . [Vanderbilt] was the right man in the right place at the right time, and the meticulous Stiles seems to be the right man to tell us about it."
—St. Petersburg Times
 
"Stiles has given us a balanced and absorbing biography of this colorful and often ruthless entrepreneur."
—James M. McPherson, author of Battle Cry of Freedom: The Civil War Era
 
"Monumental. . . . Arresting. . . . Stiles has a gift for making readers admire unsavory characters. . . . [The First Tycoon] resembles a five-course meal at a three-star restaurant: rich and pleasurable."
—Bloomberg.com
 
"Engrossing and provocative. . . . Stiles draws on exhaustive archival research to clear away the apocryphal and celebrate Vanderbilt as an American icon."
—Tulsa World
 
"At long last a biography worthy of the Commodore, meticulously researched, superbly written, and filled with original insights."
—Maury Klein, author of The Life and Legend of Jay Gould
 
"Stiles writes with the magisterial sweep of a great historian and the keen psychological insight of a great biographer. . . . With panache and admirable ease, Stiles maps the financial and political currents on which Vanderbilt buccaneered and shows that it was Vanderbilt, more than anyone else, who enabled business to evolve into Big Business."
—Patricia O'Toole, author of When Trumpets Call: Theodore Roosevelt After the White House
 
"A brilliant exposition of the life of Cornelius Vanderbilt and the entrepreneurial environment that he shaped. Readers will look at Grand Central Station and much else in American life with fresh eyes."
—Joyce Appleby, author of The Relentless Revolution: A History of Capitalism
 
"The definitive biography of Commodore Vanderbilt. Both as portrait of an American original and as a book that brings to life an important slice of American history long neglected, this is biography at its very best. A magnificent achievement."
—Arthur Vanderbilt II, author of Fortune's Children: The Fall of the House of Vanderbilt
 
"Stiles brings the Commodore, warts and all, to life in this new study, which is at once up-to-date in scholarly terms, analytically incisive, and lucidly written."
—Raleigh News and Observer
 
"Sweeping. . . . [A] magisterial, exemplary work . . . [that] offers entry into the storm-tossed world of our current tycoons and the rough waters they have piloted us into."
—American History Magazine
 
"Superbly researched and elegantly written. . . . Stiles's will likely prove to be the definitive biography of this epic entrepreneur."
—Philanthropy Magazine