And Now You Can Go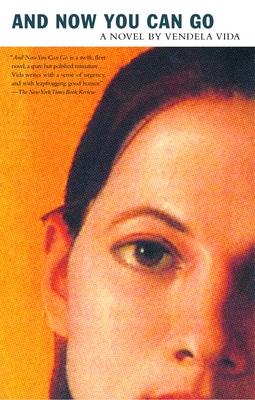 And Now You Can Go
Anchor Books, Paperback, 9781400032419, 189pp.
Publication Date: September 14, 2004
* Individual store prices may vary.
Buy at Local Store
Enter your zip code below to purchase from an indie close to you.
or
Buy Here
Description
Vendela Vida's fearless, critically acclaimed fiction debut follows the unpredictable recovery of a young woman as she tries to make sense of her life after an encounter at gunpoint.
Accosted one afternoon in Riverside Park by a man who doesn't want to die alone, Ellis, a young grad student, talks her way out of the situation by reciting poetry to her desperate captor. He lets her go, but is she free? Rejecting the overtures of her kind-hearted boyfriend, the police, and the suitors who would like to save her, Ellis finds herself unable to escape the event. She leaves the city to visit her family; joins her mother on a medical mission to the Philippines. When she returns, Ellis discovers something more about life perhaps even how to take back her own.
About the Author
VENDELA VIDA is the award-winning author of four books, most recently Let the Northern Lights Erase Your Name and The Lovers, and a founding editor of Believer magazine. She is also the co-editor of Always Apprentices, a collection of interviews with writers, and Confidence or the Appearance of Confidence, a collection of interviews with musicians. She has written a number of screenplays, and is currently developing her novel Let the Northern Lights Erase Your Name into a film with German director Eva Weber.
Praise For And Now You Can Go…
"And Now You Can Go is a swift, fleet novel, a spare but polished miniature. . . . Vida writes with a sense of urgency, and with leapfrogging good humor." –The New York Times Book Review

"And Now You Can Go is so fast, so mesmerizing to read, and so accomplished that it's hard to think of it as a first novel, which it is–Vendela Vida has promise to spare." –Joan Didion

"Clever and dry and funny. . . . Vida has written a thriller: a thriller about how we love and how we forgive and when and how we have to choose to do so." –The New York Review of Books

"Astonishingly accomplished. . . . Vida creates the stunning impression that relationships are always provisional, even if the most random human interaction has the power to alter–or save–your life." –Los Angeles Times

"It's a challenge to not fall in love with Vida's characters. . . . Equally humorous and heartbreaking . . . Vida has written an enormously giving and heartfelt exploration." –The Austin Chronicle

"Bewitching. . . . Vida demonstrates tremendous patience, sensitivity and droll humor as she charts the path traveled by her memorably odd hero." –Chicago Tribune

"Ellis charms us with her hyperventilated good intentions, foibles and screwups, her whole essence on the page so real and earnest and gullible, so neurotic, so capable we feel as if we have known her our whole lives." –The Miami Herald

"Vida's gift lies in her assured grasp of the characters, as wacky as they may be, and in her ability to maintain a sense of humor." –Milwaukee Journal Sentinel

"A fearless, provocative and surprisingly funny story of implied violence and one woman's skeptical pursuit of sanctuary. This observant, fast-paced and engrossing work heralds a writer of great talent." –The San Diego Union-Tribune

"And Now You Can Go is utterly gripping, a book to be read in one sitting." –The Times Literary Supplement (London)

"Vendela Vida's first novel defies expectations in virtually every way; what looks to be a tale of psychological trauma, or even revenge, evolves into something much rarer in contemporary fiction: a joyful investigation of the pleasures of living. And Now You Can Go is beguiling, celebratory, and mysterious." –Jennifer Egan

"Subtle and psychologically acute . . . the stark, wry minimalism of Ellis' voice works in mesmerizing counterpoint to the lunatic situation that engulfs her." –Newsday

"Compulsively readable." –Vogue

"A captivating character study with surprising pockets of wit. . . . Vida has a brilliant eye for the idiosyncrasies and peculiar details that endear her characters to the reader." –The Plain Dealer

"Wonderful. . . . In addition to its stirring plot and narrator, Vida's novel offers solid gimmickless prose that shifts deftly according to scene." –Minneapolis Star Tribune

"And Now You Can Go's narrator is a cool, quirky customer, but she's ever ready to do something generous, something noble, something stamped with grace." –David Schickler

"A quick, intriguing and often funny examination of trauma, human relationships and modern life." –San Jose Mercury News

"An affecting examination of letting go." –People

"To call Ellis a meticulous observer is, of course, just another way of praising Vida's skill. . . . Her writing is exceptionally detailed and vivid." –The Washington Post

"It is Ellis's fierce refusal to play the victim that drives this riveting book." –O, The Oprah Magazine

"An existential Perils of Pauline: A young woman is robbed–at gunpoint!–of her ability to feel. Whether or not she can learn anew how to love is the question at the heart of this wonderful new novel. Comedic yet serious, minimalist yet lush–this is an exciting debut." –Jonathan Ames

"Addictive. . . . Vida creates a complex but sympathetic heroine on a voyage and entices you to follow." –The Boston Phoenix

"Vendela Vida has a talent for getting into the minds of her subjects. . . . Vida knows what people will do and what they won't do and what they find themselves doing anyway pretty damn well." –W magazine

"And Now You Can Go is consistently a pleasure to read." –The Independent (London)

"I was captivated from the first page, compelled to keep reading until I finished in the wee hours of the morning. Vendela Vida's novel is a gift to the reader, a story that contains what I love best about fiction: an idiosyncratic voice, keenly observed gestures, intelligence and heart, and both large and small moments that reverberate in unpredictable ways. And Now You Can Go doesn't let go. It is the debut of a writer with enormous talents." –Amy Tan

"Honest, quirky, and surprisingly compelling." –Entertainment Weekly

"And Now You Can Go is a book for people who read for pleasure, a book whose beauty lies in its simplicity and sentences that push just enough." –San Francisco Guardian