Age of Betrayal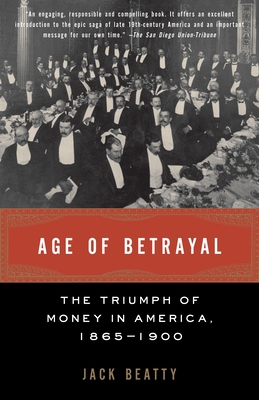 Age of Betrayal
The Triumph of Money in America, 1865-1900
Vintage Books USA, Paperback, 9781400032426, 483pp.
Publication Date: April 8, 2008
* Individual store prices may vary.
Buy at Local Store
Enter your zip code below to purchase from an indie close to you.
or
Buy Here
Description
"Age of Betrayal" is a brilliant reconsideration of America's first Gilded Age, when war-born dreams of freedom and democracy died of their impossibility. Focusing on the alliance between government and railroads forged by bribes and campaign contributions, Jack Beatty details the corruption of American political culture that, in the words of Rutherford B. Hayes, transformed a government of the people, by the people, and for the people into a government by the corporations, of the corporations, and for the corporations. A passionate, gripping, scandalous and sorrowing history of the triumph of wealth over commonwealth.
About the Author
Jack Beatty is On Point's news analyst and a longtime senior editor at The Atlantic Monthly. He joined The Atlantic in September of 1983, having previously worked as a book reviewer at Newsweek and as the literary editor of The New Republic. Beatty is the author of "The Rascal King" (1992), a biography of the legendary Boston mayor James Michael Curly that was nominated for a National Book Critics Circle Award; "The World According to Peter Drucker" (1998), an intellectual biography of the social thinker and management theorist; and "Age of Betrayal: The Triumph of Money in America, 1865-1900" (2007), a thematic history of the Gilded Age. In addition, he is the editor of "Colossus: How the Corporation Changed America" (2001), an anthology of readings on the history of the American corporation named by Business Week as one of the Ten Best Business Books of the year. He has received a Guggenheim fellowship, two fellowships from the Alfred P. Sloan Foundation, an Olive Branch Award from New York University, a William Allen White Award for criticism from the University of Kansas, and an American Book Award from the Before Columbus Foundation. Born and raised in Boston, Beatty now lives in Hanover, New Hampshire.
Praise For Age of Betrayal…
"An engaging, responsible and compelling book. It offers an excellent introduction to the epic saga of late 19th-century America and an important message for our own time." —The San Diego Union-Tribune"Illuminated and enlivened. . . . [Beatty's] ability to hot-wire our history to the here and now is what gives Age of Betrayal its distinctive bite." —Los Angeles Times Book Review"Readers will immediately by impressed by the range of subject matter he can handle, from political, economic, and constitutional history to the history of labor, social movements and time. . . . Absorbing in its detail and refreshingly uncompromising in its perspective." —The Boston Globe."A shocking, heart-breaking account of corruption and just plain meanness." —The Providence Journal