Normal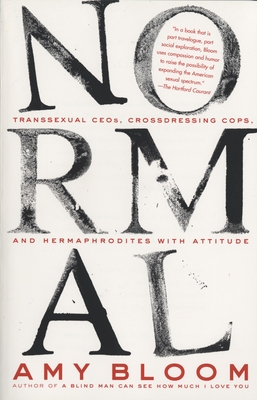 Normal
Transsexual Ceos, Crossdressing Cops, and Hermaphrodites with Attitude
Vintage, Paperback, 9781400032440, 176pp.
Publication Date: September 9, 2003
* Individual store prices may vary.
Buy Now
or
Shop Local
Enter your zip code below to purchase from an indie close to you.
Description
Amy Bloom has won a devoted readership and wide critical acclaim for fiction of rare humor, insight, grace, and eloquence, and the same qualities distinguish Normal, a provocative, intimate journey into the lives of "people who reveal, or announce, that their gender is variegated rather than monochromatic"--female-to-male transsexuals, heterosexual crossdressers, and the intersexed.
We meet Lyle Monelle and his mother, Jessie, who recognized early on that her little girl was in fact a boy and used her life savings to help Lyle make the transition. On a Carnival cruise with a group of crossdressers and their spouses, we meet Peggy Rudd and her husband, "Melanie," who devote themselves to the cause of "ordinary heterosexual men with an additional feminine dimension." And we meet Hale Hawbecker, "a regular, middle-of-the-road, white-bread guy" with a wife, kids, and a medical condition, the standard treatment for which would have changed his life and his gender.
Casting light into the dusty corners of our assumptions about sex, gender and identity, Bloom reveals new facets to the ideas of happiness, personality and character, even as she brilliantly illuminates the very concept of "normal.
About the Author
Amy Bloom is the author of Away, a novel, and two collections of prize-winning stories: Come to Me and A Blind Man Can See How Much I Love You. She is a psychotherapist and teaches creative writing at Yale University, where she is a Fellow of Calhoun College.
Praise For Normal…
"Part travelogue, part social exploration, Bloom uses compassion and humor to raise the possibility of expanding the American sexual spectrum."—The Hartford Courant

"[F]luid and deftly contructed essays. . . . Bloom's unwillingness to embrace simple formulations, her insistence on digging deeper, is her book's strength." --The New York Times Book Review

"This is an important book which says new and interesting things about sex and gender and – it is a very good read." –Grace Paley

"Fascinating without being prurient. . . [Normal] opens new ways of viewing not only gender but our own inability to accept difference."—Publisher's Weekly

"Colorful stories. . .stellar writing."--Entertainment Weekly

"Amy Bloom's wonderful eye and ear are evident. . . She cares for her subjects but retains her objectivity; her great skill is in extracting and weaving from the specific stories her own original thesis about sexuality and gender. This is an important work."–Abraham Verghese, author of My Own Country

"Such is Bloom's skill as an interviewer and a writer that she removes the sensationalism from the subject. . .She is an excellent writer and a sensitive listener."–Deseret News

"As Amy Bloom walks us through her adventures in genderland, she draws compulsively readable pictures of the folks she met there."–Out

"Wonderfully written, thoughtfully and compassionately told. . . A mind-opening, spirit-enlarging book."–Deborah Tannen, author of You Just Don't Understand

"A moving examination of the variety of gender and erotic preferences."–Kirkus Reviews

"Bloom dares the reader to be willingly confounded by her always engaging, frequently humorous interviewees while also airing her own reactions. . . An accessible, nonsensationalistic introduction to a fascinating and controversial subject."–Library Journal

"Bloom's understanding of gender changed radically after her remarkable odyssey into the hidden worlds of female-to-male transsexuals, heterosexual cross-dressers, and hermaphrodites, so will her readers'."–Booklist