I Saw Ramallah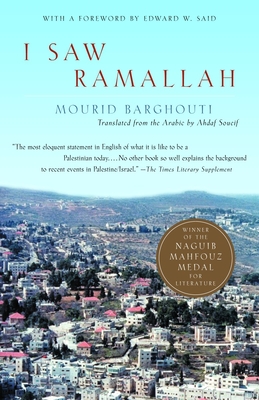 I Saw Ramallah
Anchor Books, Paperback, 9781400032662, 208pp.
Publication Date: May 13, 2003
* Individual store prices may vary.
Buy at Local Store
Enter your zip code below to purchase from an indie close to you.
or
Buy Here
Description
Winner of the prestigious Naguib Mahfouz Medal, this fierce and moving work is an unparalleled rendering of the human aspects of the Palestinian predicament.
Barred from his homeland after 1967's Six-Day War, the poet Mourid Barghouti spent thirty years in exile shuttling among the world's cities, yet secure in none of them; separated from his family for years at a time; never certain whether he was a visitor, a refugee, a citizen, or a guest. As he returns home for the first time since the Israeli occupation, Barghouti crosses a wooden bridge over the Jordan River into Ramallah and is unable to recognize the city of his youth. Sifting through memories of the old Palestine as they come up against what he now encounters in this mere idea of Palestine, he discovers what it means to be deprived not only of a homeland but of the habitual place and status of a person. A tour de force of memory and reflection, lamentation and resilience, I Saw Ramallah" "is a deeply humane book, essential to any balanced understanding of today's Middle East.
About the Author


Barghouti was born in the West Bank in 1944, and graduated from the Faculty of Arts, Cairo University in 1967. His poems have been published in Beirut, Amman, and Cairo since 1972, and his Collected Works were published inCairo in 1997. He lives in Cairo.

Ellen R. Shapiro has seen all sides of the publishing industry--from marketing manager to senior editor at major New York publishing houses to freelance travel writer and author of several books, including "New Your City with Kids." In addition, she is a professional photographer and an avid collector of children's books. She lives in New York City.
Praise For I Saw Ramallah…
"The most eloquent statement in English of what it is like to be a Palestinian today. . . . No other book so well explains the background to recent events in Palestine/Israel." —The Times Literary Supplement

"An important literary event. . . . One of the finest existential accounts of Palestinian displacement that we now have." —Edward W. Said, from the Foreword

"Forceful, lyrical, evocative. . . . A wonderful read." —The Washington Report on Middle East Affairs

"Stirring. . . . Poignant. . . . Compelling. . . . I Saw Ramallah is a magnificent addition to world literature. It is picturesque and lifelike. Its evocative images touch, move, and inspire." –Middle East Studies Association Bulletin

"Marvelous. . . . A beautifully constructed and moving memoir." –Al-Ahram Weekly

"An honest and lyrical account from the Palestinian Diaspora. . . . This book describes in detail the damage done to the Palestinian people in the most beautiful prose. . . . Because of his frankness and calm tone, Barghouti has ensured that this life story will stay with the reader a long time after all the shouting and politicking stops." –Cairo Times

"A rare memoir. . . . Humane and eloquent." –In These Times