Small Things Considered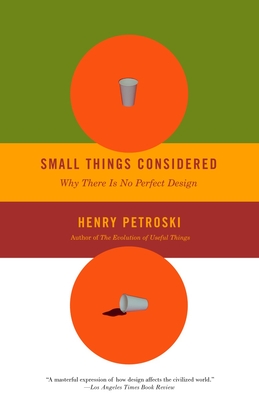 Small Things Considered
Why There Is No Perfect Design
Vintage, Paperback, 9781400032938, 306pp.
Publication Date: September 14, 2004
* Individual store prices may vary.
Buy Now
or
Shop Local
Enter your zip code below to purchase from an indie close to you.
Description
Why has the durable paper shopping bag been largely replaced by its flimsy plastic counterpart? What circuitous chain of improvements led to such innovations as the automobile cup holder and the swiveling vegetable peeler? With the same relentless curiosity and lucid, witty prose he brought to his earlier books, Henry Petroski looks at some of our most familiar objects and reveals that they are, in fact, works in progress. For there can never be an end to the quest for the perfect design.

To illustrate his thesis, Petroski tells the story of the paper drinking cup, which owes its popularity to the discovery that water glasses could carry germs. He pays tribute to the little plastic tripod that keeps pizza from sticking to the box and analyzes the numerical layouts of telephones and handheld calculators. Small Things Considered is Petroski at his most trenchant and provocative, casting his eye not only on everyday artifacts but on their users as well.
About the Author
Henry Petroski is the Aleksandar S. Vesic Professor of Civil Engineering and a professor of history at Duke University. He has written broadly on the topics of design, success and failure, and the history of engineering and technology. His fifteen books on these subjects include To Engineer Is Human, The Pencil, The Evolution of Useful Things, Success through Failure and The Essential Engineer. In addition to his books, which have been translated into more than a dozen languages, Petroski has written numerous general-interest articles for publications including The New York Times, The Washington Post, the Los Angeles Times and The Wall Street Journal, and he writes regular columns for both American Scientist and ASEE Prism. Petroski is a distinguished member of the American Society of Civil Engineers and is a fellow of both the American Society of Mechanical Engineers and the Institution of Engineers of Ireland. He is an elected member of the American Academy of Arts and Sciences, the American Philosophical Society and the U.S. National Academy of Engineering.
Praise For Small Things Considered…
" A masterful expression of how design affects the civilized world." --Los Angeles Times Book Review
"Delightful. . . . A keen observer to the made world and how people live in it. . . . Small Things Considered provides all sorts of penetrating and broadly interesting insights into . . . the process of design." --Scientific American

"He peers closely at some of the most common household objects and explains how they work–or don't. . . . Whether he's tracing the evolution of the Oral-B toothbrush or explaining why the fastest tollbooth is always the one on the right, Petroski clearly knows the designs of our times." --Michael Dirda, INC. Magazine
"Henry Petroski has become the main emissary from the world of engineering to the rest of us. . . . He brings clarity and good sense to his subject, making the enigmatic world of things a little less mystifying." --Austin American-Statesman

"Fascinating. . . . [Petroski] has combined a writer's grace with an engineer's insight to give us an engaging series of essays. . . . You'll never again take a potato peeler for granted." --St. Louis Post-Dispatch

"Craftily, [Petroski] combines an engineer's insight and admiration for the way things are designed with a layman's puzzlement." --Boston Herald

"An engaging read." --The Denver Post

"Fascinating. . . . Interesting and insightful observations. . . . Petroski will make any reader . . . more aware of the processes that lead to the variety of things that are all around us and how they came to be the way they are." --Science Books & Film

"[Petroski] shares with Carl Sagan, Stephen Jay Gould, and Stephen Hawking a talent for taking his passion and making it accessible to those who lack his scientific background while being sufficiently observant and meticulous to keep it interesting for those who share it." --Civil Engineering