Private Life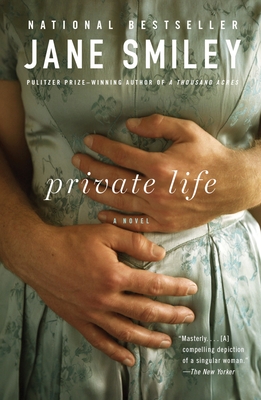 Private Life
Anchor Books, Paperback, 9781400033195, 403pp.
Publication Date: June 14, 2011
* Individual store prices may vary.
Buy at Local Store
Enter your zip code below to purchase from an indie close to you.
or
Buy Here
Description

From the Pulitzer Prize-winning author of A Thousand Acres the powerful and deeply affecting story of one woman's life, from post Civil-War Missouri to California in the midst of World War II.
When Margaret Mayfield marries Captain Andrew Jackson Jefferson Early at the age of twenty-seven, she narrowly avoids condemning herself to life as an old maid. Instead, knowing little about marriage and even less about her husband, she moves with Andrew to his naval base in California. Margaret stands by Andrew during tragedies both historical and personal, but as World War II approaches and the secrets of her husband's scientific and academic past begin to surface, she is forced to reconsider the life she had so carefully constructed.
A riveting and nuanced novel of marriage and family, Private Life reveals the mysteries of intimacy and the anonymity that endures even in lives lived side by side.
About the Author
Jane Smiley is the author of numerous novels, including "A Thousand Acres, " which was awarded the Pulitzer Prize, as well as four works of nonfiction. In 2001 she was inducted into the American Academy of Arts and Letters. She received the PEN USA Lifetime Achievement Award for Literature in 2006. She lives in Northern California.
Praise For Private Life…
"Masterly. . . .[A] precise, compelling depiction of a singular woman." –The New Yorker

"Extraordinarily powerful. . . .It's not often that a work as exceptional as this comes along in contemporary American letters." –Washington Post

"Smiley's best novel yet. . . . [A] heartbreaking, bitter, and gorgeous story." –The Atlantic Monthly
 
"Remarkable. . . . With its quietly accruing power, [Private Life is] the kind of book that puts the lie to those who claim that great novelists produce their best work early and spend the rest of their lives gilding the lily." —Chicago Tribune
 
"Has a Jamesian twist of the unforeseen, but it's achieved with a sureness of hand that's all [Smiley's] own." —The New York Times Book Review
 
"Smiley's eye is keen, and the book's historical pageant is often mesmerizing and often elegantly composed. . . . A quiet tragedy." —The Seattle Times
 
"Private Life, perhaps Jane Smiley's best novel since her Pulitzer Prize-winning A Thousand Acres, is so firmly anchored in its historical setting that the past comes to seem like the reader's present." —The Oregonian
 
"Smiley tells her story precisely. . . . Private Life has a stunning specificity of detail. . . . Husband and wife are three-dimensional, alive and memorable in the way characters in fiction and people in biographies so rarely are." —The Miami Herald
 
"Brilliant. . . . A story of immense originality and insight. . . . It is served well by the fascinating era in which it is set, and most of all by Smiley's wit and erudition." —The Philadelphia Inquirer
 
"A book whose enormous power sneaks up on you. . . . Unlike so many contemporary novels, which start out sure-footed but eventually lose focus, this novel keeps getting better." –The Newark Star Ledger
 
"Powerful. . . . Smiley is a wonderful writer. . . . [She] creates a convincing, nuanced portrait of a woman's life when women had few options." —San Diego Union-Tribune
 
"Brilliant. . . . Private Life is a powerful, challenging and, ultimately, fierce work of fiction, a masterpiece of a novel that stands with the best of Smiley's work." —The Guardian (UK)
 
"A fine portrait. . . . [Private Life] should only enhance Smiley's reputation as one of the most innovative and accomplished writers currently at work." —The Times Literary Supplement (London)
 
"A chilling tale, quietly absorbing." —Bloomberg
 
"Richly detailed. . . . I read parts of Smiley's novel to my mother and, afterward, we found ourselves wondering about our dead female relatives. . . . They lived, they sorrowed; maybe now we understand them a little better than before." —Susan Swan, The Globe and Mail (Toronto)