You Shall Know Our Velocity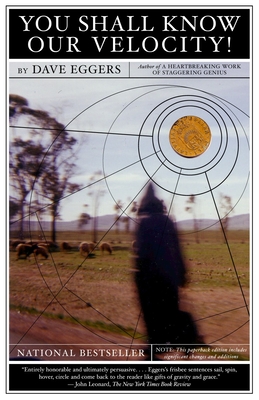 You Shall Know Our Velocity
Vintage Books USA, Paperback, 9781400033546, 416pp.
Publication Date: July 1, 2003
* Individual store prices may vary.
Buy at Local Store
Enter your zip code below to purchase from an indie close to you.
or
Buy Here
Description
In his first novel, Dave Eggers has written a moving and hilarious tale of two friends who fly around the world trying to give away a lot of money and free themselves from a profound loss. It reminds us once again what an important, necessary talent Dave Eggers is.
About the Author
Dave Eggers is the bestselling author of seven books, including "A Hologram for the King", a finalist for the National Book Award; "Zeitoun", winner of the American Book Award and Dayton Literary Peace Prize; and" What Is the What", which was a finalist for the National Book Critics" "Circle Award and won France s "Prix Medici". That book, about Valentino" "Achak Deng, a survivor of the civil war in Sudan, gave birth to the Valentino Achak Deng Foundation, which operates a secondary school in South Sudan run by Mr. Deng. Eggers is the founder and editor of McSweeney s, an independent publishing house based in San Francisco that produces a quarterly journal, a monthly magazine, "The Believer: ", a" "quarterly DVD of short films and documentaries, " Wholphin", and an" "oral history series, Voice of Witness. In 2002, with Ninive Calegari he cofounded 826 Valencia, a nonprofit writing and tutoring center for youth in the Mission District of San Francisco. Local communities have since opened sister 826 centers in Chicago, Los Angeles, New York, Ann Arbor, Seattle, Boston, and Washington, D.C. Eggers is also the founder of ScholarMatch, a program that matches donors with students needing funds for college tuition. A native of Chicago, Eggers now lives in Northern California with his wife and two children.""
Praise For You Shall Know Our Velocity…
"Headlong, heartsick and footsore.... Frisbee sentences that sail, spin, hover, circle and come back to the reader like gifts of gravity and grace.... Nobody writes better than Dave Eggers about young men who aspire to be, at the same time, authentic and sincere." —The New York Times Book Review

"You Shall Know Our Velocity! is the work of a wildly talented writer.... Like Kerouac's book, Eggers's could inspire a generation as much as it documents it." —LA Weekly

"There's an echolet of James Joyce there and something of Saul Bellow's Chinatown bounce, but we're carried into the narrative by a fluidity of line that is Eggers's own." —Entertainment Weekly

"Eggers is a wonderful writer, bold and inventive, with the technique of a magic realist." —Salon

"An entertaining and profoundly original tale." —San Francisco Chronicle

"Eggers 's writing really takes off -- his forte is the messy, funny tirade, stuffed with convincing pain and wry observations." —Newsday

"Often rousing ... achieves a kind of anguished, profane poetry." —Newsweek

"The bottom line that matters is this: Eggers has written a terrific novel, an entertaining and imaginative tale." —The Boston Globe

"There are some wonderful set-pieces here, and memorable phrases tossed on the ground like unwanted pennies from the guy who runs the mint." —The Washington Post Book World

"Powerful.... Eggers's strengths as a writer are real: his funny pitch-perfect dialog; the way his prose delicately captures the bumblebee blundering of Will's thoughts; ... and the stream-water clarity of his descriptions.... There is genius here.... Who is doing more, single-handedly and single-mindedly, for American writing?" —Time