The Squandering of America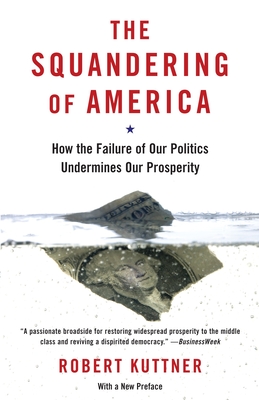 The Squandering of America
How the Failure of Our Politics Undermines Our Prosperity
Vintage Books USA, Paperback, 9781400033638, 337pp.
Publication Date: November 11, 2008
* Individual store prices may vary.
Buy at Local Store
Enter your zip code below to purchase from an indie close to you.
or
Not Currently Available for Direct Purchase
Description
A passionate, articulate argument detailing how the United States political system has failed to adapt to the economic challenges of the late 20th and early 21st centuries.

The American economy is in peril. It has fallen hostage to a casino of financial speculation, creating instability as well as inequality. Tens of millions of workers are vulnerable to layoffs and outsourcing, health care and retirement burdens are increasingly being shifted from employers to individuals. Here Kuttner debunks alarmist claims about supposed economic hazards and exposes the genuine dangers: hedge funds and private equity run amok, sub-prime lenders, Wall Street middlemen, and America's dependence on foreign central banks. He then outlines a persuasive, bold alternative, a new model of managed capitalism that can deliver security and opportunity, and rekindle democracy as we know it.
About the Author
Robert Kuttner is the New York Times bestselling author of Obama's Challenge: America's Economic Crisis and the Power of a Transformative Presidency, is cofounder and coeditor of The American Prospect magazine, as well as a Distinguished Senior Fellow of the think tank Demos. He was a longtime columnist for BusinessWeek, and continues to write columns in the Boston Globe.
His previous and widely praised books include The Squandering of America: How the Failure of Our Politics Undermines Our Prosperity; Everything for Sale: The Virtues and Limits of Markets (about which Robert Heilbroner wrote, "I have never seen the market system better described, more intelligently appreciated, or more trenchantly criticized than in Everything for Sale"); The End of Laissez-Faire: National Purpose and the Global Economy After the Cold War; and The Economic Illusion: False Choices Between Prosperity and Social Justice.
Kuttner"s magazine writing has appeared in The New York Times Magazine and Book Review, The Atlantic, The New Republic, The New Yorker, Dissent, Columbia Journalism Review, and Harvard Business Review. He has contributed major articles to The New England Journal of Medicine as a national policy correspondent. Formerly an assistant to the legendary I.F. Stone, chief investigator for the Senate Banking Committee, Washington Post staff writer, economics editor for The New Republic, and university lecturer, Kuttner's decades-long intellectual and political project has been to revive the politics and economics of harnessing capitalism to serve a broad public interest.
Praise For The Squandering of America…
"A passionate broadside for restoring widespread prosperity to the middle class and reviving a dispirited democracy."—BusinessWeek "With seven years' distance from the Clinton era, [Kuttner's] arguments now look emphatically right." —The New York Times Book Review"Robert Kuttner is a prophet whose time has come. This lucid, passionate, razor-sharp book carries a message as urgent as it is clarifying."—Hendrik Hertzberg "Robert Kuttner has diagnosed the sickness in our body politic."—The Boston Globe