The Swallows of Kabul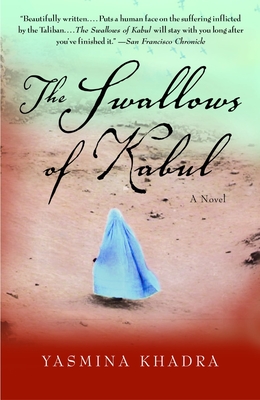 The Swallows of Kabul
Anchor Books, Paperback, 9781400033768, 195pp.
Publication Date: April 12, 2005
* Individual store prices may vary.
Buy at Local Store
Enter your zip code below to purchase from an indie close to you.
or
Buy Here
Description
Set in Kabul under the rule of the Taliban, this extraordinary novel takes readers into the lives of two couples: Mohsen, who comes from a family of wealthy shopkeepers whom the Taliban has destroyed; Zunaira, his wife, exceedingly beautiful, who was once a brilliant teacher and is now no longer allowed to leave her home without an escort or covering her face. Intersecting their world is Atiq, a prison keeper, a man who has sincerely adopted the Taliban ideology and struggles to keep his faith, and his wife, Musarrat, who once rescued Atiq and is now dying of sickness and despair.
Desperate, exhausted Mohsen wanders through Kabul when he is surrounded by a crowd about to stone an adulterous woman. Numbed by the hysterical atmosphere and drawn into their rage, he too throws stones at the face of the condemned woman buried up to her waist. With this gesture the lives of all four protagonists move toward their destinies.
The Swallows of Kabul is a dazzling novel written with compassion and exquisite detail by one of the most lucid writers about the mentality of Islamic fundamentalists and the complexities of the Muslim world. Yasmina Khadra brings readers into the hot, dusty streets of Kabul and offers them an unflinching but compassionate insight into a society that violence and hypocrisy have brought to the edge of despair.
About the Author
Yasmina Khadra est l auteur de la trilogie "Les Hirondelles de Kaboul", "L Attentat" et "Les Sirenes de Bagdad". La plupart de ses romans sont traduits dans 42 pays. "Ce que le jour doit a la nuit" Meilleur livre de l annee 2008 pour le magazine LIRE et prix France Televisions 2008 a ete adapte au cinema par Alexandre Arcady en 2012. "L Attentat" a recu, entre autres, le prix des libraires 2006. Son adaptation cinematographique par le realisateur Ziad Doueiri sort le 1er mai 2013 sur les ecrans. Presente dans plusieurs festivals, le film a deja recu le prix du Public a Bastia et L Etoile d or a Marrakech.


Praise For The Swallows of Kabul…
"A surprisingly tender book. . . . Amid the terror a classic story about love sneaks through: love lost, love imagined, love morphed into madness." —The New York Times Book Review

"A novel very much in the tradition of Albert Camus, not only in its humanism and concern with the consequences of individual choices but also in its determination to bear witness to the absurdities of daily life. . . . [A] chilling portrait of fundamentalism run amok and its fallout on ordinary people." — The New York Times

"Beautifully written. . . . It puts a human face on the suffering inflicted by the Taliban. . . . Disturbing and mesmerizing, The Swallows of Kabul will stay with you long after you've finished it." -- San Francisco Chronicle

"Riveting. . . . Spare, taut, and pristinely clear prose . . . . An uncanny knack for making moral tension palpable. . . . Extraordinarily moving." — The Philadelphia Inquirer

"Stunning. . . . [Khadra] conveys the physical deprivations and humiliations with a few startling details, but the book's most devastating sections explore the mental damage of living under such terror. . . . [This] novel is a surgical strike against fundamentalism more penetrating than anything the Pentagon could devise." --Christian Science Monitor
 
"Yasmina Khadra's Kabul is hell on earth, a place of hunger, tedium, and stifling fear." --J. M. Coetzee, winner of the 2003 Nobel Prize for Literature
 
"A brief, despairing novel. . . . Khadra's prose is gentle and precise. . . . Makes a powerful point about what can happen to a man when 'the light of his conscience has gone out.'" --The New Yorker
 
"Chilling. . . . Powerful, surreal. . . . A meditation on the ultimate sacrifice of love. . . . [Khadra] expertly reveals the breakdown of human relations in a repressive society." --Milwaukee Journal Sentinel
 
"I am so grateful that The Swallows of Kabul has been written, and written with such relentless poetry and passion. . . .[It] once more proves the power of fiction to turn our despair into hope, to restore our stolen sense of dignity and humanity, and to desire life when death seems to be the safest refuge." --Azar Nafisi, author of Reading Lolita in Tehran
  
"Khadra writes with economy, saying a lot with a little. . . . His style is as spare and flinty as the craggy hills that surround the city. . . . The Swallows of Kabul is for readers who wish to explore despair's deepest shadows." --The Baltimore Sun
 
"Powerful, despairing. . . . Communicates a sense of urgency, as if its creator knew he was on the verge of being found out. . . . What gives The Swallows of Kabul its momentum is the sense of conviction it brings to its most dramatic moments." --The Oregonian
 
"Plac[es] the reader not only inside the daily rhythms of Kabul but trapped, as well, beneath a woman's burqa. . . . Khadra exemplifies the novelist's gift: he bestows an emotional life and voice on those who have been alienated and silenced. . . . [The Swallows of Kabul] is a necessary advance, taking us deeper into this world than the reportage we have seen for so long now." --The Times-Picayune (New Orleans)
 
"Riveting. . . . Thrilling, horrifying. . . . Khadra's snapshots of Kabul are the stuff of Dante's Inferno." --Colombus Dispatch
 
"[A] wrenchingly beautiful novel. . . . [Khadra's] strength as a writer lies in his precisely passionate phrases, his psychological probings, and the gnarled and twisted relationships he conjures up between endless war and relentless theocracy. There is a lyrical starkness to his prose that you just want to read out loud to capture its searing rhythms and perfect cadences. . . . This is a brilliant, resolute, elegiac novel that not only hurts but, in the sheer beauty of its style, also exhilarates and creates sublimely tragic moments you will never forget." --The Providence Journal
 
"Brillian[t]. . . . Accomplished. . . . [Khadra's] portrait of the Afghan tragedy is unflinching, his lean prose and storytelling skills unimpeachable. . . . The bleak portrayal of life under the Taliban contained in this brief, straightforward narrative musters the complexity and moral impact of a much bigger book." --South Florida Sun-Sentinel