Wizard of the Crow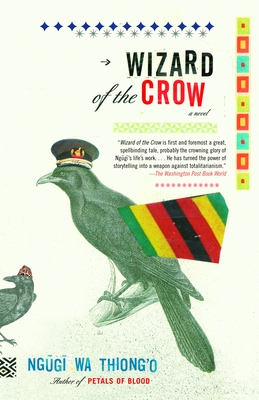 Wizard of the Crow
Anchor Books, Paperback, 9781400033843, 768pp.
Publication Date: August 28, 2007
* Individual store prices may vary.
Buy at Local Store
Enter your zip code below to purchase from an indie close to you.
or
Buy Here
Description
In exile now for more than twenty years, Kenyan novelist, playwright, poet and critic Ngugi wa Thiong o has become one of the most widely read African writers. Commencing in our times and set in the fictional Free Republic of Aburiria, Wizard of the Crow dramatizes with corrosive humor and keenness of observation a battle for control of the souls of the Aburirian people. Fashioning the stories of the powerful and the ordinary into a dazzling mosaic, this magnificent novel reveals humanity in all its endlessly surprising complexity.
About the Author
Ngugi wa Thiong'o is the author of, among other works, "Petals of Blood," "Weep Not Child," "The River Between," "A Grain of Wheat," "The Devil on the Cross," and "Decolonising the Mind: The Politics of Language in African Literature," now an essential text in post-colonial studies. Ngugi has argued that English is a "cultural bomb" that continues to erase pre-colonial cultures and history, even as it institutes new and more insiduous forms of colonialism. As Kenyan, he writes in his native Gikuyu, translating his works into English himself.
Praise For Wizard of the Crow…
"Wizard of the Crow is first and foremost a great, spellbinding tale, probably the crowning glory of Ngugi's life's work. . . . He has turned the power of storytelling into a weapon against totalitarianism."
—The Washington Post Book World

"In his crowded career and his eventful life, Ngugi has enacted, for all to see, the paradigmatic trials and quandaries of a contemporary African writer, caught in sometimes implacable political, social, racial, and linguistic currents." —John Updike, The New Yorker

"An allegory presented as a modern-day folk tale (complete with tricksters, magic, disguised lovers and daring escapes). . . . Ngugi writes simply and unaffectedly about his characters. . . . It recalls a long yarn told by firelight."—The New York Times Book Review

"Ngugi is one of Africa's greatest writers, and certainly the foremost voice of Kenyan literature. . . . Possibly the best comparison to make of Wizard of the Crow is with Salman Rushdie's Midnight's Children."
—San Francisco Chronicle