The Anatomy of Fascism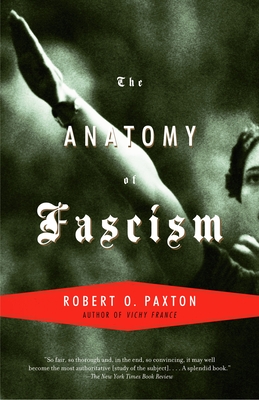 The Anatomy of Fascism
Vintage Books USA, Paperback, 9781400033911, 321pp.
Publication Date: March 8, 2005
* Individual store prices may vary.
Buy Now
or
Shop Local
Enter your zip code below to purchase from an indie close to you.
Description
What "is "fascism? Many authors have proposed definitions, but most fail to move beyond the abstract. The esteemed historian Robert O. Paxton answers this question for the first time by focusing on the concrete: what the fascists did, rather than what they said. From the first violent uniformed bands beating up "enemies of the state," through Mussolini's rise to power, to Germany's fascist radicalization in World War II, Paxton shows clearly why fascists came to power in some countries and not others, and explores whether fascism could exist outside the early-twentieth-century European setting in which it emerged.
The Anatomy of Fascism will have a lasting impact on our understanding of modern European history, just as Paxton's classic Vichy France redefined our vision of World War II. Based on a lifetime of research, this compelling and important book transforms our knowledge of fascism-"the major political innovation of the twentieth century, and the source of much of its pain."
"

About the Author
Robert O. Paxton is professor of history emeritus at Columbia University. A specialist in the history of western Europe in the era of the two world wars, he has written extensively on France under Nazi occupation, including VICHY FRANCE: OLD GUARD AND NEW ORDER (Columbia University Press, 2001) and VICHY FRANCE AND THE JEWS (Stanford University Press, 1995). His most recent work is THE ANATOMY OF FASCISM (Alfred Knopf, 2004).
Praise For The Anatomy of Fascism…
"So fair, so thorough and, in the end, so convincing, it may well become the most authoritative . . . study of the subject. . . . A splendid book." –The New York Times Book Review

"Useful and timely. . . . Mussolini and Hitler were the prototypical fascist leaders, and Paxton chronicles their rise to power--and their global influence and ultimate fall--with a brilliant economy." –San Francisco Chronicle

"A deeply intelligent and very readable book. . . . Historical analysis at its best." –The Economist

"[A] helpful contribution, thoughtfully mapping out the descent of a civilized people — first the Italians, then the Germans — into a primal state (and state of being) ruled by mythology, symbol and emotion. . . . Serves as a reminder of our power and responsibility." –The Washington Post Book World

"Until now there has been no satisfying account of fascism that includes a convincing diagnostic kit for identifying its symptoms. . . . Robert Paxton steps in to restore sanity, with his view that fascism is not what was believed but what was done." –Los Angeles Times Book Review