Trains of Thought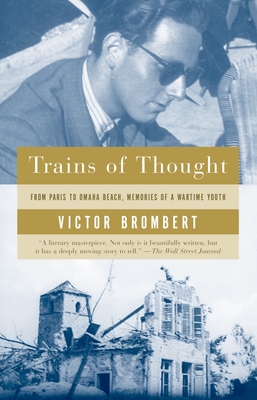 Trains of Thought
Paris to Omaha Beach, Memories of a Wartime Youth
Anchor Books, Paperback, 9781400034031, 334pp.
Publication Date: March 9, 2004
* Individual store prices may vary.
Not Currently Available for Direct Purchase
or
Shop Local
Enter your zip code below to purchase from an indie close to you.
Description
In an unforgettable addition to the literature of memoir, one of America's preeminent literary scholars tells his story of coming of age in France during the buildup to the Second World War. As a Jewish youth in France during the 1930s, Victor Brombert's heady explorations of sex and love were cut short by the rise of Nazi power and the Vichy Regime. His family narrowly escaped to New York, where Brombert joined the U.S. Army, only to return to Europe to fight on the beaches of Normandy and in the Battle of the Bulge. As he shuttles between the stations of his life, Brombert's narrative recaptures the textures of childhood, the horrors of war, and his own discovery of a sustaining passion for literature. By turns melancholy and erotic, his memoir is also a meditation on memory itself, and a Proustian re-creation of a lost time and place.
About the Author
Victor Brombert is the Henry Putnam University Professor Emeritus of Romance and Comparative Literatures at Princeton University. He is the author of many books, including "In Praise of Antiheroes: Figures and Themes in Modern European Literature, 1830 l980", also published by the University of Chicago Press, and the wartime memoir"Trains of Thought".
Praise For Trains of Thought…
"A literary masterpiece. Not only is it beautifully written, but it has a deeply moving story to tell." --The Wall Street Journal

"Penetrating [and] evocative but also honest and wholly unsentimental. . . . Trains of Thought, as well as being a singular memoir, is a work of not-inconsiderable art." —The Washington Post Book World

"Brombert writes with grace and balance. . . . [H]is story of his time in battle is as riveting as anything by Stephen Ambrose." —The Boston Globe

"[R]ich in descriptions of intimate domestic existence, memories of youthful thought, and experience of a social world defined by fine manners, high culture and extravagant freedoms." —San Francisco Chronicle

"Splendid . . . Brombert has achieved a luminous contemplative style. . . . A permanent addition to the literature of expatriation." —The New York Times Book Review

"Beautifully written. . . . [Brombert] tells his story neatly and directly."—Los Angeles Times Book Review

"Victor Brombert has . . . lots of charm. . . . It is impossible not to like [the book] and him." —The New York Review of Books

"Lavishly detailed. . . . Rich in descriptions. . . . Sounds, smells, tastes—the child's universe is rendered closely and very fully." —San Francisco Chronicle

"[Brombert] writes with brio and a sense of elegy, in command of every last scrap of cherished detail. He is a guardian of the flame, or one of those whom Stendhal called "the Happy Few." —The New Criterion

"Striking. . . . A beautifully written book."—The Times Literary Supplement (London)

"Elegant and absorbing. . . . An inspiring achievement." —The Guardian (London)

"Fascinating. . . . Wonderfully evocative. . . . This is not only an extraordinary story but a very candid examination of a life." —The Jewish Quarterly (UK)

"An impressionistic, Proustian memoir. . . . Brombert's prose sings. . . . Truthful and beautiful." —The New York Sun

"Compelling, lyrical, allusive, and engaging. . . . A book readers will not want to put down." —Choice

"Intelligent and beautifully written." —Jewish Chronicle (UK)

"Ranging from lush to poignant to erotic to horrifying. . . . A brilliant memoir illuminating a rich and complex life." —Kirkus Reviews (starred)

"Evocative and luminous, a book to be savored."—Booklist

"Perceptive and ruminative. . . . There is much to be learned from this splendid and eminently readable memoir."—Trenton Times