The Winemaker's Daughter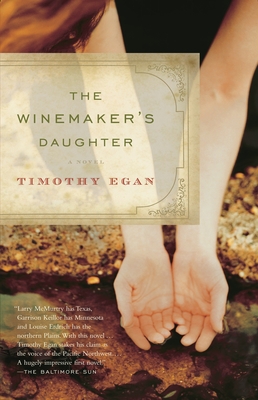 The Winemaker's Daughter
Vintage, Paperback, 9781400034109, 320pp.
Publication Date: January 11, 2005
* Individual store prices may vary.
Buy Now
or
Shop Local
Enter your zip code below to purchase from an indie close to you.
Description
Pulitzer Prize-winning "New York Times "national correspondent Timothy Egan turns to fiction with The Winemaker's Daughter, a lyrical and gripping novel about the harsh realities and ecological challenges of turning water into wine.
When Brunella Cartolano visits her father on the family vineyard in the basin of the Cascade Mountains, she's shocked by the devastation caused by a four-year drought. Passionate about the Pacific Northwest ecology, Brunella, a cultural impact analyst, is embroiled in a battle to save the Seattle waterfront from redevelopment and to preserve a fisherman's livelihood. But when a tragedy among fire-jumpers results from a failure of the water supply her brother Niccolo is among those lost--Brunella finds herself with another mission: to find out who is sabotaging the area's water supply. Joining forces with a Native American Forest Ranger, she discovers deep rifts rooted in the region's complicated history, and tries to save her father's vineyard from drying up for good . . . even as violence and corruption erupt around her.
About the Author
TIMOTHY EGANis a Pulitzer Prize winning reporter and the author ofseven books, most recentlyShort Nights of the Shawdow Catcher: The Epic Life and Immortal Photographs of Edward Curtis.His previous books include TheWorst Hard Time, which won a National Book Award and was named a New York Times Editors Choice, andThe Big Burn: TeddyRoosevelt and theFire ThatSaved America, aNew York Timesbestseller and winner of the Pacific Northwest BooksellersAward and the Washington State Book Award.Heis an online op-ed columnist for the New York Times, writing his "Opinionator" feature once a week. He isa third-generation Westerner andlives in Seattle.
Praise For The Winemaker's Daughter…
"Larry McMurtry has Texas, Garrison Keillor has Minnesota and Louise Erdrich has the Northern Plains. With this novel . . . Timothy Egan stakes his claim as the voice of the Pacific Northwest. . . . A hugely impressive first novel. " --The Baltimore Sun

"An action-packed, finely detailed portrait of the land and people of the Pacific Northwest." --San Francisco Chronicle

"A good read, showcasing Mr. Egan's lived-in sense of place as well as his knowledge of wine culture."--The New York Times

"A page-turner that manages to avoid the trite and instead embrace truthful contemporary issues. . . . Well-crafted."--Rocky Mountain News

"The Winemaker's Daughter is an allegory of sorts, an extended conceit in which the figures and events stand for something larger than themselves. Like his prior nonfiction work, it's incisive, exacting, and sharply written; it also benefits from his acerbic sensibility, which lends it a satiric wit. Bravo to Tim Egan!" --David Guterson

"Moving. . . . Peppered with wonderful descriptions . . . knockout local color . . . [and] a portrait of Seattle that tempts you to buy a plane ticket to see the place for yourself." --The New York Times Book Review

"The contours of the land seem to shape Egan's characters . . . giving them unusual depth and binding them inextricably to one another. . . . The Winemaker's Daughter may be Egan's first novel, but it is obviously the work of an old hand." --The Columbus Dispatch

"An affecting work." --The Dallas Morning News

"Egan knows the Pacific Northwest well and writes about it lovingly. . . . With a reporter's eye for detail, Egan deftly delineates some hot-button issues of the late 1990s (redevelopment; the dot-com frenzy and inevitable bust; Indian casinos)." --Fort Worth Star-Telegram

"Boils over with serious issues about winemaking in the West. . . . Oenophiles will revel in the wine-geeky details." --The Oregonian

"An involving, complex, puzzling novel that is mystery and romance, literature and entertainment. . . . Egan cuts to the core and takes us on a journey rather unlike any other." --Statesman Journal (Salem, OR)