The Ten Most Beautiful Experiments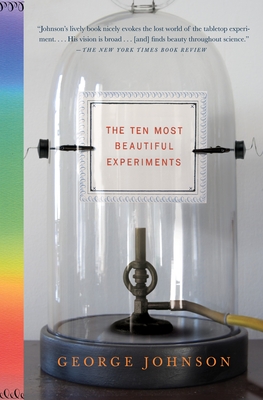 The Ten Most Beautiful Experiments
Vintage Books USA, Paperback, 9781400034239, 192pp.
Publication Date: March 10, 2009
* Individual store prices may vary.
Buy at Local Store
Enter your zip code below to purchase from an indie close to you.
or
Buy Here
Description
A dazzling, irresistible collection of the ten most ground-breaking and beautiful experiments in scientific history.

With the attention to detail of a historian and the story-telling ability of a novelist, New York Times science writer George Johnson celebrates these groundbreaking experiments and re-creates a time when the world seemed filled with mysterious forces and scientists were in awe of light, electricity, and the human body. Here, we see Galileo staring down gravity, Newton breaking apart light, and Pavlov studying his now famous dogs. This is science in its most creative, hands-on form, when ingenuity of the mind is the most useful tool in the lab and the rewards of a well-considered experiment are on elegant display.
About the Author
George Johnson writes regularly about science for "The New York Times." He has also written for "Scientific American," "The Atlantic," "Time," "Slate," and "Wired," and his work has been included in "The Best American Science Writing." A former Alicia Patterson fellow, he has received awards from PEN and the American Association for the Advancement of Science, and his books were twice finalists for the Rhone-Poulenc Prize.
Praise For The Ten Most Beautiful Experiments…
"Johnson's lively book nicely evokes the lost world of the tabletop experiment. . . . His vision is broad . . . [and] finds beauty throughout science."—The New York Times Book Review "A page turner that documents moments of genius from Galileo to Millikan."—The Washington Post"As elegant as the experiments it describes."—The Wall Street Journal "Johnson's . . . crystalline prose is like the pull of gravity . . . an irresistible force."—Scientific American "As a science journalist, Mr. Johnson is a seasoned translator of technical jargon. He also has a sharp eye for human plot, both in and out of the laboratory . . . a certain spirit of wonder breathes through Mr. Johnson's chapters."—The New York Sun"Delightful, succinct, elegant." —Roger Penrose"Absorbing . . ."—Discover "Johnson's book is as elegant as the experiments he features . . . . The writing here is lively, mixing bits of biography with the experiments themselves, offering the human element that explains the scientists' motivation as well as the science. Johnson shares personal anecdotes as well as theory in an engaging, compelling style. The result is a little gem of a book, enjoyable to read both as history and science."—Bookpage"Johnson deftly relates the circumstances and eccentricities integral to the findings behind science's most seminal experiments."—Seed Magazine"Johnson engagingly dramatizes his stories with failure-crowned-by-success narratives, adding biographical sparks . . . Johnson exerts classic appeal to science readers: presenting the lone genius making a great discovery. Good to go in any library."—Booklist"Concise, evocative . . . pays wonderful homage to the science and scientists that helped create the modern world."—Publisher's Weekly"George Johnson knows his stuff, and his stuff is science."—The Santa Fe New Mexican"George Johnson's The Ten Most Beautiful Experiments makes its point as elegantly as the experiments it describes."—Wall Street Journal"Unusual and engaging . . . unfussy, jargon-free . . . Johnson is an experienced science writer with a knack for making biology and physics clear, and for finding the humanizing details in this world."—Minneapolis-St. Paul Star Tribune"[An] entertaining physics text by a skilled science writer."—Jeffrey Bairstow, In My View