How to Breathe Underwater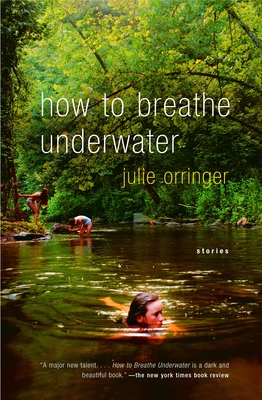 How to Breathe Underwater
Vintage, Paperback, 9781400034369, 240pp.
Publication Date: April 12, 2005
* Individual store prices may vary.
Buy at Local Store
Enter your zip code below to purchase from an indie close to you.
or
Buy Here
Description
Nine brave, wise, and spellbinding stories make up this award-winning debut. In "When She is Old and I Am Famous" a young woman confronts the inscrutable power of her cousin's beauty. In "Note to Sixth-Grade Self" a band of popular girls exert their social power over an awkward outcast. In "Isabel Fish" fourteen-year-old Maddy learns to scuba dive in order to mend her family after a terrible accident. Alive with the victories, humiliations, and tragedies of youth, How to Breathe Underwater" "illuminates this powerful territory with striking grace and intelligence.
About the Author
Julie Orringer is a graduate of the Iowa Writers Workshop and Cornell University, and was a Stegner Fellow in the Creative Writing Program at Stanford University. Her stories have appeared in "The Paris Review, " "The Yale Review, " "Ploughshares, " "The Pushcart Prize" anthology, and "Zoetrope: All-Story." She is thirty years old and lives in San Francisco."
Praise For How to Breathe Underwater…
"A major new talent. . . . How to Breathe Underwater is a dark and beautiful book." –The New York Times Book Review

"These stories are without exception clear-eyed, compassionate and deeply moving. . . . Even her most bitter characters have a gift, the sharp wit of envy. This, Orringer's first book, is breathtakingly good, truly felt and beautifully delivered." –The Guardian

"Orringer's engaging wit, her eye for social detail, her ear for patterns of speech and thought, and her insights into human nature proclaim her a writer to be reckoned with." –Los Angeles Times

"Captivating. . . . Orringer limns the ordinary, terrifying time between childhood and maturity so skillfully." –San Francisco Chronicle

"Pure gems, rollicking along with scintillating prose and surety. Just when you think they will stop–and lesser writers would stop–they keep going with inexorable momentum." –Ploughshare

"The harsh landscape in which Orringer's characters dwell corresponds to the fierce beauty of her writing. Even the grimmest of these stories conveys, along with anguish, a child's spark of mystery and wonder." –The New York Times

"Beautiful, so wise and vital. . . . It's impossible not to feel for the pained and alienated young women in Orringer's stories, and impossible not to be stunned and moved by their quests for redemption. More so than any debut author in recent years, Orringer proves that the kids are all right, even when they're not." –The Austin Chronicle

"Utterly authentic . . . the passage through childhood and puberty is strewn with dangers and roadblocks. But what [Orringer] does with those hazards in her stories is something altogether magical." –The Seattle Times

"Eloquent. . . . Orringer sifts the inexorable sparks of sexual awakening and unearths moments of brittle surprise and bitter triumph. . . . Haunting." –Miami Herald

"Unclouded by sentimentality . . . Orringer endows her situations and her characters–adults as well as children–with complexity and humor. . . . She writes with penetrating intelligence and remarkable self-possession." –The Boston Globe

"How to Breathe Underwater is unbelievably good: the humiliations and cruelties and passions of childhood, sparkling fresh prose, a writer with a big heart and an acute sense of the small things that loom large in our lives." –Monica Ali, The Guardian

"Absolutely magnificent. . . . In Orringer's world, we are forced to remember that time in our lives when we had to tolerate mystery and meaningless, because, to the child in each of us, the world is still a murky–and potentially magical place." –Ms. Magazine

"Intelligent, heartfelt stories that tell a whole new set of truths about growing up American. Julie Orringer writes with virtuosity and depth about the fears, cruelties, and humiliations of childhood, but then does that rarest, and more difficult, thing: writes equally beautifully about the moments of victory and transcendence." –George Saunders

"Fair Warning: Once you start reading Julie Orringer's debut collection of short stories, How to Breathe Underwater, you may find yourself unable to stop. . . . Orringer's work has a glorious maturity and burnished grace. . . . Each story delivers the satisfying details and emotional heft of a novel." –Elle

"A fiercely beautiful debut. . . . Orringer delves into the harrowing rip tides of emotion and circumstance that disturb lives yet enhance survival. Her tales are tough, transcendent and so richly imagined you won't want to get out." –Nerve.com

"How to Breathe Underwater is an outstanding collection. Orringer writes about the things that everyone writes about–youth, friendship, death, grief, etc.–but her narrative settings are fresh and wonderfully knotty. So while her themes are as solid and recognizable as oak trees, the stuff growing on the bark you've never seen before. . . .The moment I finished it I bought myself a first edition, and then another. It's that sort of book. –Nick Hornby, The Believer

"These stories will remind you of all the lovably flawed girls you ever knew . . . or were." –Glamour

"Julie Orringer is the real thing, a breathtaking chronicler of the secrets and cruelties underneath the surface of middle-class American life. These are terrific stories—wise, compassionate and haunting." –Dan Chaon

"Wondrous. . . . Not one of her stories leaves you unaffected; often, your heart aches from sustained and painful empathy. And yet you're left exhilarated, too, by their sheer energetic artistry. . . . [Orringer] seems to remember childhood events as if it were last week. All her stories have unexpected settings and events, yet ring so true you practically feel you're there somewhere yourself, sitting unobserved in the landscape observing your struggling fellow humans." –San Francisco Magazine

"The world of the nine stories in this astonishing debut collection is one of beauty and longing. . . . [These stories] are astounding in their ability to capture young people in all their simple agonies and joys." –The Anniston Star

"In How to Breathe Underwater, Julie Orringer delves into the complex lives of girls and young women, and with uncommon courage and exceptional clarity she shows us what she finds: passionate, often disturbing feelings of longing and jealousy and grief; an intense struggle to make sense of the unfathomable world of adults, and above all a determination to survive. These are tough, beautiful stories, piercing and true, and they mark the debut of an exceptionally gifted writer." –Ann Packer

"This is a wonderful set of stories, full of empathy and wisdom." –San Jose Mercury News

"Wry, poignant. . . . Such clear-eyed precision makes Orringer's debut as heartbreaking as it is clever." –Entertainment Weekly