The Bookshop, the Gate of Angels, the Blue Flower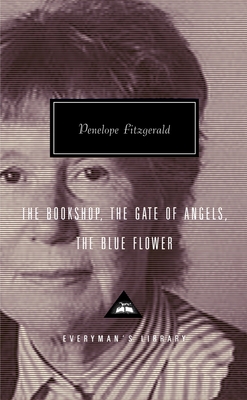 The Bookshop, the Gate of Angels, the Blue Flower
Everyman's Library, Hardcover, 9781400041268, 512pp.
Publication Date: September 23, 2003
* Individual store prices may vary.
Buy Now
or
Shop Local
Enter your zip code below to purchase from an indie close to you.
Description
(Book Jacket Status: Jacketed)

Penelope Fitzgerald, who died in 2000, emerged late in life as one of the most remarkable English writers of the last century. She began her writing career in 1975 at the age of fifty-nine, and over the next two decades she published three biographies, nine novels, and a collection of short stories. Now three of her acclaimed novels are gathered here in one volume.

The Bookshop is a postwar tragicomedy of manners, set in an isolated seaside town where an enterprising woman opens a bookstore only to find it beset by poltergeists, weather, and hostile townsfolk. The Gate of Angels is an Edwardian romance within a novel of ideas: a young doctor devoted to science and to his all-male Cambridge college finds his life and views disrupted by a nurse named Daisy. The Blue Flower, which won the National Book Critics Circle Award, revitalizes historical drama through the story of Novalis, an eighteenth-century German romantic poet and visionary genius, and his unlikely love affair with a simple child-woman.

These three novels all display Fitzgerald's characteristic wit, intellectual breadth, and narrative brilliance, applied to an array of traditional forms into which she breathed new life.
About the Author
PENELOPE FITZGERALD wrote many books small in size but enormous in popular and critical acclaim over the past two decades. Over 300,000 copies of her novels are in print, and profiles of her life appeared in both The New Yorker and The New York Times Magazine. In 1979, her novel Offshore won Britain's Booker Prize, and in 1998 she won the National Book Critics Circle Prize for The Blue Flower. Though Fitzgerald embarked on her literary career when she was in her 60's, her career was praised as "the best argument.. for a publishing debut made late in life" (New York Times Book Review). She told the New York Times Magazine, "In all that time, I could have written books and I didn t. I think you can write at any time of your life." Dinitia Smith, in her New York Times Obituary of May 3, 2000, quoted Penelope Fitzgerald from 1998 as saying, "I have remained true to my deepest convictions, I mean to the courage of those who are born to be defeated, the weaknesses of the strong, and the tragedy of misunderstandings and missed opportunities, which I have done my best to treat as comedy, for otherwise how can we manage to bear it?"

Frank Kermode is Julian Clarence Levi Professor of English Literature, Columbia University, and a Fellow of King's College, Cambridge.
Praise For The Bookshop, the Gate of Angels, the Blue Flower…
"The Bookshop is a little gem…A classic whose force as a piece of physical and moral mapmaking has not merely lasted but has actually improved with the passage of years." –New York Times Book Review

"Wryly, even comically animated…On any reckoning, [The Bookshop is] a marvelously piercing fiction." –Times Literary Supplement

"[The Gate of Angels] is an achievement–a metaphysical novel which is entertaining, brief, and a love story…A miracle of technique." –The Times (London)

"[The Gate of Angels] contains more wit, intelligence, and feeling than many novels three times its length. It confirms Fitzgerald's place as one of the finest and most entertaining novelists in England." –The Observer

"[The Blue Flower] is a quite astonishing book, a masterpiece." –New York Times Book Review

"Her limpid, exact prose reflects an unwaveringly clear view of the human predicament. Fitzgerald seems to be one of those rare artists gifted with both the knowledge of how things are and the skill to record what she knows with subtlety and devastating truthfulness." –A. N. Wilson, Evening Standard

"The Blue Flower is an enchanting novel about heart, body, and mind. The writing is elliptical and witty…so that what could be a sad little love story is constantly funny and always absorbing, with a cast of characters both endearing and amusing. This novel is a jewel." –Daily Telegraph