Down Here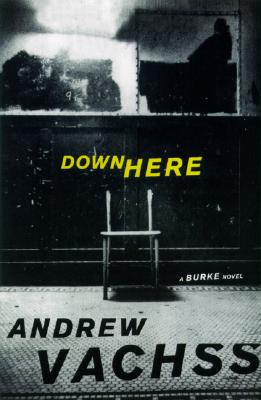 Down Here
A Burke Novel
Knopf, Hardcover, 9781400041732, 304pp.
Publication Date: April 13, 2004
* Individual store prices may vary.
Buy at Local Store
Enter your zip code below to purchase from an indie close to you.
or
Not Currently Available for Direct Purchase
Description
Bone-crushing impact, set in a milieu that clogs your lungs and stings your eyes, Down Here is the penetrating and remarkable new thriller from the master of American noir.
For many years, Burke has carried a torch for Wolfe, the beautiful, driven former sex crimes prosecutor who was fired for refusing to "go along to get along." They share a marrow-deep hatred of predators but walk different sides of the street when it comes to justice. So when Burke hears that Wolfe has been arrested for attempted murder, he knows something is double-wrong–and deals himself in.

Putting together a distrustful alliance between his "family of choice," Wolfe's outlaw network, and an informant inside the police department, Burke starts with the alleged victim, a brutal serial rapist Wolfe had personally prosecuted. He's back on the street because his conviction was reversed, and any of his long list of victims has plenty of motive to kill him. The deeper Burke gets into the investigation, the more holes he finds in the case against Wolfe. Yet the DA's office continues to press forward, and Burke has to find out what their game is. No stranger to devil's bargains, Burke reopens the rape investigations–his way–and discovers an artist whose violent work in progress is a whole city's nightmare.
About the Author
Andrew Vachss has been a federal investigator in sexually transmitted diseases, a social services caseworker, and a labor organizer and has directed a maximum-security prison for youthful offenders. Now a lawyer in private practice, he represents children and youths exclusively. He is the author of numerous novels, including the Burke series, two collections of short stories, and a wide variety of other material including song lyrics, graphic novels, and a "children's book for adults." His books have been translated into twenty languages and his work has appeared in Parade, Antaeus, Esquire, Playboy, the New York Times, and numerous other forums. A native New Yorker, he now divides his time between the city of his birth and the Pacific Northwest.
Praise For Down Here…
"Many writers try to cover the same ground as Vachss. A handful are as good. None are better." –People

"His greatest literary accomplishment to date and his most powerful statement yet on the choice between good and evil." --The Jackson Sun

"Starting a Vachss novel is like putting a vial of nitroglycerin into your pocket and going for a jog. You just know things are going to get interesting. Usually sooner rather than later." – Rocky Mountain News

"Vachss's writing is like a dark rollercoaster ride of fear, love and hate." – The New-Orleans Times-Picayune

"Vachss's writing remains raw and hungry, with an epidermis of rage barely containing an infinite core of sadness." –The Seattle Times

"Sheer narrative drive is only part of what has kept readers coming back for more. . . . [Burke] is a hero of our times . . . lord of the asphalt jungle." --Washington Post Book World

"Vachss's style is personal, laconic, shaded and, of course, creepy. If you like hard-boiled punk narrative, this is a read for you."  --Los Angeles Times Book Review

"The Burke books make the noir-film genre look practically pastel. . . . The plot-driven stories churn with energy and a memorable gallery of the walking wounded." --The Philadelphia Inquirer

"There's no way to put a [Vachss book] down once you've begun. . . . The plot hooks are engaging and the one-liners pierce like bullets." --Detroit Free Press

"Andrew Vachss continues to write the most provocative novels around. . . . It is difficult to write about a burning social issue and still keep the story at white heat, but Andrew Vachss does it seamlessly." --Martha Grimes

"The New York Burke inhabits is not borrowed from anybody and shimmers on the page as gaudily and scarily as it does on the streets." --New York magazine

"Down Here is tautly written...ultimately triumphant. Burke is the uncrowned king of the lawless good guys, and Down Here will advance his legend." –Bookpage

"Addictive. . . . A [book] no student of the human condition will want to ignore." --Huntsville Times