Palladian Days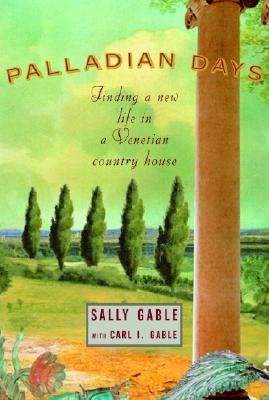 Palladian Days
Finding a New Life in a Venetian Country House
Knopf, Hardcover, 9781400043378, 288pp.
Publication Date: June 21, 2005
* Individual store prices may vary.
Buy at Local Store
Enter your zip code below to purchase from an indie close to you.
or
Not Currently Available for Direct Purchase
Description
What Sally Gable thought she wanted was a summer house in New Hampshire. What she found and learned to love was a new life in a beautiful and celebrated Palladian villa in the countryside outside Venice. In Palladian Days, she takes us with her on a journey of discovery and transformation as she and her husband, Carl, become the bemused owners of Villa Cornaro, built in 1552 by the great Renaissance architect Andrea Palladio called by Town & Country one of the ten most influential buildings in the world.

Sally Gable writes lovingly of the villa as she and Carl settle in and slowly uncover its history, the lives of its former inhabitants, and its architectural pleasures. She tells of her early days there, learning to speak Italian with the help of her engaging new neighbors in the tiny town that surrounds the villa, Piombino Dese, a place both traditional and busily modern with its old-fashioned street markets and its burgeoning economy.

She writes with beguiling humor about learning to take care of a Renaissance palace with its 104 frescoes and 44 pairs of shutters (all of which have to be opened and closed daily). She tells of baffling encounters with the soprintendente di belle arti, who must give permission for even the smallest repair to the Italian national treasure Sally and Carl call home. And she describes the life she and her husband create for the villa itself, allowing it to be used for concerts, ballet performances, even as a movie set.

In Palladian Days, we enter with Sally and Carl into their engrossing adventure, following along as they are woven ever more deeply into the fabric of small-town Italy and into its larger national history. Their story will delight travelers and would-be travelers; all who are fascinated by architecture, by art, by the powerful essence of place—and, especially, house-dreamers everywhere.
About the Author
Sally Gable, a church music director by training, has served on the boards of Radcliffe College, the Atlanta Symphony Orchestra, and other educational and musical organizations. Carl I. Gable, a lawyer and businessman and the author of a book on Venetian glass, has served on the boards of the Spoleto Festival USA, the Atlanta Opera, the Michael C. Carlos Museum of Emory University, and the Center for Palladian Studies in America. They divide their time between Atlanta and Villa Cornaro in Italy.
Praise For Palladian Days…
• ?;"Palladian Days lifts the notion of buying a summer house to dizzying and delightful new heights. Sally and Carl Gable's fascinating account reads like a fast-paced, marvelously satisfying adventure story." --John Berendt, author of Midnight in the Garden of Good and Evil

"Sally Gable's sincerity and humor never fail her as she tells of her quest to understand Italian life and history, and to restore Palladio's villa to its full splendor."
–Kim Williams, author of The Villas of Palladio

"Sally Gable lights up her story of acquiring a house in Italy with boldness and humor.  "House" hardly does justice to the structure, which is a villa by Palladio in the Veneto and one of Italy's prize pieces of its patrimony.  The Gables lavish upon it the attention and love it deserves, turning it into a home. At every turn, they ask "What would Palladio think?"  I'm sure he would be thrilled."
–Frances Mayes, author of Under the Tuscan Sun