The Woman Warrior, China Men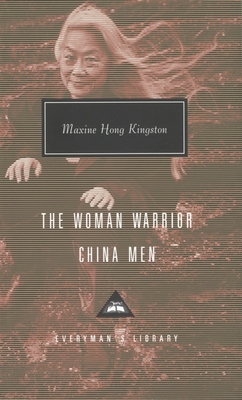 The Woman Warrior, China Men
Everyman's Library, Hardcover, 9781400043842, 541pp.
Publication Date: April 12, 2005
* Individual store prices may vary.
Buy at Local Store
Enter your zip code below to purchase from an indie close to you.
or
Buy Here
Description
(Book Jacket Status: Jacketed)
Here for the first time in one volume are two classic, brilliantly original works on the experience of Chinese immigrants in America. In both books Maxine Hong Kingston mines her family's past and her culture's stories, weaving myth and memory to fashion works of enormous revelatory power.
"The Woman Warrior: Memoirs of a Girlhood Among Ghosts," which won the National Book Critics Circle Award, is Kingston's disturbing and fiercely beautiful account of growing up Chinese-American in California. The young Kingston lives in two worlds: the America to which her parents have emigrated, a place inhabited by white ghosts, and the China of her mother's talk stories, a place haunted by the ghosts of the past. Her mother, who had been a doctor in China but in the United States is reduced to running a laundry, tells her daughter traditional tales of strong, wily women warriorstales that clash puzzlingly with the real oppression of Chinese women. Kingston learns to fill in the mystifying spaces in her mother's stories with stories of her own, engaging her family's past and her own present with anger, imagination, and dazzling passion.
"China Men," a National Book Award winner for fiction, is Kingston's unforgettable imaginative journey into the hearts and minds of generations of Chinese men in America, from those who worked on the transcontinental railroad in the 1840s to those who fought in Vietnam. Mixing vivid fables and legends, personal stories from her own family, and details of the historical hardships faced by Chinese immigrants in different times and places, Kingston illuminates their long, arduous search for the Gold Mountain.
About the Author
Maxine Hong Kingston, Senior Lecturer for Creative Writing at the University of California, Berkeley, delivered the 2000 William E. Massey Lectures at Harvard, on which this book is based. For her memoirs and fiction, The Woman Warrior, China Men, Tripmaster Monkey, and Hawaii One Summer, Kingston has earned numerous awards, among them the National Book Award, the National Book Critics Circle Award for Nonfiction, the Pen West Award for Fiction, an American Academy and Institute of Arts and Letters Literature Award, and a National Humanities Medal from the National Endowment for the Humanities, as well as the rare title of "Living Treasure of Hawai'i." In addition, The Fifth Book of Peace will be published in the Spring of 2003.

Edmund Wilson (1895-1972) was a novelist, memoirist, playwright, journalist, poet, and editor but it is as a literary critic that he is most highly regarded.
Mary Gordon's most recent novel is "Spending."

Praise For The Woman Warrior, China Men…
The Woman Warrior

"A remarkable book . . . As an account of growing up female and Chinese-American . . . it is anti-nostalgic; it burns the fat right out of the mind. As a dream—of the 'female avenger'—it is dizzying, elemental, a poem turned into a sword."
—NEW YORK TIMES

"Intense, fierce, and disturbing . . . A strange, sometimes savagely terrifying, and, in the literal sense, wonderful story."
—WASHINGTON POST

"A book of fierce clarity and originality."
—NEWSWEEK

China Men

"A history at once savage and beautiful, a combination of bone-grinding reality and luminous fantasy."
—THE NEW REPUBLIC

"Superb . . . Humorous . . . Magical. We are in the presence of a splendid raconteur, who shares with us the myths and stories that emerge from the lode of a culture's deepest realities."
—CHICAGO TRIBUNE

"China Men is a voyage itself, to China and back. It will come to be regarded as one of the classic American works on the experience of immigration . . . A work of enormous power, feeling, and understanding."
—LOS ANGELES HERALD EXAMINER

With a new Introduction by Mary Gordon