Secret Asset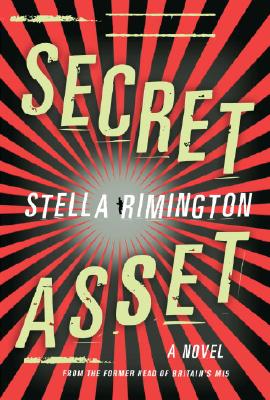 Secret Asset
Knopf, Hardcover, 9781400043958, 336pp.
Publication Date: June 19, 2007
* Individual store prices may vary.
Not Currently Available for Direct Purchase
or
Shop Local
Enter your zip code below to purchase from an indie close to you.
Description
With her debut novel, At Risk, Stella Rimington established herself as a top-notch thriller writer, and introduced us to Liz Carlyle—a smart, impassioned MI5 intelligence officer whose talents and ambitions are counterbalanced by an abiding awareness of her job's moral complexities. In Secret Asset, we are plunged back into her high-stakes, high-tension world.

Liz has always been particularly skilled at "assessing people," and when one of her agents reports suspicious meetings taking place at an Islamic bookshop, she trusts her instinct that a terrorist cell is at work. Her boss, Charles Wetherby, Director of Counter-Terrorism, knows to trust Liz's instincts as well: he immediately puts a surveillance operation into place.

So Liz is surprised when Wetherby suddenly takes her off the case. And she's shocked to hear why: Wetherby has received a tip-off that a mole—a "secret asset"—has been planted in one of the branches of British Intelligence. If this is true, the potential damage to the Service is immeasurable. As her colleagues work to avert an impending terrorist strike, Liz is charged with the momentous task of uncovering and exposing the mole before it's too late.

As she did in At Risk, Stella Rimington once again brings all her experience as the first woman Director General of MI5 to bear in a heart-stopping thriller that takes us deep into a "wilderness of mirrors" where nothing is what it seems and no one can be trusted.
About the Author
Stella Rimington joined Britain's Security Service (MI5) in 1969. During her nearly thirty-year career she worked in all the main fields of the Service's responsibilities—counter-subversion, counter-espionage, and counter-terrorism—and successively became Director of all three branches. Appointed Director General of MI5 in 1992, she was the first woman to hold the post and the first Director General whose name was publicly announced on appointment. Following her retirement from MI5 in 1996, she became a nonexecutive director of Marks & Spencer and published her autobiography, Open Secret, in the United Kingdom. She is also the author of At Risk, the first Liz Carlyle novel. Rimington lives in London.
Praise For Secret Asset…
"Fast-moving . . . Rimington continues to deliver on the promise of spy fiction written not only by a former spy but also by the head of British intelligence. This is a smartly constructed, sharply written thriller that exudes realism and a professional's eye for detail . . . Rimington also proves adept at building characters and constructing plots."
–David Pitt, Booklist

"Those interested in old school British intelligence thrillers will find much to like in the smart, enterprising Carlyle . . . Much is made of the authenticity of Rimington's tradecraft (she was the first female head of MI5 in real life), and rightly so."
–Publishers Weekly

"[Secret Asset has] whiplash control of momentum that raises your pulse a heartbeat at a time until the climax."
–Kirkus Reviews

"The author makes effective use of her professional knowledge . . . The ingenious plot entwines strands of Irish Republican Army leftovers, disaffected spies, and Islamic terrorists . . . Rimington's sense of place is strong."
–Library Journal

Praise for At Risk:
"This is something very rare: the spy novel that prizes authenticity over fabrication."
–Mail on Sunday

"Tense and terrifying."
–Cosmopolitan

"A cracking good thriller"
–Lynn Barber, Observer

"Intelligent — Undeniably pacy"
–Guardian

"Rimington makes adroit use of her expertise as former MI5 chief"
–Sunday Times

"The Secret Service background is exceedingly convincing"
–Evening Standard

"First class"
–Douglas Hurd, New Statesman

Praise for Stella Rimington's autobiography Open Secret:
"The story of MI5's transformation is fascinating. So too is Rimington's account of her rise in what was very definitely a man's world."
—Guardian

"She writes in a refreshingly self-deprecating style of juggling the roles of single parent and chief 'spook'."
—Independent on Sunday

"Open Secret is a fascinating account not only of Stella Rimington's various roles in the evolving Security Services, but also of the strains on a single mother as she struggles to compartmentalize a life that is necessarily unpredictable, stressful and shrouded in secrecy."
—Time Out