Young Stalin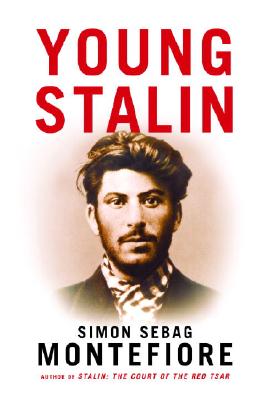 Young Stalin
Knopf, Hardcover, 9781400044658, 496pp.
Publication Date: October 16, 2007
* Individual store prices may vary.
Not Currently Available for Direct Purchase
or
Shop Local
Enter your zip code below to purchase from an indie close to you.
Description
A revelatory account that finally unveils the shadowy journey from obscurity to power of the Georgian cobbler's son who became the Red Tsar—the man who, along with Hitler, remains the modern personification of evil.

What makes a Stalin? What formed this merciless psychopath who was, as well, a consummate politician, the dynamic world statesman who helped create and industrialize the USSR, outplayed Churchill and Roosevelt, organized Stalingrad, took Berlin and defeated Hitler?

Young Stalin tells the story of a charismatic, darkly turbulent boy born into poverty, of doubtful parentage, scarred by his upbringing but possessed of unusual talents. Admired as a romantic poet and trained as a priest—both by the time he was in his early twenties—he found his true mission as a fanatical revolutionary. A mastermind of bank robbery, protection rackets, arson, piracy and murder, he was equal parts terrorist, intellectual and brigand. Here is the dramatic story of his friendships and hatreds, his many love affairs—with women from every social stratum and age group—his illegitimate children and his complicated relationship with the Tsarist secret police. Here is Stalin the arch-conspirator and escape artist whose brutal ingenuity so impressed Lenin that Lenin made him, along with Trotsky, top henchman. Montefiore makes clear how the paranoid criminal underworld was Stalin's natural habitat, and how murderous Caucasian banditry and political gangsterism, combined with pitiless ideology, enabled Stalin to dominate the Kremlin—and create the USSR in his flawed image.

Based on ten years of research in newly opened archives in Russia and Georgia, Young Stalin—companion to the prizewinning Stalin: The Court of the Red Tsar—is a brilliant prehistory of the USSR, a chronicle of the Revolution, and an intimate biography. A thrilling work of history, unparalleled in its scope, full of astonishing new evidence and utterly fascinating: this is how Stalin became Stalin.
About the Author
Simon Sebag Montefiore is a historian of Russia whose works have been published in twenty-seven languages. Stalin: The Court of the Red Tsar was awarded the History Book of the Year Prize at the 2004 British Book Awards. Potemkin: Catherine the Great's Imperial Partner was short-listed for the Samuel Johnson, Duff Cooper and Marsh Biography prizes in Britain. A Fellow of the Royal Society of Literature, novelist and television presenter, Montefiore lives in London with his wife, the novelist Santa Montefiore, and their two children.
Praise For Young Stalin…
"[A] meticulously researched, authoritative biography of Stalin's early years . . . Montefiore offers a detailed picture of Stalin's childhood and youth, his shadowy career as a revolutionary in Georgia and his critical role during the October Revolution. No one, henceforth, need ever wonder how it was that Stalin found his way into Lenin's inner circle, or took his place in the ruling troika that assumed power after the storming of the Winter Palace . . . Montefiore has worked his way with a fine-toothed comb through previously unread archival material in Russia and in Georgia . . . He successfully captures 'the sheer weird singularity of the man' and the lethal instincts that propelled him to the summit of power."
–William Grimes, The New York Times

"The portrait of Stalin that emerges from these pages is more complete, more colorful, more chilling, and far more convincing than any we have had before . . . Montefiore is in a class of his own. As he did for Stalin: The Court of the Red Tsar, he has unearthed an unprecedented range of evidence [and] tracked down an astonishing range of witnesses . . . A brilliantly researched book, which finally dispels the myth of the 'grey blur.'"
–Orlando Figes, New York Review of Books

"Once again tapping into a rich vein of material from previously closed archives in Russia and Georgia, Montefiore has produced a portrait of the young Stalin that is as complex and morbidly fascinating as his previous work. In this age of terror, it's also a timely reminder of the terrorist origins of the Bolshevik revolutionaries who would soon unleash mass murder on a previously unimaginable scale."
–Andrew Nagorski, Newsweek (international edition)

"Young Stalin is brilliantly readable, as intricately plotted and full of detail as a good novel, scrupulously researched, and full of hitherto unknown (or unreported) facts about Stalin's life."
–Michael Korda, Men's Vogue