Grotesque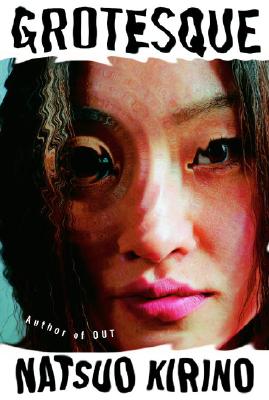 Grotesque
Knopf, Hardcover, 9781400044948, 480pp.
Publication Date: March 13, 2007
* Individual store prices may vary.
Not Currently Available for Direct Purchase
or
Shop Local
Enter your zip code below to purchase from an indie close to you.
Description
Natsuo Kirino made a spectacular fiction debut on these shores with the publication of Edgar Award-nominated Out ("Daring and disturbing . . . Prepared to push the limits of this world . . . Remarkable"—Los Angeles Times). Unanimously lauded for her unique, psychologically complex, darkly compelling vision and voice, she garnered a multitude of enthusiastic fans eager for more.
In her riveting new novel Grotesque, Kirino once again depicts a barely known Japan. This is the story of three Japanese women and the interconnectedness of beauty and cruelty, sex and violence, ugliness and ambition in their lives.
Tokyo prostitutes Yuriko and Kazue have been brutally murdered, their deaths leaving a wake of unanswered questions about who they were, who their murderer is, and how their lives came to this end. As their stories unfurl in an ingeniously layered narrative, coolly mediated by Yuriko's older sister, we are taken back to their time in a prestigious girls' high school—where a strict social hierarchy decided their fates—and follow them through the years as they struggle against rigid societal conventions.
Shedding light on the most hidden precincts of Japanese society today, Grotesque is both a psychological investigation into the female psyche and a classic work of noir fiction. It is a stunning novel, a book that confirms Natsuo Kirino's electrifying gifts.
About the Author
Natsuo Kirino, born in 1951, is the author of sixteen novels, four short-story collections, and an essay collection. She is the recipient of six of Japan's premier literary awards, including the Mystery Writers of Japan Award for Out, the Izumi Kyoka Prize for Literature for Grotesque, and the Naoki Prize for Soft Cheeks. Her work has been published in nineteen languages worldwide; several of her books have also been turned into movies. Out was the first of her novels to appear in English and was nominated for an Edgar Award. She lives in Tokyo.
Praise For Grotesque…
"[Grotesque] buoys itself along with depraved urbanity, acute social consciousness, gallows humor and a chorus of odd and damaged voices. Readers will find themselves enchanted as though by some demented orchestra. . . . Behind this social critique of Japan as appearance-obsessed dystopia lurks a series of more mystical and complex questions about the ultimate mystery of human beauty."
–The Tennessean

"Despite the story's dark tenor, the narrative charges forward with haunting leisure, seducing with access to the sordid underbelly of traditional Japanese life. . . . Harkening to Kurosawa's 1950s film Rashoman, each narrative presents conflicting testimony, and through this we must reconstruct the past."
–The Miami Herald

"Kirino provides an energized thrill ride as she also examines the sometimes-stifling stranglehold of Japan's social hierarchy, especially for women."
–Seattle Post-Intelligencer

"Kazue's journal is the novel's chilling heart. . . . Grotesque's clean, compassionless prose conveys muted isolation and the misery of aging sex workers with brutal efficiency."
–Time Out (Chicago)

"A harrowing look at human physiognomy, desire and competition. . . . Kirino's gifts are such that it is almost impossible to look away even as Grotesque illuminates the most depraved elements of human nature."
–The Pittsburgh Tribune-Review

"Grotesque succeeds as a layered exploration of the human psyche, of the conflict inherent in need and desire, shame and humiliation. Character after character dissolves, until finally the haughty narrator herself becomes the very thing she hates the most, a desperate woman seeking love. . . . The brilliance of the novel lies deep in the crevasse of her obsession. In pursuing her beautiful nephew, she becomes vulnerable and, like the rest of us, will experience pain and disappointment. Allure and attraction leave what Francoise Sagan called scars on the soul. Grotesque is a powerful study of people humbled at the altar of superficial values."
–The Philadelphia Inquirer

"A vengefully mesmerizing obituary written in the voice of a woman who is often a total stranger to the women she envies. . . . The deftness with which Kirino paints the portrait of this particular Dorian Gray is a crystal-clear insight into the mind of a lunatic. Kirino turns an unerring eye toward the vicious razors of the adolescent female mind."
–The San Francisco Chronicle

"Grotesque is not so much a crime novel as a brilliant, subversive character study. Kirino's real concerns are social, not criminal; her true villain is 'the classist society so firmly embedded in Japan' which pushes her protagonists along the road to prostitution. . . . The outrageous, unattractive, anarchic narrator is a terrific riposte to the rigidity of that society; her strong posture so at odds with the submissive role Japanese women are traditionally expected to assume - in education, in business, as wives, as daughters. . . . In its boldness and originality, [Grotesque] broadens our sense of what modern Japanese fiction can be."
–The Telegraph (London)

"With clinical precision, Kirino dissects our society's preoccupation with beauty and how it can poison relationships; her vision of the choices available to Japanese women makes Madame Butterfly look like Pretty Woman."
–Planet

"Kirino helps us aficionados of crime fiction imagine the kind of novels James M. Cain might have written if he had been a Japanese feminist. That same greasy smog of despair that hovers over the housing tract wastelands of Mildred Pierce and Double Indemnity blankets the fringes of Kirino's Tokyo. Like Cain, Kirino is a big believer in fate, not as an agent of deliverance but as the ultimate dead end to all possibilities, especially for women. . . . If crime noir is a genre that is distinguished by its courage in exploring the outermost suburbs of the human psyche, than Kirino — like Cain — fills up the tank, puts the pedal to the metal, and takes us readers on a long drive into the night — without safety belts. . . . Emotionally harrowing. . . . One of the things Grotesque does so elegantly is make a reader recognize how abhorrent and disturbing great beauty is. . . . In Grotesque, as in all great crime noir, under the heaping mounds of operatic passion and hyperbolic social commentary, lies the shriveled corpse of a buried truth, perhaps still shallowly bleeding."
–Maureen Corrigan, Fresh Air (NPR)

"[Kirino is] almost forensic in her dissection of society. . . . Grotesque is bleak and lurid, violent and dispiriting, but ultimately fascinating for what it has to say."
–New York Daily News

"A raging indictment of an entire society. . . . Kirino's description of female alienation and self-destructiveness in contemporary Japan is chilling."
–Time Out

"Engrossing. . . . A rich, complex read. Be prepared for a book utterly unlike anything we are used to in crime fiction: a long, densely written work that resembles a Russian novel more than anything else. The Hirata sisters are not-too-distant cousins of the Brothers Karamazov." –The Independent (London)

"Kirino's Out introduced a thrilling new genre to American readers: feminist Japanese noir. . . . The trio of antiheroines in Grotesque. . . feel similarly bound and betrayed by societal convention–but instead of using gender's double-edged sword against their male persecutors, these women find themselves trapped under its blade."
–Elle

"Readers with a taste for ambiguity and oddball characters will enjoy this twisted novel of suspense. . . . A mesmerizing tale of betrayal."
–Publishers Weekly

"No one writes like Natsuo Kirino — few could rise to her level of intelligence, passion and honesty. I admire her tremendously." –Mary Gaitskill