One-Liners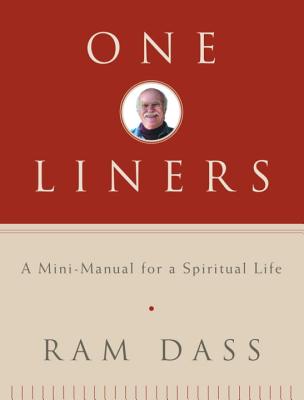 One-Liners
A Mini-Manual for a Spiritual Life
Harmony, Hardcover, 9781400046232, 256pp.
Publication Date: September 3, 2002
* Individual store prices may vary.
Buy at Local Store
Enter your zip code below to purchase from an indie close to you.
or
Not Currently Available for Direct Purchase
Description
Ram Dass has always been a master of the one-liner. Here is the nitty-gritty by the author of Be Here Now more than 200 penetrating observations and pithy spiritual instructions on such topics as How It All Is, Love and Devotion, Suffering, Aging, Planes of Consciousness, Death and Dying, Service and Compassion, Psychedelics, Social Awareness, and Liberation.
This book is a kind of spiritual brandy, a distillation of the lectures I ve given over the course of the past decade or so. These quotes are the little aha moments, the cameos that have been served up out of our collective consciousness from time to time that seem to summarize something about our human journey. I think of this book as something you might have next to the coffeepot to pick up in the morning, or as something you might tuck into your backpack to pull out during your bus ride to work, in order to reframe the way you look at your day. Ram Dass.
About the Author
RAM DASS is one of America's most beloved spiritual figures. After meeting his guru in India and receiving training in practices of meditation, devotion, and hatha yoga, he translated those teachings for Western audiences through his lectures, workshops, and books. Following his guru's instructions to "love and serve people," Ram Dass has dedicated his life to working and teaching about consciousness transformation, conscious dying, and conscious social action. He presently makes his home in California.

Ram Dass has served on the faculty at Stanford and Harvard Universities. In the 1960s, he traveled to India, where he met his guru. Since then, he has pursued a variety of spiritual practices, including guru kripa, devotional yoga, karma yoga, many forms of meditation, and Sufi and Jewish studies. Many of his books, including "Be Here Now, are international bestsellers and classics of their kind.

Ram Dass is the author of the landmark classic Be Here Now and the acclaimed Still Here and Be Love Now. After meeting his guru in India in 1967, Ram Dass became a pivotal spiritual influence on American culture.