The Zombie Survival Guide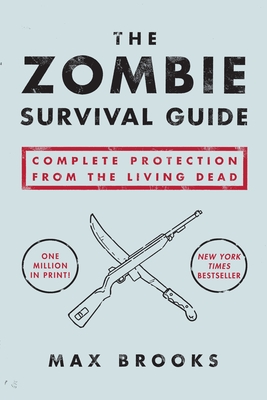 The Zombie Survival Guide
Complete Protection from the Living Dead
Broadway Books, Paperback, 9781400049622, 288pp.
Publication Date: September 16, 2003
* Individual store prices may vary.
Buy at Local Store
Enter your zip code below to purchase from an indie close to you.
or
Buy Here
Description
From the author of the #1 New York Times bestseller, World War Z, The Zombie Survival Guide is your key to survival against the hordes of undead who may be stalking you right now. Fully illustrated and exhaustively comprehensive, this book covers everything you need to know, including how to understand zombie physiology and behavior, the most effective defense tactics and weaponry, ways to outfit your home for a long siege, and how to survive and adapt in any territory or terrain.

Top 10 Lessons for Surviving a Zombie Attack

1. Organize before they rise!
2. They feel no fear, why should you?
3. Use your head: cut off theirs.
4. Blades don't need reloading.
5. Ideal protection = tight clothes, short hair.
6. Get up the staircase, then destroy it.
7. Get out of the car, get onto the bike.
8. Keep moving, keep low, keep quiet, keep alert!
9. No place is safe, only safer.
10. The zombie may be gone, but the threat lives on.

Don't be carefree and foolish with your most precious asset—life. This book is your key to survival against the hordes of undead who may be stalking you right now without your even knowing it. The Zombie Survival Guide offers complete protection through trusted, proven tips for safeguarding yourself and your loved ones against the living dead. It is a book that can save your life.
About the Author
Ne en 1972 a New York, Max Brooks est le fils du celebre Mel Brooks ("La folle histoire de l espace", "Frankenstein junior" ) et de l actrice Anne Bancroft. Membre entre 2001 et 2003 de l equipe creative du "Saturday Night Live", il a egalement participe comme acteur a plusieurs series televisees et prete sa voix a des personnages d animation ("Batman", "Justice League"). Il vit aujourd hui a Los Angeles. Ses ouvrages, devenus des references (dont "World War Z", adapte au cinema), connaissent un immense succes dans le monde entier.
Wednesday, Dec 23, 2009
Essayist Jake Halpern may be a 33-year-old man with a wife, kids and a job at Yale, but that doesn't mean he's no fun and games. When it comes to zombies, Halpern knows you can't take the living dead lightly — and that's why he's endorsing the ultimate zombie survival guide. More at NPR.org