Off-Season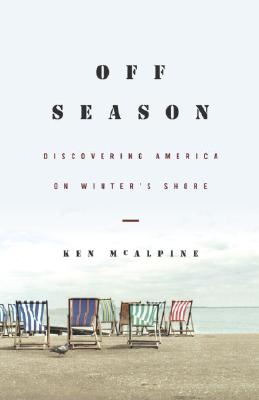 Off-Season
Discovering America on Winter's Shore
Broadway Books, Paperback, 9781400049738, 304pp.
Publication Date: June 22, 2004
* Individual store prices may vary.
Buy at Local Store
Enter your zip code below to purchase from an indie close to you.
or
Buy Here
Description
No Longer the Forgotten Season

Just after Labor Day, Ken McAlpine said good-bye to his family and began a drive up the East Coast, from Florida to Maine, on a one-man quest to capture the elusive "forgotten season" of beach towns shuttered until the return of warm weather. Off-Season is a moving portrait that brings to life the magic of the sea and shore in winter, the charm of beach towns emptied of summer crowds, and the warmth and eccentricities of year-round coastal residents who revel in small-town spirit.

McAlpine skipped the more popular destinations like Nags Head, Virginia Beach, Cape May, and the Hamptons, opting to visit lesser known locales like Sharpes, Florida; Tangier Island, Virginia; and Montauk, New York. There he found people who celebrated the departure of the tourists with the cautious hope they'd return next summer. He encountered fishermen struggling to make a living, a former playboy lifeguard now ministering to the elderly and ill, a marine policeman both reviled and respected, a lone kayaker paddling away his grief, a couple fighting to save the world's coral reefs, divers searching for everything from false teeth to dead bodies in dark waters, and deserted snow-covered beaches more beautiful than anyone could describe.

More than a travelogue—and a whole new breed of beach read—Off-Season is a stroll off the beaten path and a look at the people and places in our country that keep the spirit of community alive.
About the Author
Ken McAlpine is the author of five books. Rise of the Mooncusser is the prequel to his novel Fog, described as "a 21st century Moby Dick that pits Pomp, an obsessed character who will stop at nothing, against Daniel Cole, a good man who has an opportunity to stop the madness but can't. McAlpine writes in the style of Melville, Conrad and Hemingway" and "one of the most intelligent, richly detailed, deeply felt and evocative novels I've read." His novel Together We Jump was praised by Sunset Magazine as "lyrical, evocative and deeply moving... a luminous American novel," and by the Los Angeles Review as "a poetic roller coaster ride through the mind and soul... rendered with eerily realistic plot and dialogue." His first book, the non-fiction work Off Season: Discovering America on Winter's Shore, was a Barnes and Noble Discover Great New Writers selection. His follow-up non-fiction book Islands Apart: A Year on the Edge of Civilization was called "a rumination on what it means to be human," and McAlpine was lauded as "a humorous and humble guide who takes his contemplation of our busy world into unexpected places." He is also the author of West is Eden: Reflections on this Gift Called Life, a collection of essays. McAlpine's magazine articles have earned three Lowell Thomas awards, travel writing's top award. More important to him, assignments from magazines ranging from National Geographic Traveler to Sunset, have provided him unbridled opportunity for play; from diving with white sharks, to running the Inca trail to Machu Picchu, to sparring with the world shoot fighting champion (you cannot learn a martial art in a week). He likes to stand in his yard at night looking at the stars, but he does not like to spend any time during the day doing yard work.