The Lies of George W. Bush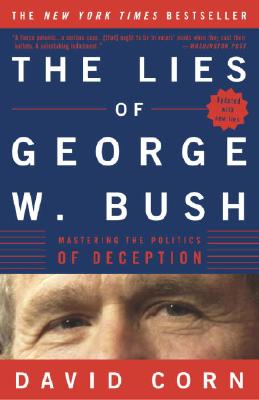 The Lies of George W. Bush
Mastering the Politics of Deception
Three Rivers Press, Paperback, 9781400050673, 368pp.
Publication Date: May 25, 2004
* Individual store prices may vary.
Buy at Local Store
Enter your zip code below to purchase from an indie close to you.
or
Not Currently Available for Direct Purchase
Description
"Get ready to get mad. Corn has cut through the spin and crafted an important and powerful challenge to Bush and his crew." —Molly Ivins

"David Corn's The Lies of George W. Bush is as hard-hitting an attack as has been leveled against the current president." —Los Angeles Times

"George W. Bush is a liar. He has lied large and small, directly and by omission. He has mugged the truth–not merely in honest error, but deliberately, consistently, and repeatedly."

In this scathing indictment of the president and his inner circle, David Corn reveals the deceptions at the heart of the Bush presidency. With wit and style, Corn details how the Bush administration has consistently lied to the American public to advance its own interests, from mischaracterizing intelligence to whip up support for war with Iraq to misrepresenting the possible consequences of his supersized tax cut and offering false claims to push a radical agenda on crucial issues across the board. In this unflinching work of hard-hitting journalism, Corn explains how Bush has managed to get away with it and explores the danger of presidential deceit in a perilous age. This paperback edition also includes an up-to-date analysis of the aftermath of the war with Iraq.
About the Author
David Corn is the Washington editor of "The Nation" and a Fox News Channel contributor. He has written for the "Washington Post," the "New York Times," the "Philadelphia Inquirer," the "Los Angeles Times," "Harper's," "The New Republic," "Mother Jones," "Washington Monthly," " Slate," "Salon," and many other publications. He has long been a political commentator on television and radio and has appeared on a number of political news shows, including "The O'Reilly Factor," "Hannity & Colmes," "Crossfire," "Washington Week in Review," and "Hardball," and is a regular on NPR's "Diane Rehm Show." He is the author of the novel "Deep Background" and the biography "Blond Ghost: Ted Shackley and the CIA's Crusade." "From the Hardcover edition."
Praise For The Lies of George W. Bush…
"The Lies of George W. Bush nails the case. Mixing cold, hard facts with a rapier wit, David Corn skewers Bush, using the president's own words and deeds to prove that the straight-shooting candidate who vowed to restore honor and integrity to the Oval Office has, instead, turned out to be a serial liar. Meticulously researched, Lies sets a crooked record straight and shows that Saddam's WMDs are not the only thing missing—so is honesty in the Bush White House. Bush bashers, your ship has come in. Bush backers, I dare you to read this."—Arianna Huffington, author of Pigs at the Trough

"Washington journalist David Corn takes a gloves-off look at President Bush's public record and finds a disturbing array of White House whoppers. With biting wit and sharp-eyed skepticism, Corn finds a pattern of deception too sweeping and consistent to be dismissed casually as 'spin' or "misstatements.' A valuable look at how often and effortlessly the man who campaigned on the lofty principles of 'responsibility' and 'accountability' has evaded both."—Clarence Page, syndicated columnist for the Chicago Tribune

"One of the oddest aspects of the Bush presidency has been how reluctant journalists are to report that Bush lies. Reporters who jumped on Bill Clinton for disingenuous hair-splitting and piled on Al Gore for harmless exaggerations have given George W. Bush pass after pass after pass. No longer. Veteran journalist David Corn has collected all the glaring evidence. With flair, he skewers Bush and shows—beyond question—that the fellow in the White House has manhandled the truth about Iraq, the war on terrorism, tax cuts, global warming, stem cells, and other crucial issues, as well as his own past. Here are the lies you remember and the lies you don't. Get ready to get mad. Corn has cut through the spin and crafted an important and powerful challenge to Bush and his crew." —Molly Ivins, coauthor of Shrub and Bushwhacked

"Any American who cares about his or her country...[should] read it."
—James Carvile