The Immortal Life of Henrietta Lacks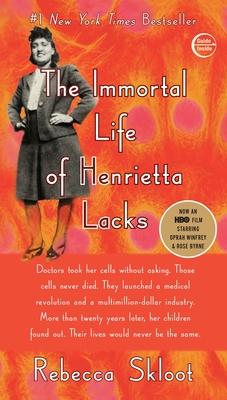 The Immortal Life of Henrietta Lacks
Broadway Books, Paperback, 9781400052189, 381pp.
Publication Date: March 8, 2011
* Individual store prices may vary.
Buy at Local Store
Enter your zip code below to purchase from an indie close to you.
or
Buy Here
Description
#1 NEW YORK TIMES BESTSELLER
Her name was Henrietta Lacks, but scientists know her as HeLa. She was a poorblack tobacco farmer whose cells taken without her knowledge in 1951 became one of the most important tools in medicine, vital for developing the polio vaccine, cloning, gene mapping, and more.Henrietta's cellshave been bought and sold by the billions, yetshe remains virtually unknown, and her family can't afford health insurance. This phenomenal New York Times bestseller tells a riveting story of the collision between ethics, race, and medicine; of scientific discovery and faith healing; and of a daughter consumed with questions about the mother she never knew.
About the Author
REBECCA SKLOOT is an award-winning science writer and the best-selling author of The Immortal Life of Henrietta Lacks.
Praise For The Immortal Life of Henrietta Lacks…
#1 NEW YORK TIMES BESTSELLER
Entertainment Weekly #1 Nonfiction Book of the Year
New Yorker Reviewers' Favorite
American Library Association Notable Book
People Top Ten Book of the Year
Washington Post Book World Top Ten Book of the Year
Salon.com Best Book of the Year
USA Today Ten Books We Loved Reading
O, The Oprah Magazine Top Ten Book of the Year
National Public Radio Best of the Bestsellers
Boston Globe Best Nonfiction Book of the Year  
Financial Times Nonfiction Favorite
Los Angeles Times Critics' Pick
Bloomberg Top Nonfiction
New York magazine Top Ten Book of the Year
Slate.com Favorite Book of the Year
TheRoot.com Top Ten Book of the Year
Discover magazine 2010 Must-Read
Publishers Weekly Best Book of the Year
Library Journal Top Ten Book of the Year
Kirkus Reviews Best Nonfiction Book of the Year
U.S. News & World Report Top Debate-Worthy Book
Booklist Top of the List—Best Nonfiction Book
New York Times/Science Bestseller list 

"I could not put the book down . . . The story of modern medicine and bioethics—and, indeed, race relations—is refracted beautifully, and movingly."
—Entertainment Weekly

"Science writing is often just about 'the facts.' Skloot's book, her first, is far deeper, braver, and more wonderful." —New York Times Book Review

"The Immortal Life of Henrietta Lacks is a triumph of science writing...one of the best nonfiction books I have ever read." —Wired.com

"A deftly crafted investigation of a social wrong committed by the medical establishment, as well as the scientific and medical miracles to which it led."
—Washington Post

"Riveting...a tour-de-force debut." —Chicago Sun-Times

"A real-life detective story, The Immortal Life of Henrietta Lacks probes deeply into racial and ethical issues in medicine . . . The emotional impact of Skloot's tale is intensified by its skillfully orchestrated counterpoint between two worlds."
—Nature

"A jaw-dropping true story . . . raises urgent questions about race and research for 'progress' . . . an inspiring tale for all ages." —Essence

"This extraordinary account shows us that miracle workers, believers, and con artists populate hospitals as well as churches, and that even a science writer may find herself playing a central role in someone else's mythology." —The New Yorker
  
"Has the epic scope of Greek drama, and a corresponding inability to be easily
explained away." —SF Weekly
 
"One of the great medical biographies of our time." —The Financial Times
  
"Like any good scientific research, this beautifully crafted and painstakingly researched book raises nearly as many questions as it answers . . . In a time when it's fashionable to demonize scientists, Skloot generously does not pin any sins to the lapels of the researchers. She just lets them be human . . . [and] challenges much of what we believe of ethics, tissue ownership, and humanity." —Science
  
"Indelible . . . The Immortal Life of Henrietta Lacks is a heroic work of cultural and medical journalism." —Laura Miller, Salon.com
  
"No dead woman has done more for the living . . . a fascinating, harrowing, necessary book." —Hilary Mantel, The Guardian (U.K.)
 
"The Immortal Life of Henrietta Lacks does more than one book ought to be able to do." —Dallas Morning News

"Above all it is a human story of redemption for a family, torn by loss, and for a writer with a vision that would not let go." —Boston Globe

 "This remarkable story of how the cervical cells of the late Henrietta Lacks, a poor black woman, enabled subsequent discoveries from the polio vaccine to in vitro fertilization is extraordinary in itself; the added portrayal of Lacks's full life makes the story come alive with her humanity and the palpable relationship between race, science, and exploitation." —Paula J. Giddings, author of Ida, A Sword Among Lions; Elizabeth A. Woodson 1922 Professor, Afro-American Studies, Smith College
  
"Skloot's engaging, suspenseful book is an incredibly welcome addition for non-science wonks." —Newsweek

"Extraordinary . . . If science has exploited Henrietta Lacks [Skloot] is determined not to. This biography ensures that she will never again be reduced to cells in a petri dish: she will always be Henrietta as well as HeLa." —The Telegraph (U.K.)
 
"Brings the Lacks family alive . . . gives Henrietta Lacks another kind of immortality—this one through the discipline of good writing." —Baltimore Sun

"A work of both heart and mind, driven by the author's passion for the story, which is as endlessly renewable as HeLa cells." —Los Angeles Times
 
"In this gripping, vibrant book, Rebecca Skloot looks beyond the scientific marvels to explore the ethical issues behind a discovery that may have saved your life."
—Mother Jones
 
"More than ten years in the making, it feels like the book Ms. Skloot was born to write . . . Skloot, a young science journalist and an indefatigable researcher, writes about Henrietta Lacks and her impact on modern medicine from almost every conceivable angle and manages to make all of them fascinating . . . a searching moral inquiry into greed and blinkered lives . . . packed with memorable characters." —Dwight Garner, New York Times, Top Ten Book of 2010
 
"Astonishing . . .No matter how much you may know about basic biology, you will be amazed by this book." —The Journal of Clinical Investigation

"Rebecca Skloot did her job, and she did it expertly . . . A riveting narrative that is wholly original." —THEROOT.COM
 
"Moving . . ." —The Economist
 
"Journalist Rebecca Skloot's history of the miraculous cells reveals deep injustices in U.S. medical research." —TIME
 
"The Immortal Life of Henrietta Lacks is a fascinating look at the woman whose cultured cells—the first to grow and survive indefinitely, harvested without compensation or consent—have become essential to modern medicine." —Vogue
 
"The Immortal Life of Henrietta Lacks is a remarkable feat of investigative journalism and a moving work of narrative nonfiction that reads with the vividness and urgency of fiction. It also raises sometimes uncomfortable questions with no clear-cut answers about whether people should be remunerated for their physical, genetic contributions to research and about the role of profit in science."
—National Public Radio
 
"An indelible, marvelous story as powerful as those cells." —Philadelphia Inquirer
 
"As much an act of justice as one of journalism." —Seattle Times
 
"A stunning book . . . surely the definitive work on the subject." —The Independent(U.K.)
 
"Graceful . . . I can't think of a better way to capture the corrosive effects of ethical transgressions in medical research. It's a heartbreaking story, beautifully rendered." —The Lancet
 
"Read this . . . By letting the Lackses be people, and by putting them in the center of the history, Skloot turns just another tale about the march of progress into a complicated portrait of the interaction between science and human lives. —BOINGBOING.NET
 
"[A] remarkable and moving book . . . a vivid portrait of Lacks that should be as abiding as her cells." —The Times (U.K.)
 
"I can't imagine a better tale. A detective story that's at once mythically large and painfully intimate. I highly recommend this book." —Jad Abumrad, Radiolab
 
"Skloot is a terrific popularizer of medical science, guiding readers through this dense material with a light and entertaining touch." —The Globe and Mail (Canada)
 
"A rare and powerful combination of race, class, gender,medicine, bioethics, and intellectual property; far more rare is the writer that can so clearly fuse those disparate threads into a personal story so rich and compelling." —Seed
 
"Powerful story . . . I feel moved even to say on behalf of the thousands of anonymous black men and women who've been experimented on for medical purposes, thank you. Thank you for writing this important book." —Kali-AhsetAmen, Radio Diaspora
 
"Skloot has written an important work of immersive nonfiction that brings not only the stories of Henrietta Lacks and HeLa once more into line, but also catharsis to a family in sore need of it." —The Times Literary Supplement
 
"A masterful work of nonfiction . . . a real page turner." —Hanna Rosin, Slate
 
"Skloot explores human consequences of the intersection of science and business, rescuing one of modern medicine's inadvertent pioneers from an unmarked grave." —US News & World Report
 
"Remarkably balanced and nonjudgmental . . . The Immortal Life of Henrietta Lacks will leave readers reeling, plain and simple. It has a power and resonance rarely found in any genre, and is a subject that touches each of us, whether or not we are aware of our connection to Henrietta's gift." —The Oregonian
 
"This is the perfect book. It reads like a novel but has the intellectual substance of a science textbook or a historical biography." —The Daily Nebraskan
 
"Illuminates what happens when medical research is conducted within an unequal health-care system and delivers an American narrative fraught with intrigue, tragedy, triumph, pathos, and redemption." —MS.

"A tremendous accomplishment —a tale of important science history that reads like a terrific novel." —Kansas City Star
 
"Good science writing isn't easy, but Skloot makes it appear so." —The Wichita Eagle
 
"Encompasses nearly every hot-button issue currently surrounding the practice of medicine." —Madison Capital Times
 
"Defies easy categorization . . . as unpredictable as any pulp mystery and as strange as any science fiction." —Willamette Week
 
"An achievement . . . navigates both the technical and deeply personal sides of the HeLa story with clarity and care." —The Portland Mercury
 
"[A] remarkable book." —London Review of Books 
 
"An essential reminder that all human cells grown in labs across the world, HeLa or otherwise, came from individuals with fears, desires, and stories to tell."
—Chemical & Engineering News 
 
"Blows away the notion that science writing must be the literary equivalent to Ambien." —Chicago Tribune
 
"Seldom do you read a book that is science, social history, and a page turner." —British Medical Journal
 
"Thrilling and original nonfiction that refuses to be shoehorned into anything as trivial as a genre. It is equal parts popular science, historical biography, and detective novel." —Ed Yong, DISCOVER.COM
 
"Best book I've read in years." —Brian Sullivan, Fox Business Network
 
"Thanks to Rebecca Skloot, we may now remember Henrietta—who she was, how she lived, how she died." —The New Republic
 
"We need more writers like Rebecca Skloot." —E.O.Wilson
Thursday, Aug 25, 2011
Many colleges assign books that all incoming freshmen must read over the summer. A popular 2011 assignment is The Immortal Life of Henrietta Lacks by Rebecca Skloot, about a cell line taken without consent from a black woman with cervical cancer. More at NPR.org
Friday, Mar 18, 2011
In 1951, Henrietta Lacks died after a long battle with cervical cancer. Doctors cultured her cells without permission from her family. The story of those cells and of the medical advances that came from them, is told in Rebecca Skloot's book, The Immortal Life of Henrietta Lacks. More at NPR.org