Life After Death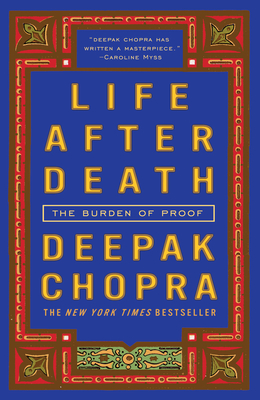 Life After Death
The Burden of Proof
Three Rivers Press (CA), Paperback, 9781400052356, 282pp.
Publication Date: September 16, 2008
* Individual store prices may vary.
Buy at Local Store
Enter your zip code below to purchase from an indie close to you.
or
Buy Here
Description
What happens to the spirit after the body dies?
In Life After Death, Deepak Chopra draws on cutting-edge scientific discoveries and the great wisdom traditions to provide a map of the afterlife. He tells us there is abundant evidence that -the world beyond- is not separated from this world by an impassable wall; in fact, a single reality embraces all worlds, all times and places.
-A must-read for everyone who will die.-
--Candace B. Pert, Ph.D., author of Molecules of Emotion
-A penetrating and insightful investigation into the greatest mystery of existence. This is an important book because only by facing death will we come to a deeper realization of who we are.-
--Eckhart Tolle, author of A New Earth and The Power of Now
-If I had any doubts about the afterlife, I don't have them anymore. Deepak Chopra has cast his inimitable light on the darkened corners of death. I think this is his greatest contribution yet.-
--Marianne Williamson, author of The Age of Miracles and The Gift of Change
About the Author
DEEPAK CHOPRA, a member of Oprah's SuperSoul 100, is the author of more than fifty books translated into more than thirty-five languages--including numerous New York Times bestsellers in both the fiction and nonfiction categories. Dr. Chopra is a fellow of the American College of Physicians, a member of the American Association of Clinical Endocrinologists, adjunct professor at the Kellogg School of Management, and a senior scientist with the Gallup Organization. He is founder and president of the Alliance for a New Humanity. Time magazine heralds Deepak Chopra as one of the top 100 heroes and icons of the century and credits him as "the poet-prophet of alternative medicine."
Praise For Life After Death…
"A must read for everyone who will die." —Candace B. Pert, Ph.D., author of Molecules of Emotion

"A penetrating and insightful investigation into the greatest mystery of existence. This is an important book because only by facing death will we come to a deeper realization of who we are." —Eckhart Tolle, author of The Power of Now

"If I had any doubts about the afterlife, I don't have them anymore. Deepak Chopra has cast his inimitable light on the darkened corners of death. I think this is his greatest contribution yet." —Marianne Williamson, author of The Gift of Change

"Deepak Chopra . . . takes us to the edge of our own deepest inner truth about life after death by sharing with us his vision and his wisdom, which, as always, is breathtaking, healing, and soul-opening." —Neale Donald Walsch, author of Home with God: In a Life That Never Ends

"Deepak Chopra has written a masterpiece that is long overdue in our spiritual culture. Life After Death: The Burden of Proof is a bold and comforting guide into the afterlife." —Caroline Myss, author of Anatomy of the Spirit and Sacred Contracts

"By marrying science and wisdom in Life After Death, Chopra builds his case for an afterlife in which our most essential self, the seer that observes our experiences in this temporary home that we call the self, uses the end of this lifetime to pass over into the next. This is an intellectual and spiritual tour de force." —Professor Robert Thurman, Columbia University, author of Infinite Life and The Tibetan Book of the Dead