Mindset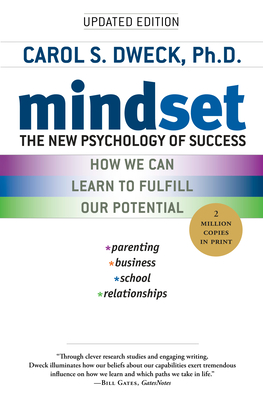 Mindset
The New Psychology of Success
Random House (NY), Hardcover, 9781400062751, 276pp.
Publication Date: February 28, 2006
* Individual store prices may vary.
Buy at Local Store
Enter your zip code below to purchase from an indie close to you.
or
Buy Here
Description
World-renowned Stanford University psychologist Carol Dweck, in decades of research on achievement and success, has discovered a truly groundbreaking idea the power of our mindset.
Now updated with new research the book that has changed millions of lives
After decades of research on achievement, world-renowned Stanford University psychologist Carol S. Dweck, Ph.D., discovered a simple but groundbreaking idea: the power of mindset. She has shown that success in school, work, sports, the arts, and almost every area of human endeavor can be dramatically influenced by how we approach our goals. People with a fixed mindset those who believe that abilities are fixed are far less likely to flourish than those with a growth mindset those who believe that abilities can be developed through hard work, good strategies, and mentorship. Mindset reveals how great parents, teachers, managers, and athletes can put this idea to use to foster outstanding accomplishment.
In this edition, Dweck introduces a phenomenon she calls false growth mindset and guides people toward adopting a deeper, truer growth mindset. She also expands the mindset concept beyond the individual, applying it to the cultures of groups and organizations. With the right mindset, you can motivate those you lead, teach, and love to transform their lives and your own.
Praise for Mindset
Everyone should read this book. Chip and Dan Heath, authors of Switch and Made to Stick
Will prove to be one of the most influential books ever about motivation. Po Bronson, author of NurtureShock
A good book is one whose advice you believe. A great book is one whose advice you follow. I have found Carol Dweck's work on mindsets invaluable in my own life, and even life-changing in my attitudes toward the challenges that, over the years, become more demanding rather than less. This is a book that can change your life, as its ideas have changed mine. Robert J. Sternberg, IBM Professor of Education and Psychology at Yale University, director of the PACE Center of Yale University, and author of Successful Intelligence
If you manage any people or if you are a parent (which is a form of managing people), drop everything and read Mindset. Guy Kawasaki, author of The Art of the Start and the blog How to Change the World
Highly recommended . . . an essential read for parents, teachers and] coaches . . . as well as for those who would like to increase their own feelings of success and fulfillment. Library Journal (starred review)
A serious, practical book. Dweck's overall assertion that rigid thinking benefits no one, least of all yourself, and that a change of mind is always possible, is welcome. Publishers Weekly
A wonderfully elegant idea . . . It is a great book. Edward M. Hallowell, M.D., author of Delivered from Distraction
About the Author
Carol S. Dweck, Ph.D., is widely regarded as one of the world s leading researchers in the fields of personality, social psychology, and developmental psychology. She has been the William B. Ransford Professor of Psychology at Columbia University and is now the Lewis and Virginia Eaton Professor of Psychology at Stanford University and a member of the American Academy of Arts and Sciences. Her scholarly book Self-Theories: Their Role in Motivation, Personality, and Development was named Book of the Year by the World Education Fellowship. Her work has been featured in such publications as The New Yorker, Time, The New York Times, The Washington Post, and The Boston Globe, and she has appeared on Today and 20/20. She lives with her husband in Palo Alto, California."
Praise For Mindset…
Advance praise for Mindset

"A good book is one whose advice you believe. A great book is one whose advice you follow. I have found Carol Dweck's work on mindsets invaluable in my own life, and even life-changing in my attitudes toward the challenges that, over the years, become more demanding rather than less. This is a book that can change your life, as its ideas have changed mine."
–Robert J. Sternberg, IBM Professor of Education and Psychology at Yale University, director of the PACE Center of Yale University, and author of Successful Intelligence