Living Dangerously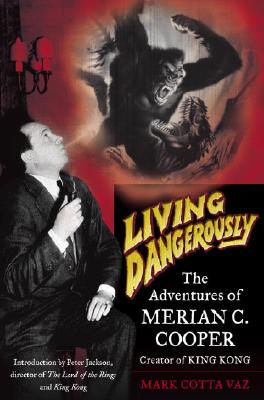 Living Dangerously
The Adventures of Merian C. Cooper, Creator of King Kong
Villard, Hardcover, 9781400062768, 496pp.
Publication Date: August 2, 2005
* Individual store prices may vary.
Buy at Local Store
Enter your zip code below to purchase from an indie close to you.
or
Not Currently Available for Direct Purchase
Description
Explorer, war hero, filmmaker, and cinema pioneer Merian C. Cooper–the adventurer who created King Kong–was truly larger than life. "Pictures cannot be made from an executive's desk," "Coop" declared, and he did more than talk the talk–he walked the walk to the far corners of the globe, with a motion picture camera in tow, in an era when those corners were truly unknown, untamed, and unforgiving.

Cooper's place in history is assured, thanks not only to the monstrous gorilla from Skull Island but because the story of Kong's creator is even bigger and bolder than the beast he made into a cultural icon. Spellbound since boyhood by tales of life-threatening adventure and exotic locales, Cooper plunged again and again into harrowing expeditions that took him to places not yet civilized by modern man.

Cooper was one of the first bomber pilots in World War I. After the war, he helped form the famous Kosciuszko Squadron in battle-torn Poland. He then turned his attention to producing documentary films that chronicled his hair-raising encounters with savage warriors, man-eating tigers, nomadic tribes, and elephant stampedes.

In addition to producing King Kong, he was the first to team Fred Astaire with Ginger Rogers, arranged Katharine Hepburn's screen test, collaborated with John Ford on Hollywood's greatest Westerns, and then changed the face of film forever with Cinerama, the original "virtual reality." He returned to military service during World War II, serving with General Claire Chennault in China, flying missions into the heart of enemy territory.

This book is a stunning tribute to a two-fisted visionary who packed a multitude of lifetimes into eighty remarkable years. The first comprehensive biography of this unique man and his amazing time, it's the tale of someone whose greatest desire was always to be living dangerously.
About the Author
Mark Cotta Vaz is the author of such New York Times bestsellers as The Art of Star Wars Episode II: Attack of the Clones and Behind the Mask of Spider-Man. Living Dangerously is his nineteenth published book. His other works include the critically acclaimed The Invisible Art: The Legends of Movie Matte Painting (co-authored with filmmaker Craig Barron), which won the Theatre Library Association of New York award for outstanding book on film in 2002 and the United States Institute for Theatre Technology's Golden Pen book award. More recent projects include a first novel and a history of the segregated units of World War II.
Praise For Living Dangerously…
"Living Dangerously is a wonderful addition to the literature of movies and popular culture but, on a personal level, it allowed me to understand the man who made the movie that had such a powerful effect upon me...Now finally...the legend comes out of the shadows."
-- Peter Jackson, director of The Lord of the Rings and King Kong


"Mark Cotta Vaz's account of Cooper's adventures as soldier, prisoner of war, explorer, documentarian, mogul, and director is breathtaking. We all know the ape was big. But the man behind the ape? Even bigger."
–J. J. Abrams, creator of Lost and Alias

"Merian C. Cooper's life reads like an adventure novel, as Mark Vaz proves perfectly with Living Dangerously."
–Ray Bradbury

"I found it very difficult to put down. Mark Vaz has done a remarkable job in making Cooper's adventures such great reading."
–Ray Harryhausen, filmmaker

"When I picked up Living Dangerously I started reading the King Kong chapters. I ended up reading the entire book in one sitting–I could not put it down!"
–Dennis Muren, Academy Award winning special effects supervisor


"Mark Cotta Vaz has captured the myriad aspects of Cooper's extraordinary life with accuracy, colorful historical backdrop, attention to detail, and a sense of high adventure."
–Rudy Behlmer, film historian, author of Memo from David O. Selznick and Inside Warner Bros. (1935-1951)

"I think Merian C. Cooper would have been delighted with this book. Vaz has a dynamic writing style which is not far from Cooper's own."
–Kevin Brownlow, film historian, documentary filmmaker, author of The Parade's Gone By