Paula Deen's Kitchen Classics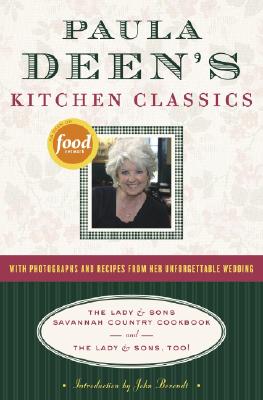 Paula Deen's Kitchen Classics
The Lady & Sons Savannah Country Cookbook and the Lady & Sons, Too!
Random House (NY), Hardcover, 9781400064557, 449pp.
Publication Date: October 11, 2005
* Individual store prices may vary.
Buy at Local Store
Enter your zip code below to purchase from an indie close to you.
or
Not Currently Available for Direct Purchase
Description
As owner and proprietor of The Lady & Sons restaurant in Savannah, Paula Deen is one of the South's most celebrated chefs. Now two of her cherished culinary classics–The Lady & Sons Savannah Country Cookbook and The Lady & Sons, Too!–have been combined into one delicious volume, available in hardcover for the first time. As a special treat, Paula Deen's Kitchen Classics includes candid photos from Paula's recent wedding, as well as scrumptious new dishes from the reception, tasty creations that have never appeared in any of her other books.Here are hundreds of mouthwatering, easy-to-follow recipes. For appetizers, soups, and salads, whip up some Georgia Spiced Pecans, Mini Onion Quiches, She Crab Soup, and Gingersnap Pear Salad. The delectable main courses will be the hit of any family supper, Sunday picnic, or dinner party. Who can resist Beaufort Shrimp Pie, The Lady's Oven-Roasted Ribs, Ron's Grilled Peanut Butter Ham, or Hot Savannah Chicken Salad Casserole? Enhance any meal with heavenly side dishes like Crunchy New Potatoes, Collard Greens, and, of course, Fried Green Tomatoes. And what meal is complete without sinful desserts–from Mississippi Mud Cake and Cherry Cream Cheese Pie to Sliced Nut Cookies and Butterscotch Delight? Is your stomach growling yet?Seasoned with Paula's practical kitchen hints and her friendly, no-nonsense observations, Paula Deen's Kitchen Classics is the perfect gift for experienced cooks, budding chefs, and anyone who loves comfort food.
About the Author
Paula H. Deen was born and raised in Albany, Georgia. She later moved to Savannah, where she and her two sons, Bobby and Jamie, started the Bag Lady catering company. The business took off and evolved into The Lady & Sons Restaurant, which is located in Savannah's historic district and specializes in Southern cooking. Paula is the host of Food Network's Paula's Home Cooking and is a regular guest on QVC, where her cookbooks are one of the newtowrk's biggest sellers.
The son of two writers, John Berendt grew up in Syracuse, New York. He earned a B.A. in English from Harvard University, where he worked on the staff of The Harvard Lampoon. After graduating in 1961, he moved to New York City to pursue a career in publishing. Berendt has written for David Frost and Dick Cavett, was editor of "New York" magazine from 1977 to 1979, and wrote a monthly column for "Esquire" from 1982 to 1994.
Berendt first traveled to Savannah in the early 1980s, when he realized that he could fly there for a three-day weekend for the price of "a paillard of veal served on a bed of wilted radicchio" [p. 24] in one of New York's trendier restaurants. Over the ensuing eight years his visits became more frequent and extended, until he was spending more time in Savannah than in New York.
Part of the appeal, Berendt says, lay in the city's penchant for morbid gossip: "People in Savannah don't say, 'Before leaving the room, Mrs. Jones put on her coat.' Instead, they say, 'Before leaving the room, Mrs. Jones put on the coat that her third husband gave her before he shot himself in the head." ("Entertainment Weekly," 3/11/94, p. 52)
Since the publication and unprecedented success of Midnight in the Garden of Good and Evil, Berendt has become a Savannah celebrity and was even presented with the key to the city. "I took it down to City Hall one night to see if it would work, but it didn't." ("Syracuse Post Standard," 4/5/1994)
"From the Trade Paperback edition."
Praise For Paula Deen's Kitchen Classics…
Praise for The Lady & Sons"The recipes in this book are so wonderful, I almost ate the book!"–Fannie Flagg"My meal of the year . . . Paula Deen's home-style Southern menu at The Lady & Sons turned me into a ravenous beast unmindful of manners, cholesterol, North-South diplomacy, and the dropped jaws of my companions."–Jerry Shriver, USA Today"I tell Savannah-bound friends that if they want a short course in the meaning of Southern cooking–the flavors, the ambience, indeed the very heart of Southern cooking–they should drop in at The Lady & Sons."–John Berendt