Faberge's Eggs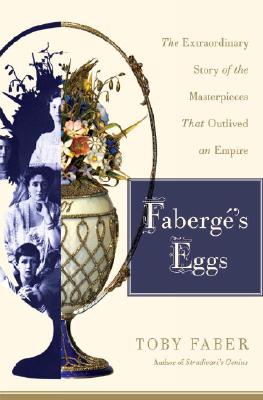 Faberge's Eggs
The Extraordinary Story of the Masterpieces That Outlived an Empire
Random House (NY), Hardcover, 9781400065509, 302pp.
Publication Date: October 7, 2008
* Individual store prices may vary.
Buy at Local Store
Enter your zip code below to purchase from an indie close to you.
or
Not Currently Available for Direct Purchase
Description
In "Stradivari's Genius," Toby Faber charted the fascinating course of some of the world's most prized musical instruments. Now, in this enthralling new book, he tells the story of objects that are, to many, the pinnacle of the jeweler's art: the Faberge imperial eggs.
The Easter presents that Russia's last two czars gave to their czarinas have become synonymous with privilege, beauty, and an almost provocative uselessness. They are perhaps the most redolent symbols of the old empire's phenomenal craftsmanship, of the decadence of its court, and of the upheavals that brought about its inevitable downfall. "Faberge's Eggs" is the first book to recount the remarkable story of these masterpieces, taking us from the circumstances that inspired each egg's design, through their disappearance in the trauma of revolution, to their eventual reemergence in the global marketplace.
In 1885, Carl Faberge created a seemingly plain white egg for Czar Alexander III to give to his beloved wife, Marie Fedorovna. It was the surprises hidden inside that made it special: a diamond miniature of the Imperial crown and a ruby pendant. This gift began a tradition that would last for more than three decades: lavishly extravagant eggs commemorating public events that, in retrospect, seem little more than staging posts on the march to revolution. Above all, the eggs illustrate the attitudes that would ultimately lead to the downfall of the Romanovs: their apparent indifference to the poverty that choked their country, their preference for style over substance, and, during the reign of Nicholas II, their all-consuming concern with the health of the czarevitch Alexis, the sickly heir to the throne a preoccupation that would propel them toward Rasputin and the doom of the dynasty.
More than a superb new account of a classic tragedy, "Faberge's Eggs "illuminates some fascinating aspects of twentieth-century history. The eggs amazing journey from revolutionary Russia features a cast of characters including embattled Bolsheviks, acquisitive British royals, eccentric artifact salesmen, and such famous business and society figures as Arm and Hammer, Marjorie Merriweather Post, and Malcolm Forbes. Finally, Toby Faber tantalizingly suggests that some of the eggs long thought lost may eventually emerge.
Darting from the palaces of a besieged Russia to the showcases of New York's modern mega-wealthy, "Faberge's Eggs" weaves a story unparalleled in its drama and extravagance.
Praise for "Stradivari's Genius"
Fascinating . . . lively . . . more enthralling, earthy and illuminating than any fiction could be.
" The New York Times Book Review"
"
" A celebration of six instruments and the master craftsman who made them . . . Faber] brings to the subject an infectious fascination with Stradivari's life and trade. . . . He writes with clarity and fluency.
" Chicago Tribune"
"
" An extraordinary accomplishment and a compelling read. Like strange totems that cast an irresistible spell, these instruments bring out the best and the worst of those who would own them, and Faber deftly tells the stories in all their rich and surprising detail.
Thad Carhart, author of "The Piano Shop on the Left Bank
" A worthy contribution to the ongoing legend of Stradivari.
" Minneapolis Star Tribune"
Fascinating, accessible, and enjoyable.
Tracy Chevalier, author of "Girl with a Pearl Earring

About the Author
Born in Cambridge, England, in 1965, Toby Faber now lives in London with his wife and daughter. He was previously managing director of his family s renowned publishing firm, Faber and Faber. He is also the author of "Stradivari s Genius: Five Violins, One Cello, and Three Centuries of Enduring Perfection.""