The Inner Game of Stress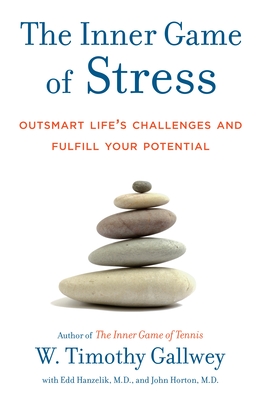 The Inner Game of Stress
Outsmart Life's Challenges and Fulfill Your Potential
Random House, Hardcover, 9781400067916, 240pp.
Publication Date: August 18, 2009
* Individual store prices may vary.
Buy at Local Store
Enter your zip code below to purchase from an indie close to you.
or
Buy Here
Description
Renowned sports psychology expert W. Timothy Gallwey teams up with two esteemed physicians to offer a unique and empowering guide to mental health in today's volatile world. The Inner Game of Stress applies the trusted principles of Gallwey's wildly popular Inner Game series, which have helped athletes the world over, to the management of everyday stress–personal, professional, financial, physical–and shows us how to access our inner resources to maintain stability and achieve success.

Stress attacks every aspect of our well-being. Gallwey explains how negative self-talk undermines us, making us believe that pressure is inevitable and that other people's expectations are paramount–which leaves us feeling helpless and unhappy. But as Gallwey shows, we have the means to build a shield against stress with our abilities to take childlike pleasure in learning new skills, to properly and healthily rest and relax, and to trust in our own good judgment. With his trademark mix of case histories and interactive worksheets, Gallwey helps us to tap into these inner strengths, giving us these invaluable tools:

• the STOP technique: Learn how to Step back, Think, Organize, and Proceed with a more conscious choice process, even in the most chaotic circumstances.
• the Attitude tool: If you're feeling resentment, try gratitude.
• the Magic Pen: Develop the ability to open up your intuition and wisdom.
• the Transpose exercise: Imagine what the other person thinks, feels, wants–and develop empathy, kindness, and better relationship skills.
• the PLE triangle: Use your goals for Performance, Learning, and Experience to redefine success and enhance enjoyment.

Now you don't have to be a champion athlete–or an athlete at all–to keep your life in perspective and your performance at its peak. A one-of-a kind guide, The Inner Game of Stress allows anyone to get in the game and win.
About the Author


John Horton is a senior lecturer at the Centre for Children and Youth at the University of Northampton.

W. Timothy Gallwey has been called the catalyst for the era of sports psychology. Since the publication of Inner Game books on tennis,
golf, and skiing, " inner skills are considered to be as important as technical skills by athletes and coaches. Gallwey is now a sought-after
speaker and seminar designer. He lives in Agoura Hills, California.
Dr. Robert Kriegel, a former all-American athlete, has coached both Olympic and professional athletes. The New York Times said his work " spurred a revolution in performance practices.    He is now a commentator on ESPN for the U.S. Professional Ski Team and on National Public Radio's Marketplace program and has recently done two specials for PBS.