Leaving Van Gogh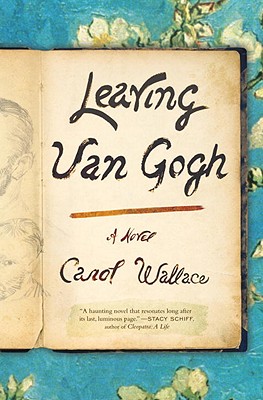 Leaving Van Gogh
Spiegel & Grau, Hardcover, 9781400068791, 268pp.
Publication Date: April 19, 2011
* Individual store prices may vary.
Buy at Local Store
Enter your zip code below to purchase from an indie close to you.
or
Not Currently Available for Direct Purchase
Description
In the summer of 1890, in the French town of Auvers-sur-Oise, Vincent van Gogh shot himself in the chest with a revolver.  He died two days later, at the age of thirty-seven, largely unknown despite having completed over two thousand works of art that would go on to become some of the most important and valued in the world.          

In this riveting novel, Carol Wallace brilliantly navigates the mysteries surrounding the master artist's death, relying on meticulous research to paint an indelible portrait of Van Gogh's final days—and the friendship that may or may not have destroyed him. Telling Van Gogh's story from an utterly new perspective—that of his personal physician, Dr. Gachet, specialist in mental illness and great lover of the arts—Wallace allows us to view the legendary painter as we've never seen him before.  In our narrator's eyes, Van Gogh is an irresistible puzzle, a man whose mind, plagued by demons, poses the most potentially rewarding challenge of Gachet's career. 

Wallace's narrative brims with suspense and rich psychological insight as it tackles haunting questions about Van Gogh's fate. A masterly, gripping novel that explores the price of creativity, Leaving Van Gogh is a luminous story about what it means to live authentically, and the power and limits of friendship.
About the Author
On the family farm near Chickasha, Oklahoma, Carol Wallace and "Bill Wallace" have always had lots of pets. Most are "strays" that they have taken in. And most -- if not all -- became characters in their books.
Mush (who goes by Freddie in this story, but used the name Snow, in "Bub Moose)" is sweet -- most of the time; clumsy -- some of the time; and so lovable that she wormed her way into their hearts from the very first day she appeared at their home. She's lovable until...she finds something "stinky" to roll in.
April (Spike in the story) is also lovable -- with family and friends. When someone unknown shows up...LOOK OUT! Just like the other five dogs in the family, she can be the meanest hound around.
Praise For Leaving Van Gogh…
"Riveting…Vincent's vitality and unique intelligence wash over the reader—much as they do when looking at his paintings. Wallace deepens our thinking about the painter by imagining the conversations he had with Gachet and his family and in the gentle way that she imagines his demeanor between manic episodes...The book is truly delightful."—Los Angeles Times

"This in-depth look at the final few months of van Gogh's life offers insight into that damning, draining combination of genius and madness."—Library Journal
 
"Van Gogh's mix of genius and madness continues to fascinate."—Kirkus Reviews

"A haunting novel of bold strokes and fine-grained gestures, one that resonates long after its last, luminous page.  In Carol Wallace's masterful hands Van Gogh's pictures spring to life every bit as brilliantly as does the painter himself."—Stacy Schiff, author of Cleopatra: A Life

"How did Carol Wallace do this?  Her novel so thrillingly and compassionately illuminates the tragic life of Vincent van Gogh that he is now lodged in my heart like a beloved lost relative.  I am awed and enthralled, and so grateful for this perfect blend of artistic authority and suberb storytelling."—Elinor Lipman, author of The Family Man

"Carol Wallace's new novel is a wonderfully rich exploration of the deep interconnectedness of art and madness, friendship and therapy, hope and despair.  And through Wallace's estimable talent, Vincent van Gogh, one of the most fascinating figures in the history of any art form, acts and speaks and passionately lives with absolute authenticity.  Leaving Van Gogh is a remarkable imaginative achievement and an utterly compelling read."—Robert Olen Butler, Pulitzer Prize-winning author of A Good Scent from a Strange Mountain

"Carol Wallace's Leaving Van Gogh is an act of wondrous ventriloquism not to be missed: the last months of Vincent van Gogh's life, narrated by the mysterious and marvelous Dr. Gachet, Van Gogh's physician, and a tale of love, of madness, of art—and of genius and grief—told with the tender courage of a good friend."—Brenda Wineapple, author of White Heat: The Friendship of Emily Dickinson and Thomas Wentworth Higginson

"This sensitively written novel, with its many passages of deep beauty and insight, reveals the tragic Van Gogh as clearly as if he sat across your room. Told by the aging doctor who wants to rectify the one great failure of his own life by saving the distraught artist who perhaps does not wish to be saved, Leaving Van Gogh is a moving and profound book about the preciousness of the gifts of art and love and what we can mean to each other."—Stephanie Cowell, author of Claude & Camille: A Novel of Monet

"Beautifully textured, painterly, and insightful—reading this book is like stepping into one of Van Gogh's paintings."—Rebecca Stott , author of Ghostwalk

"A rich, meticulously researched novel that probes the passion of genius, and the demands of love and friendship. With a painterly eye, Wallace translates Van Gogh's dazzling canvases into luminous prose and lets the reader see the universe as the great Impressionist did."—Ellen Feldman, author of Lucy and Scottsboro