Fierce Patriot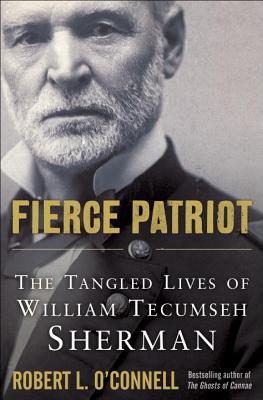 Fierce Patriot
The Tangled Lives of William Tecumseh Sherman
Random House, Hardcover, 9781400069729, 432pp.
Publication Date: July 1, 2014
* Individual store prices may vary.
Buy at Local Store
Enter your zip code below to purchase from an indie close to you.
or
Not Currently Available for Direct Purchase
Description
NATIONAL BESTSELLER
William Tecumseh Sherman was more than just one of our greatest generals. "Fierce Patriot" is a bold, revisionist portrait of how this iconic and enigmatic figure exerted an outsize impact on the American landscape and the American character.
America's first celebrity general, William Tecumseh Sherman was a man of many faces. Some were exalted in the public eye, others known only to his intimates. In this bold, revisionist portrait, Robert L. O Connell captures the man in full for the first time. From his early exploits in Florida, through his brilliant but tempestuous generalship during the Civil War, to his postwar career as a key player in the building of the transcontinental railroad, Sherman was, as O Connell puts it, the human embodiment of Manifest Destiny. Here is Sherman the military strategist, a master of logistics with an uncanny grasp of terrain and brilliant sense of timing. Then there is Uncle Billy, Sherman's public persona, a charismatic hero to his troops and quotable catnip to the newspaper writers of his day. Here, too, is the private Sherman, whose appetite for women, parties, and the high life of the New York theater complicated his already turbulent marriage. Warrior, family man, American icon, William Tecumseh Sherman has finally found a biographer worthy of his protean gifts. A masterful character study whose myriad insights are leavened with its author's trademark wit, "Fierce Patriot" will stand as the essential book on Sherman for decades to come.
Praise for" Fierce Patriot"
A superb examination of the many facets of the iconic Union general. General David Petraeus
Sherman's standing in American history is formidable. . . . It is hard to imagine any other biography capturing it all in such a concise and enlightening fashion. "National Review"
A sharply drawn and propulsive march through the tortured psyche of the man. "The Wall Street Journal"
""
O Connell s] narrative of the March to the Sea is perhaps the best I have ever read. Jonathan Yardley, "The Washington Post"
A surprising, clever, wise, and powerful book. Evan Thomas, author of "Ike's Bluff.
About the Author
About the Author:
Robert L. O'Connell is a senior intelligence analyst with the National Ground Intelligence Center, and a contributing editor of MHQ: The Quarterly Journal of Military History. His previous publications include Of Arms and Men and Sacred Vessels. He lives in Ivy, Virginia.

Praise For Fierce Patriot…
Advance praise for Fierce Patriot
 
"For those who think they know a lot about William Tecumseh Sherman, this book will be a revelation. Those who are meeting him for the first time will be equally mesmerized."—Thomas Fleming, author of A Disease in the Public Mind: A New Understanding of Why We Fought the Civil War
 
"To his family and friends he was Cump; to his soldiers he was Uncle Billy; to generations of Southern whites he was the devil incarnate. But to biographer Robert L. O'Connell, William T. Sherman was the quintessential nineteenth-century American: full of energy, constantly on the move, pragmatic, adaptable, determined to overcome all obstacles, a nationalist and patriot who teamed with Grant and Lincoln to win the Civil War and launch America as a world power. This readable biography offers new insights on Sherman as a husband and father as well as a master strategist and leader."—James M. McPherson, author of Battle Cry of Freedom: The Civil War Era
 
"A fascinating dissection of the multifaceted lives of William Tecumseh Sherman—military genius, brilliant organizer, inspired observer, and occasionally wayward husband. Sherman, O'Connell reminds us, was as brilliantly unpredictable on the battlefield as he was off it."—Victor Davis Hanson, The Hoover Institution, author of The Soul of Battle and Ripples of Battle
 
"William Tecumseh Sherman has to be our premier grand strategist, who set unexpectedly bold boundaries, not just for war but for peace, and kept to them. In Fierce Patriot, Robert L. O'Connell has fashioned a remarkable, and remarkably original, portrait of one of the people who truly defined America."—Robert Cowley, founding editor of MHQ: The Quarterly Journal of Military History

"William Tecumseh Sherman is one of the great characters in American history—protean, highly effective, cunning, outrageous, and in every way memorable. He has found just the right biographer in Robert L. O'Connell. Fierce Patriot is a surprising, clever, wise, and powerful book."—Evan Thomas, author of Ike's Bluff: President Eisenhower's Secret Battle to Save the World